Onalaska's fire chief has signed an agreement with the city of Onalaska that would result in a five-day unpaid suspension in the wake of his conduct during his April 7 drunken-driving arrest.
The agreement — signed by Fire Chief William D. Hayes Thursday and Mayor Joe Chilsen Monday — is subject to review April 29 by the city's Police and Fire Commission.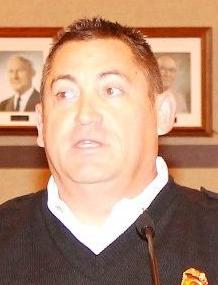 The agreement, released by the city Monday as part of the agenda for the Police and Fire Commission meeting next week, acknowledges that the drunk-driving and speeding charges are pending.
Hayes was pulled over for speeding early April 7 and a preliminary breath test showed he had a blood-alcohol content of 0.13 percent.
It was Hayes' first OWI offense, according to the criminal complaint, and police issued three separate citations: operating while intoxicated (driving under the influence), operating with a prohibited alcohol concentration (driving under the influence) and exceeding speed zones, according to the complaint.
The agreement with the city focuses on the traffic stop, stating "Chief Hayes made certain comments regarding his position and title with the city of Onalaska, and also referenced socializing with the assistant police chief," Jeffrey Cavender, who subsequently was placed on administrative leave and retired two days later.
According to the police report, Hayes told officers: "You just ruined my career."
"What I don't understand is that I'm the fire chief and you're going to do me this way," Hayes said while performing the field sobriety test, which he failed, according to the police report.
According to the agreement he signed with the city, Hayes admits that comments about his title and Cavender's "constitutes a violation of city of Onalaska policy 1.06 which states that no employee shall display conduct that adversely affects the reputation, health, safety or welfare of the city during his actions."
In addition to the five-day unpaid suspension, the agreement states that any future rule or policy violation could result in termination by the Police and Fire Commission, and that "this traffic stop incident shall be an aggravating factor … for which termination would be appropriate."
The city agrees to review the so-called "last-chance agreement" in nine months, and Hayes waives any right to file a grievance in the case, according to the document.
Hayes returned to work Friday — the day after he signed the agreement.
He will appear in traffic court May 2.