A 30-year-old Onalaska man is being held in the La Crosse County Jail on a $5,000 cash bond for an alleged drunk driving incident that also involved a hit-and-run crash and a police chase.
Julian Aaron Bratton Murphy was charged Monday in La Crosse County Circuit Court with felony counts of fourth-offense drunk driving, operating with a prohibited alcohol content and fleeing an officer and misdemeanor counts of hit and run, operating after revocation and tampering with an ignition interlock device.
According to the criminal complaint, a police officer Feb. 27 witnessed Murphy rear-end another vehicle at the intersection of West George Street and Rose Street shortly after 9:30 p.m.
The complaint says Murphy drove away from the scene of the crash.
He allegedly ignored police lights and sirens, reached 40 mph in a 25 mph zone and ran two stop signs before turning northbound on Rose Street. He then continued in the normal flow of traffic as police followed him into Onalaska.
Police were finally able to stop Murphy's vehicle using a moving road block. Two officers drew their weapons and ordered Murphy from the vehicle, and he complied without incident. Police detected a moderate odor of alcohol and slurred speech coming from Murphy, who told police he had consumed a couple of cocktails and that he was "not a bad person."
The complaint says Murphy showed multiple clues of intoxication during a field sobriety test, and preliminary breath test recorded a blood-alcohol level of 0.302.
La Crosse County assistant District Attorney Emily Ruud requested a cash bond of $500. She said it was Murphy's second OWI that involved a hit-and-run.
She also said he missed a recent OWI meeting that was part of a previous bond condition.
Bjerke set cash bond at $5,000 and said Murphy "doesn't seem to want to comply with court requirements." The bond conditions include GPS monitoring, house arrest, no alcohol and no driving.
Two of Murphy's previous three OWI convictions are from North Carolina. The third is from La Crosse County.
La Crosse County Circuit Court felonies in January
Jamie M. Scafe

Tyler P. Yogmas

Mario S. Street

Tylar M. LeFebre

Gregory Timothy Loftus

Samantha R. Fish

Michael E. Poivey

Peng Lor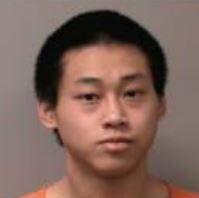 Pedro M. McKee Sr.

Jared L. Cooper
Macey R. Bills

Michael David Mitton

Emily N. Dolan

Teal M. Herold

Jacob C. Vosseteig

Trevor A. Johnson

judge court gavel