La Crosse police arrested a Tigerton, Wis., man with a lengthy criminal record early Saturday after finding him looking into a window of a residence near the University of Wisconsin-La Crosse.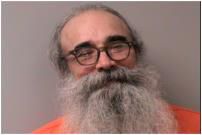 A plain-clothes officer was on foot patrol as part of a special assignment in response to prowler complaints when he noticed a man lying on the ground by a basement window in the 200 block of North 22nd Street, according to a police report.
When the officer shined a flashlight on him, the suspect got up and walked to the rear of the yard, ignoring commands to stop. The officer later saw him speed off in a black minivan.
Another officer stopped the van at Hwy. 16 and Hwy. B.
The driver, identified as 61-year-old Patrick Henke, appeared nervous, provided a false name and said he was coming from two different locations on French Island. According to the report, Henke said he was going to return a ladder in his van to his mother's home in Tigerton.
Henke was arrested on suspicion of invasion of privacy, obstructing police, disorderly conduct and driving after revocation. He is also being held on a probation violation.
According to court records, Henke was released from prison in 2016 after serving time for a 2013 drunken driving conviction in La Crosse County court.
In 2004 Henke was charged with fourth degree sexual assault after a woman said he sat down next to her outside her Denton Street home and attempted to touch her breast. That charge was dismissed when he later pleaded guilty to disorderly conduct and drunken driving.
Henke pleaded guilty to lewd and lascivious behavior in 1996.