A Milwaukee man was arrested early Sunday after police say he was flashing a gun at people while drunk on La Crosse's North Side.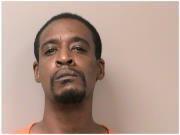 Alfonso L. Williams, 41, was charged Monday in La Crosse County Circuit Court with possession of a firearm by a felon, possession of a firearm while intoxicated and carrying a concealed weapon.
Police received a pair of complaints of a man carrying alcohol and a handgun at just after 6 a.m. Sunday near the area of St. Andrews and Charles streets, according to the complaint.
A man told police he was walking by a nearby park when he said good morning to Williams, according to the complaint. Williams responded that it was a good day and nobody was going to mess with him, showing the stranger the firearm tucked in his waistband.
A conductor with Canadian-Pacific Rail Company also reported seeing a man with a bottle of something in one hand had displayed a gun while he passed, according to the complaint.
While Williams did not threaten either man, according to the complaint, they were concerned because of the combination of alcohol and guns.
Police located Williams sitting on a retaining wall on the 1000 block of St. Cloud Street next to a woman who also did not know him. The woman told police she was sitting outside having a cup of coffee when Williams walked up and began talking to her, displaying the weapon and making comments about shooting police officers, according to the complaint.
Williams was arrested without incident. Williams told police he needed the handgun – a .45-caliber Glock – for protection. A preliminary breath test showed Williams had a blood alcohol concentration of .123, according to the complaint.
Williams was convicted of possession with intent to deliver cocaine in 2003. He is being held in the La Crosse County Jail on a $1,000 cash bond ordered by Judge Scott Horne.
Sign up for our Crime & Courts newsletter
Get the latest in local public safety news with this weekly email.