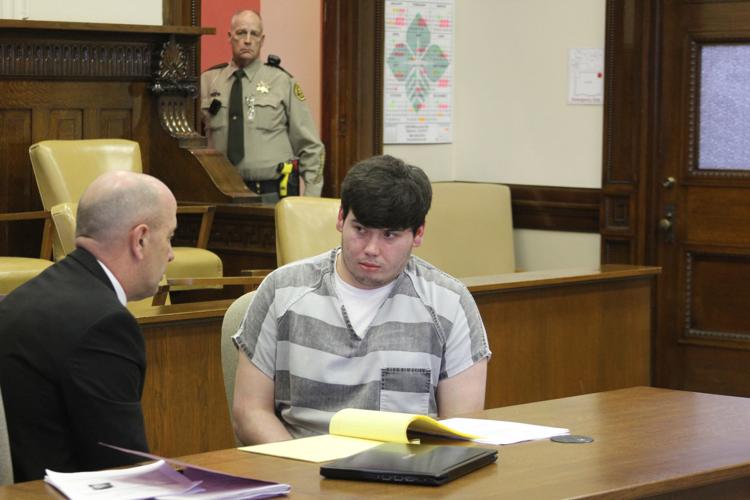 DECORAH, Iowa — Elmer Hansen said he will probably never understand how a Chickasaw County jury could find Dalton Adam guilty of voluntary manslaughter, not murder.
Adam, 19, of Prairie du Chien, Wis., was sentenced Tuesday morning in Winneshiek County District Court to a total of 15 years in prison in connection with the July 12, 2018, attack of Hansen's son, David Hansen, 49, Decorah, and a separate assault that occurred earlier that same day.
Authorities said Adam and his friend, Jacob Seelinger, 18, Decorah, got into a confrontation with David Hansen, Seelinger's mother's boyfriend, on the night of July 12, 2018. Hansen was knocked to the ground, and Seelinger and Adam punched and kicked him numerous times while he was defenseless.
Hansen never regained consciousness and died in a hospital in August 2018 of brain injuries received in the attack.
Adam and Seelinger were charged with first-degree murder. On Nov. 1, a Chickasaw County jury found Adam guilty of the lesser charge of voluntary manslaughter. Adam's trial was moved to Chickasaw County on a change of venue.
Seelinger was found guilty of second-degree murder by a Winneshiek County jury during a trial in July. Seelinger was sentenced in September to a term not to exceed 50 years in prison.
During Adam's trial, the defense argued that Adam had punched Hansen once in self-defense, the blow toppled him, and he struck his head on the cement driveway, which was the cause of the fatal injury.
Prosecutors said an autopsy wasn't able to pinpoint if the fatal blow came from the fall or the flurry punches and kicks that followed. The state argued the number of strikes showed an intent to kill.
"Why did they continue to beat him?" Elmer Hansen asked during his victim impact statement Tuesday.
"We were totally devastated by the jury decision … what didn't the jury see?"
Elmer said Adam's attitude is "outrageous." He said he observed the defendant smiling and laughing during court proceedings.
You have free articles remaining.
"You're going to think it's really funny when you get attacked in prison, which I'm hoping and praying happens," Elmer said. "What kind of person does this to another person … you know when to quit and enough is enough."
David Hansen's son, Tommy, also spoke.
He said all he has left of his father is a small box of ashes and some photographs.
"You took the only person I could rely on," Tommy told Adam.
Tommy said one of his biggest accomplishments was graduating from high school a year early, but his father was not there to watch him walk across the stage at his graduation ceremony.
"You owe me more than $150,000 – you owe me my dad back," Tommy said referring to a civil penalty imposed against Adam.
As he did at Seelinger's sentencing, Hansen's other son, Anthony, told his father's attacker that he forgave him.
"I never really liked you," Anthony told Adam. "You made bad decisions and selfish choices. That's the person you were. I also heard that you gave your heart to Christ. That's awesome. Look to him.
"You have the negative stuff behind you. Now lift yourself up and make yourself a good man," Anthony said.
Before hearing his sentence, Adam said he was sorry.
"I never intended that to happen. I'm not that kind of a person," Adam said.
"I'm willing to accept my consequences."
Adam was sentenced by Judge Richard Stochl to a term not to exceed 10 years for voluntary manslaughter and a term not to exceed five years for assault causing serious injury.
Adam pleaded guilty to the assault charge Tuesday. Before the attack on Hansen July 12, 2018, Adam was involved in an incident earlier in the day at the Winneshiek County Fairgrounds, according to Decorah Police. Court records said Adam put his arm around a Decorah man's neck at about 10:40 p.m., causing the man to lose consciousness and fall to the ground. The man received medical treatment.