The woman currently being held in Sauk County Jail for allegedly causing the death of a Westfield man was denied a request to modify her bond Thursday.
Amber Lundgren, 35, of Richland Center, appeared in Sauk County Court with her lawyer Andrew Martinez. Lundgren is being held on $500,000 cash bail in the death of 37-year-old Christopher Lytle in late September.
Martinez argued that Lundgren has no criminal history and that she cooperated with authorities and did not flee before she was arrested and placed in jail. He told the court that the amount was not necessary in this particular case.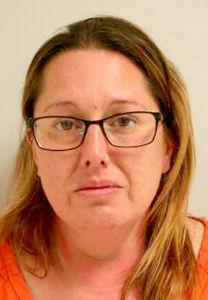 Assistant District Attorney Dennis Ryan argued against leniency, noting that cash bond was necessary due to the gravity of the case. Sauk County Circuit Judge Patricia Barrett agreed. The bond motion was denied.
According to a criminal complaint filed in Sauk County, Lundgren was tracked down by authorities after members of the Ho-Chunk casino security department notified them of surveillance video with Lytle on it. Officers reviewed the video Sept. 25 and identified Lytle getting into a white car with a clearly visible license plate.
You have free articles remaining.
When they identified Lundgren as the owner of the car, they visited her at her workplace to interview her about that night, which was the day before Lytle's body was found in a turnaround area on North Hein Road near Levee Road in the town of Fairfield.
After multiple rounds of questioning spanning more than a day, Lundgren admitted to authorities she had shot Lytle in the back of the neck. She told officers that she had picked up Lytle, who then asked her if she wanted to "get high" before making unwanted sexual advances toward her while she was driving.
Lundgren initially said Lytle had not been violent, but eventually told authorities that he had "slapped her around" before they ended up in the turnaround area. Lundgren said Lytle pulled her out of the car before knocking her down and trying to force himself on top of her. When she was able to roll away after hitting him, she said she got back into the car and located the .38 special she keeps in her purse.
In interviews with police, Lundgren said she saw Lytle "out of the corner of her eye" kneeling in the road with his back to her when she shot at him. As he was lying in the roadway unresponsive, she admitted she was scared Lytle would "get back up" and, using the handle for balance while still in the vehicle, leaned over and shot him in the back of the neck again.
Lytle's body was found the next afternoon by a driver who called police.
Lundgren has been charged with first-degree intentional homicide and faces up to life in prison if convicted. She is set to return to court Dec. 16.