The artist of the "Hatched Baby" has deemed the statue irreparable after it was stolen and damaged almost two weeks ago, city officials said Wednesday.
"In our latest communications ... the artist has deemed the statue un-fixable," director Jay Odegaard told the Tribune in an email Wednesday morning. La Crosse Mayor Mitch Reynolds reiterated that the statue was irreparable in a statement sent out a few hours later.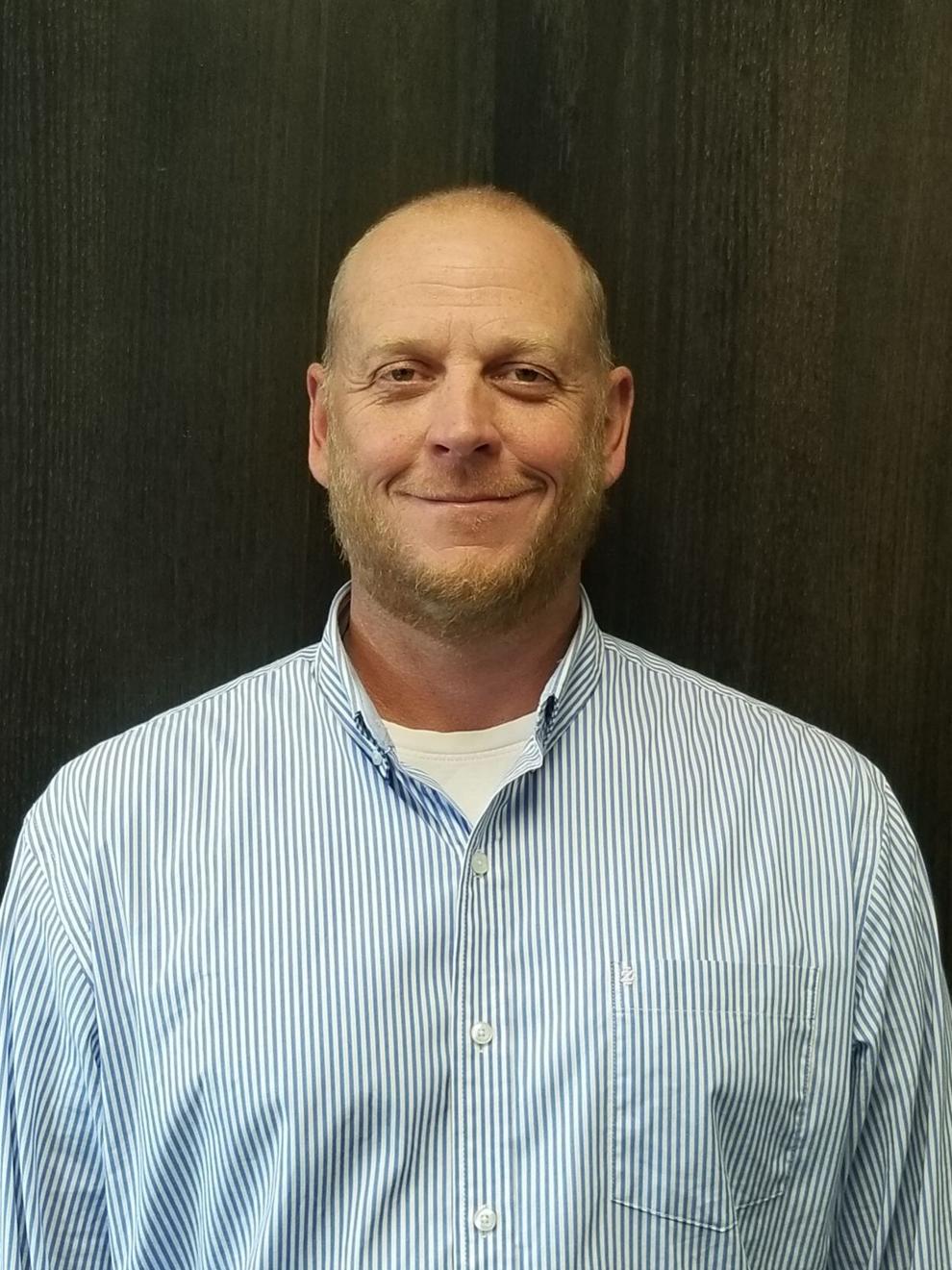 The statue, also commonly known as the "Blue Baby," was dismembered over the weekend of Sept. 12 according to police. The face of the blue baby that was depicted as hatching from a cracked shell was taken off and stolen.
While unaccounted for, photos emerged online of the stolen artwork that appeared to show scuff marks on it. The face was found that Monday and returned to the city, after which officials said it would need repairs before it was displayed again.
Odegaard said more information would be released on the statue in the coming days and weeks. Police have not yet identified any suspects in the theft. Reynolds said in a statement Wednesday that police are continuing the search for those responsible, and asked the public to share any information they have.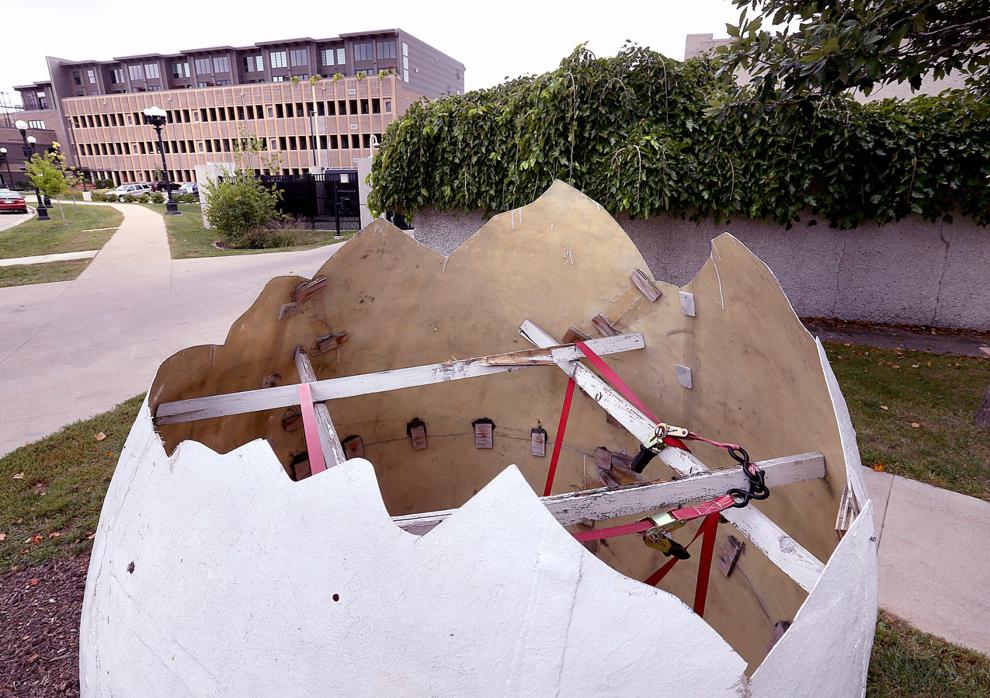 Hatched Baby had been stationed outside of city hall since 2018. It was created by artist Wolfgang Auer, an artist from La Crosse's sister city of Friedberg, Germany, and was inspired by the birth of his daughter, created to represent the anxieties of parenthood.
"I have apologized on behalf of our community for the destruction caused to Mr. Auer's sculpture and urged him not to feel that the actions by a few represent our community as a whole," Reynolds said in a statement Wednesday.
The sculpture has prompted conversations about art in the community since its erection, and it has been the target of previous vandalism.
"The sculpture has provoked conversation and debate in La Crosse for several years," Reynolds said. "Which is precisely what art should do."
Over the weekend, a local artist launched a campaign to sell coasters featuring an original photo of the statue to help fund repairs. He said he would donate the profits to another public art initiative if Hatched Baby could no longer be repaired.
Photos: Discover these 30 public art sculptures in La Crosse
George C. Poage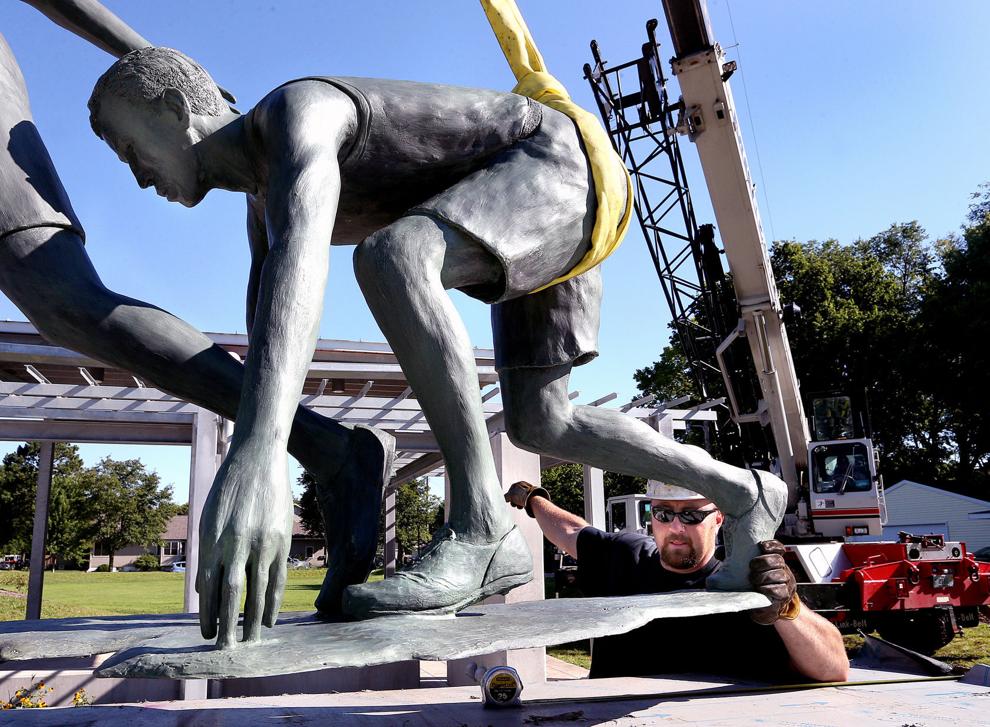 Location: George C. Poage Park
This bronze sculpture features Olympic medalist George C. Poage. The La Crosse High School graduate made history crossing the finish line third in the 220- and 440-yard hurdles during the 1904 Olympics in St. Louis, Mo., becoming the first African-American to earn a medal in the modern games.
Eagle Landmark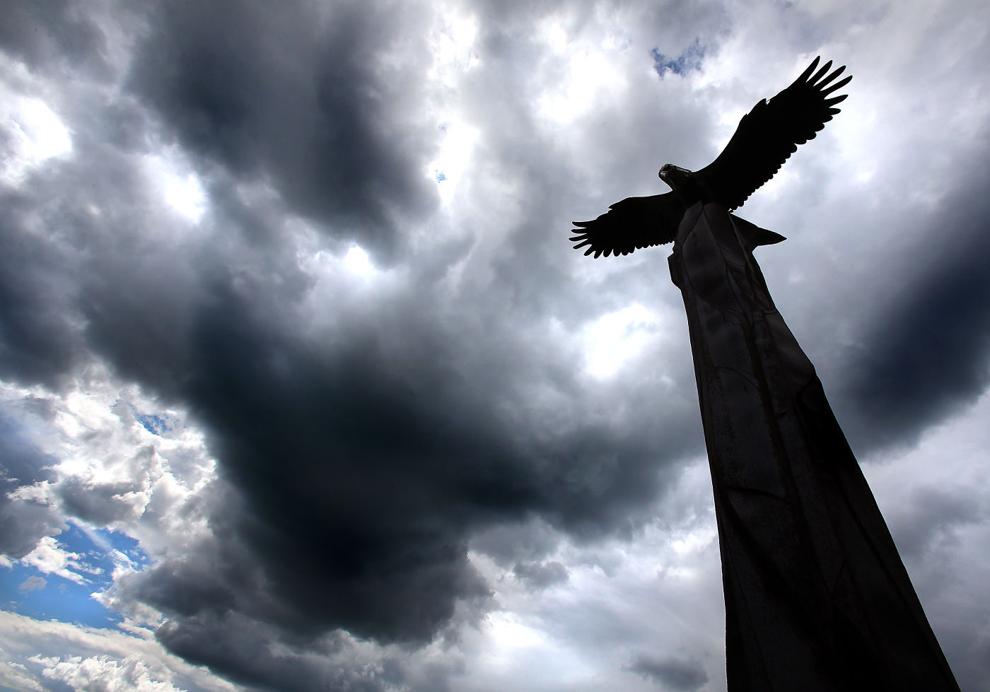 Artist: Elmer P. Petersen
Location: End of State Street in Riverside Park
This majestic bird sits upon a 30-foot tree trunk as it watches over the Mississippi River at Riverside Park. Constructed out of Cor-Ten steel, the wingspan is 20 feet and the head is composed of stainless steel. The Eagle Landmark was donated by the D.B. and Marjorie Reinhart family and dedicated to all past, present and future employees of Gateway Foods, Inc. and affiliated Reinhart Cos.
Reflections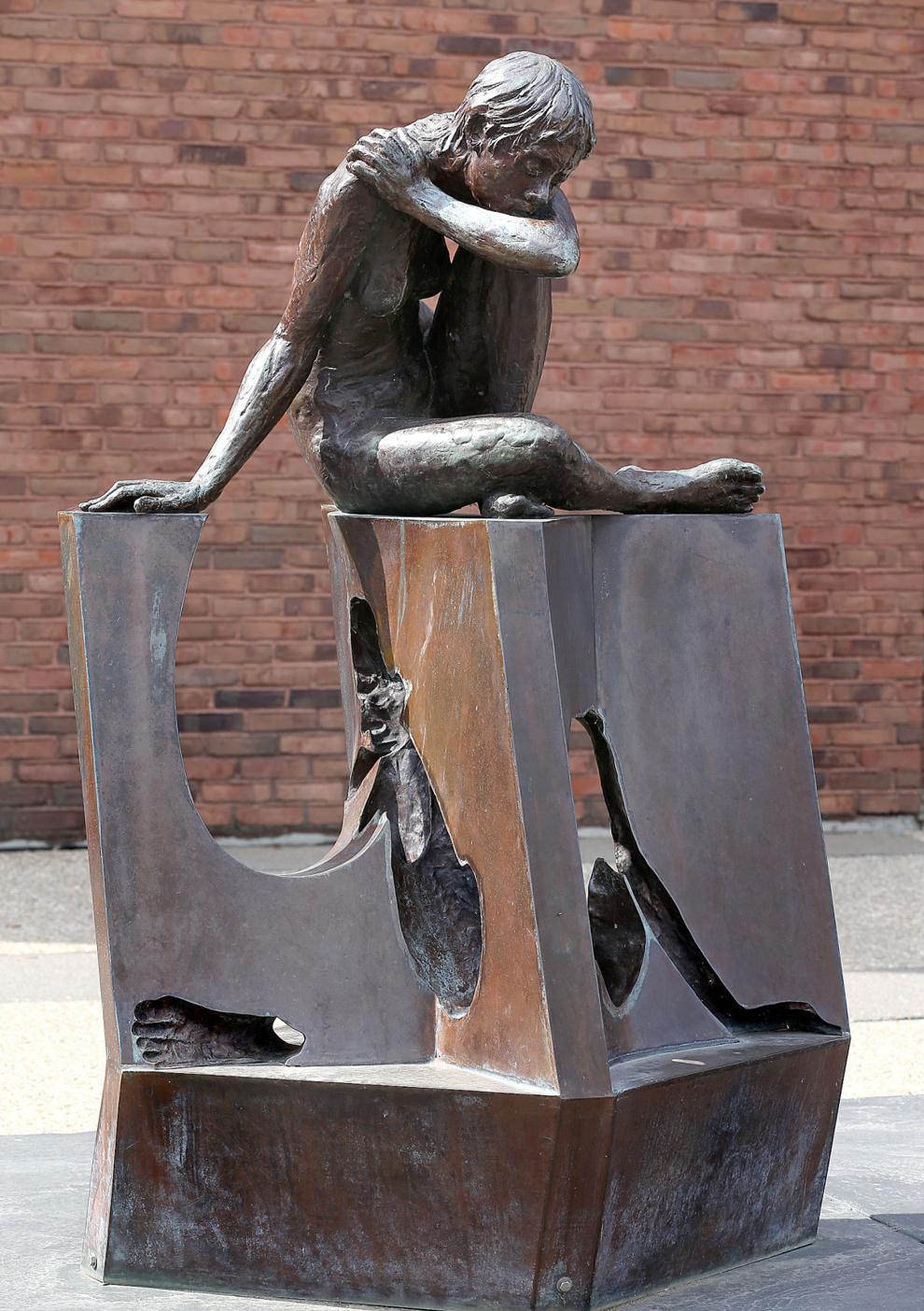 Artist: Paul T. Grandlund
Location: La Crosse Public Library, 800 Main St.
This fountain-based piece is of a gentle female figure suggesting quiet contemplation. The rest of the sculpture might be seen as a base for the figure, but it is no less sculptural and contributes equally with its complementary negative images and contrasting planes. It is made of cast and fabricated bronze.
Le Pinau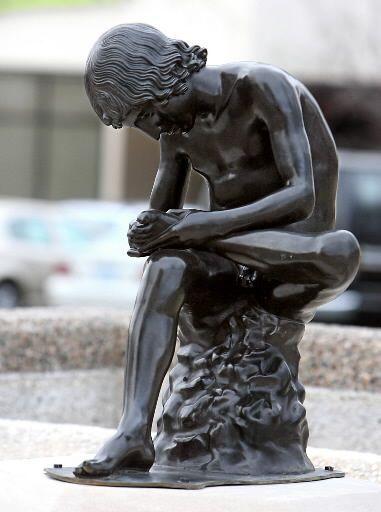 Location: Second and Main streets
The statue of a boy pulling a thorn from his foot is a replica of an 1825 statue in the reception room of city hall in Epinal, France. It was a gift from Epinal to La Crosse to celebrate the 20th anniversary of our sister-city relationship. It is symbolic of Epinal, whose name derives from the French word epine, meaning thorn, and is a copy of an antique Greek statue. The city of La Crosse sent a replica of its La Crosse Players statue to Epinal in exchange.
Water Over the Dam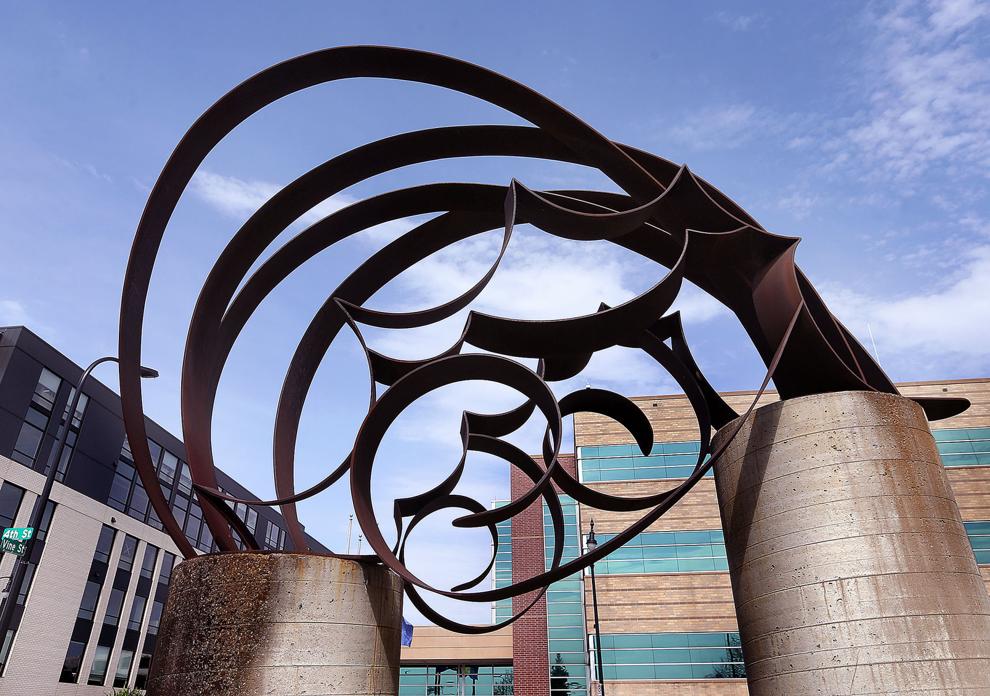 Location: Fourth and Vine streets
Inspired by the flood of 1993, this sculpture describes the river's action as it tumbles over the dam, sometimes curling back on itself. It is constructed of welded and curled steel and is set in cement. The steel work was done by Mid-West Fabrication.
Tools of Teachers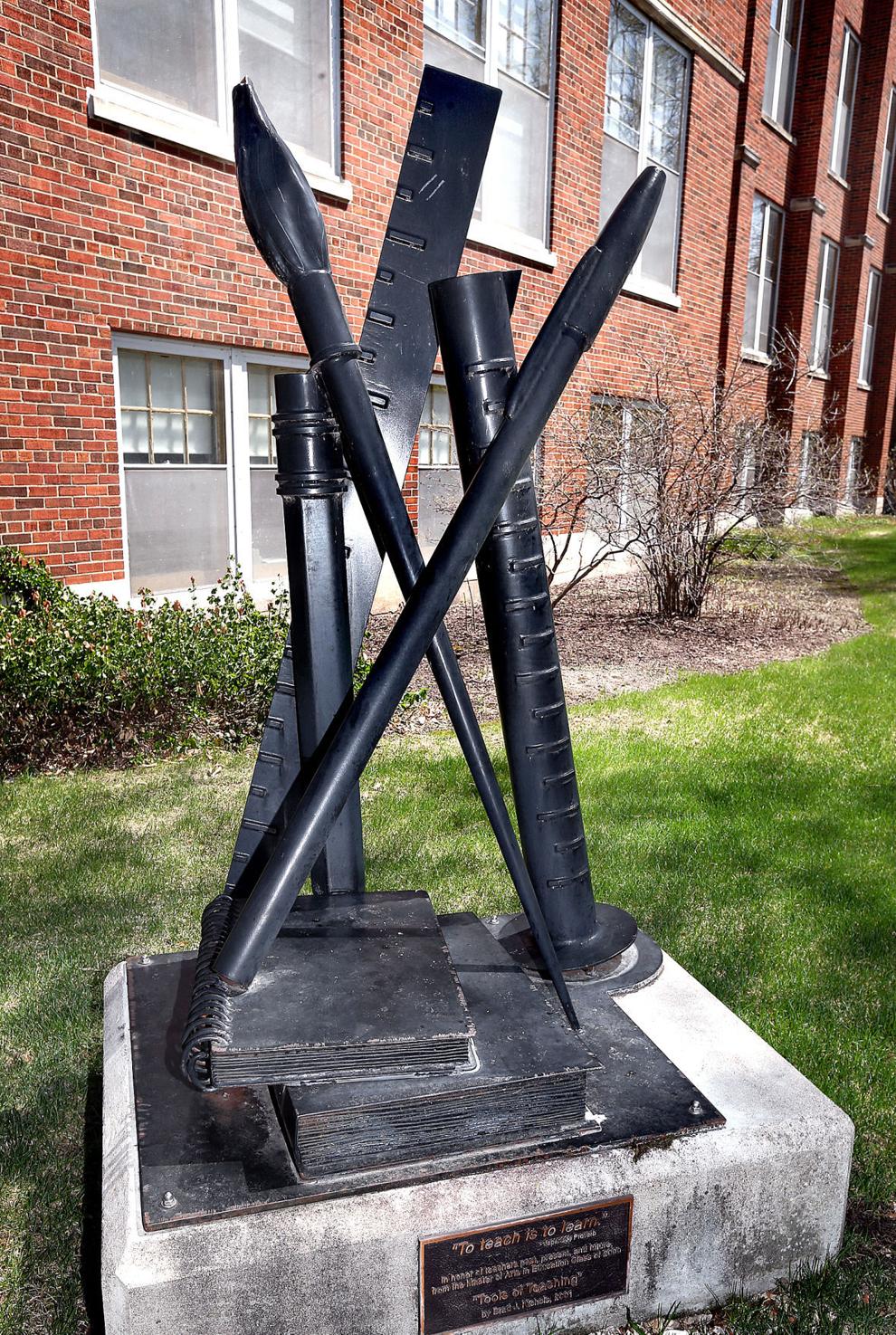 Location: Northwest corner of the Murphy Center on the Viterbo University campus
A 6-foot metal sculpture erected to commemorate past, present and future educators. It includes tools such as a ruler, pencil, paintbrush, journal and cylinder.
Hoeschler Fountain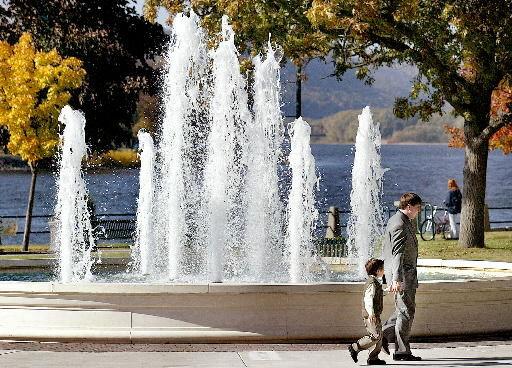 This seven-fountain water feature represents the "7 Rivers Region." The three larger fountains represent the confluence of the three rivers at Riverside Park — the Mississippi, Black and La Crosse. The water is a sign of strength and vibrancy, representing the downtown area. This fountain, which received funding from the Hoeschler family and the city of La Crosse, has become a gathering spot and focal point of the park.
Anidonts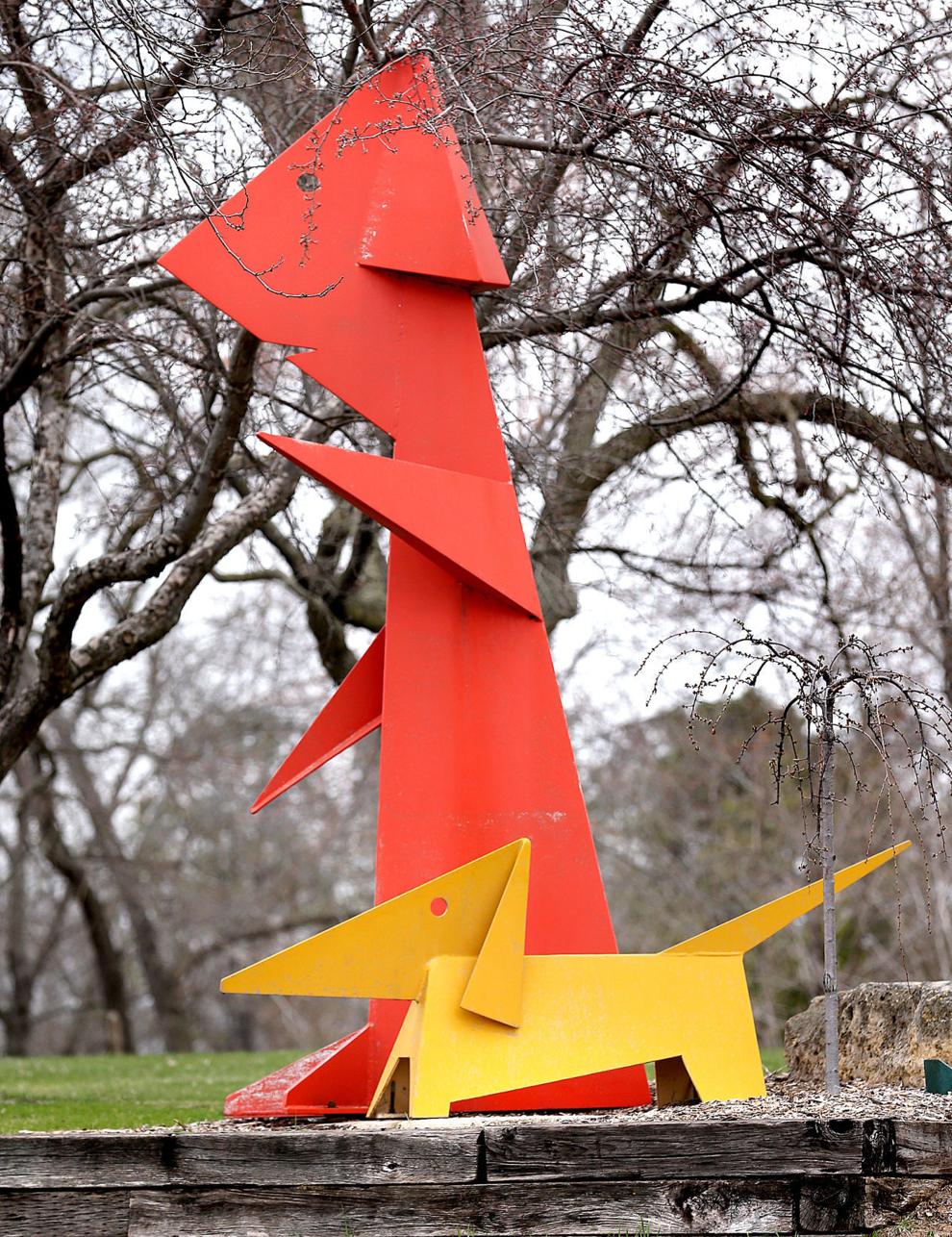 Abstract painted aluminum sculpture of a boy and his dog located at the entrance of Myrick Park.
Dancers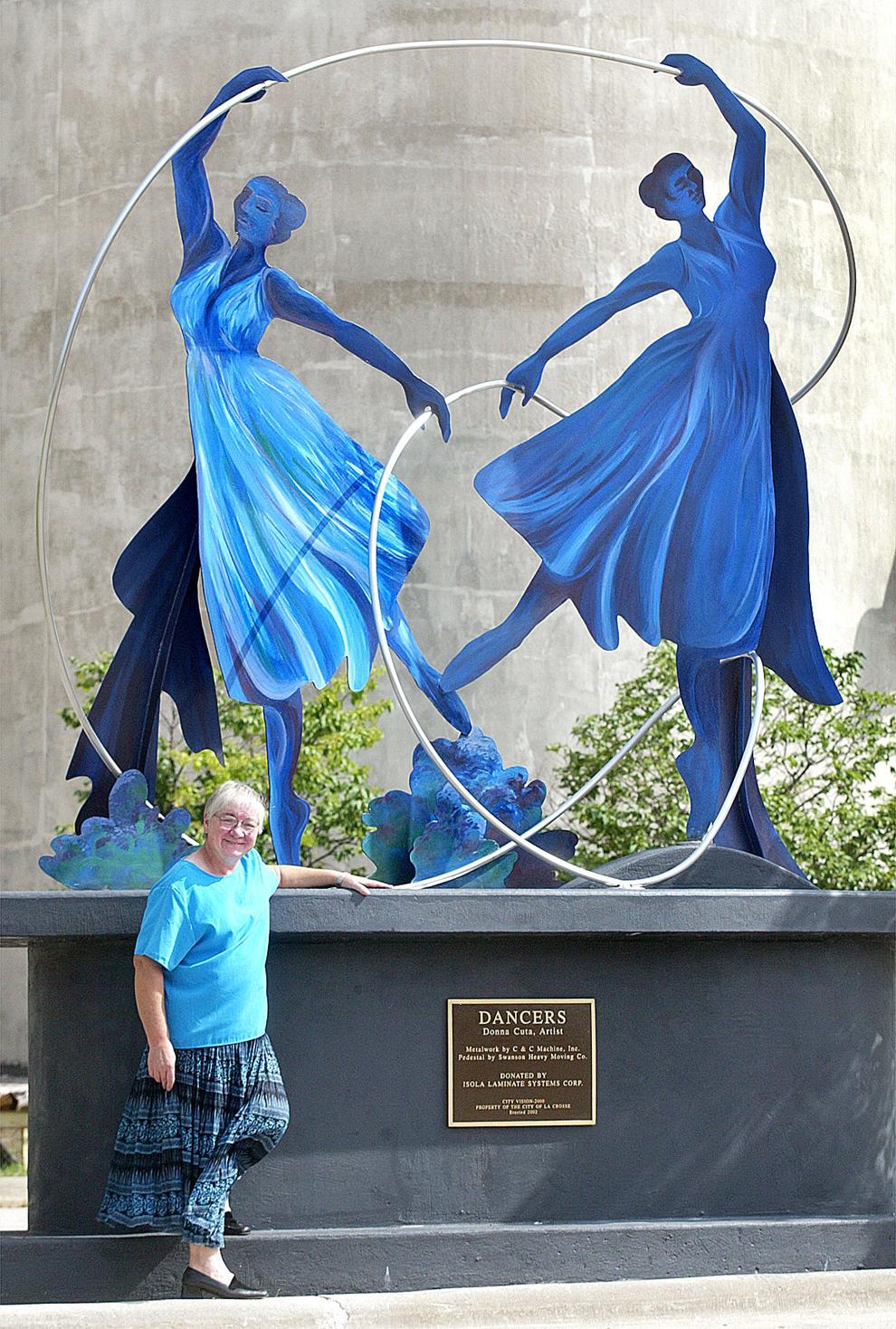 Artist: Donna Gerke-Cutta
Location: The Weber Center for the Performing Arts, 428 S. Front St.
Two flat blue dancers portray a joyful energy as the dance with a looping stainless steel round ribbon surrounding them, showing the joy of being alive through the ups and downs of life. The sculpture was formerly located outside The Pump House.
Gambrinus, King of Beer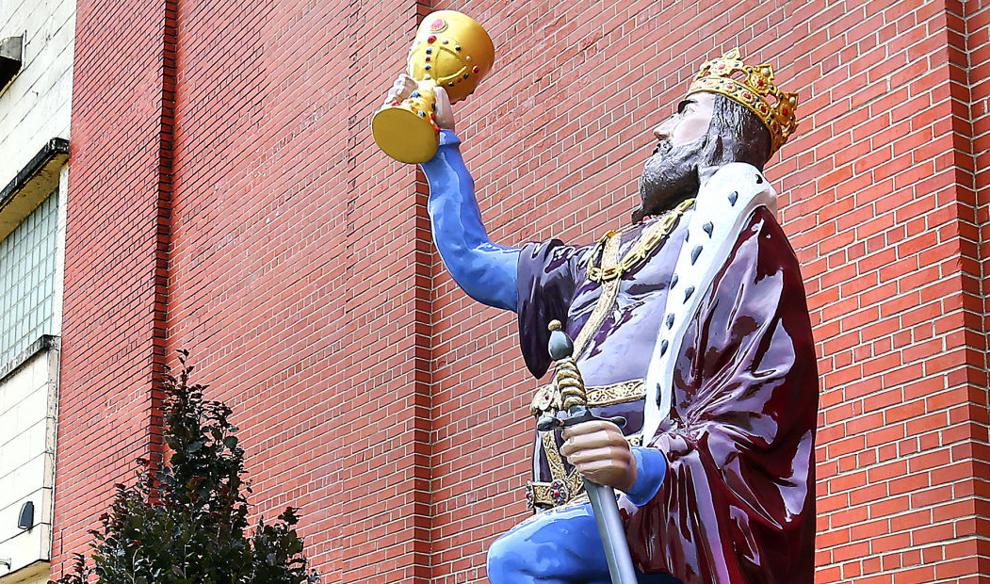 Location: City Brewery, 925 S. Third St.
Dedicated: 1890 and again in 2017
This sculpture features the legendary "King of Beer" and "Patron Saint of Brewers." The original concrete version was vandalized in 2005. The new sculpture is made of fiberglass fashioned by Byerson Fiberglass and Marine in 2017.
Hatched Baby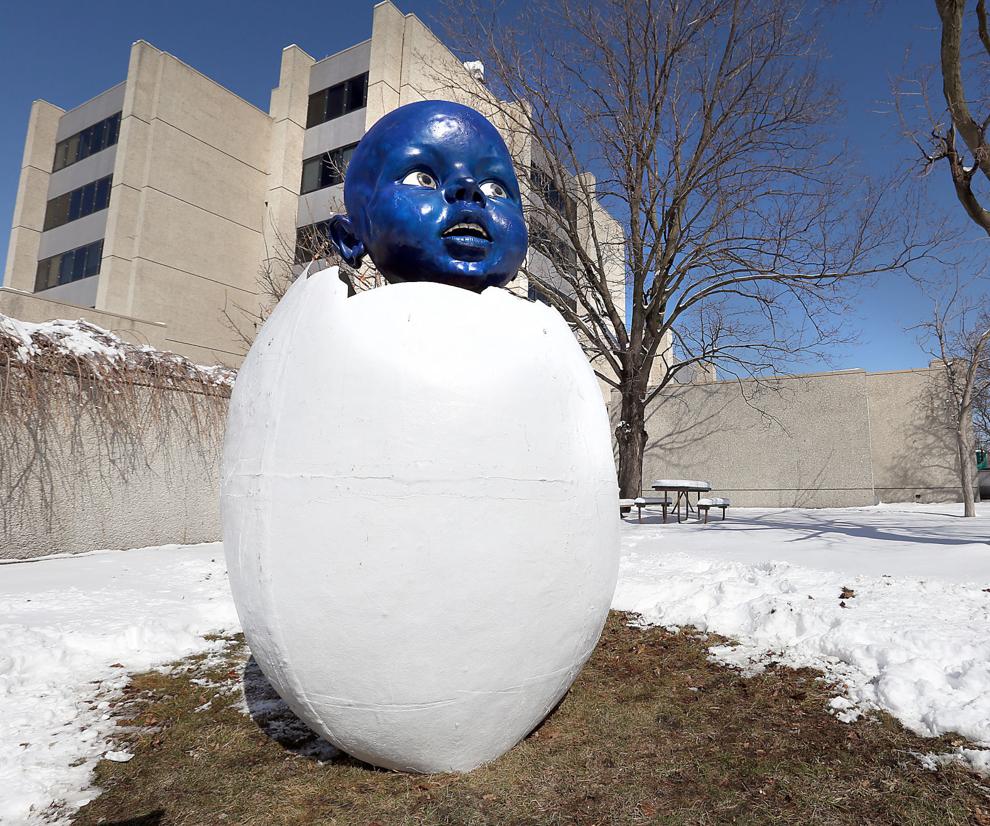 This sculpture is the work of German artist Wolfgang Auer, who lives in La Crosse's sister city of Friedberg. His Blue Babies project has been on display all over Europe.
Dancing Clare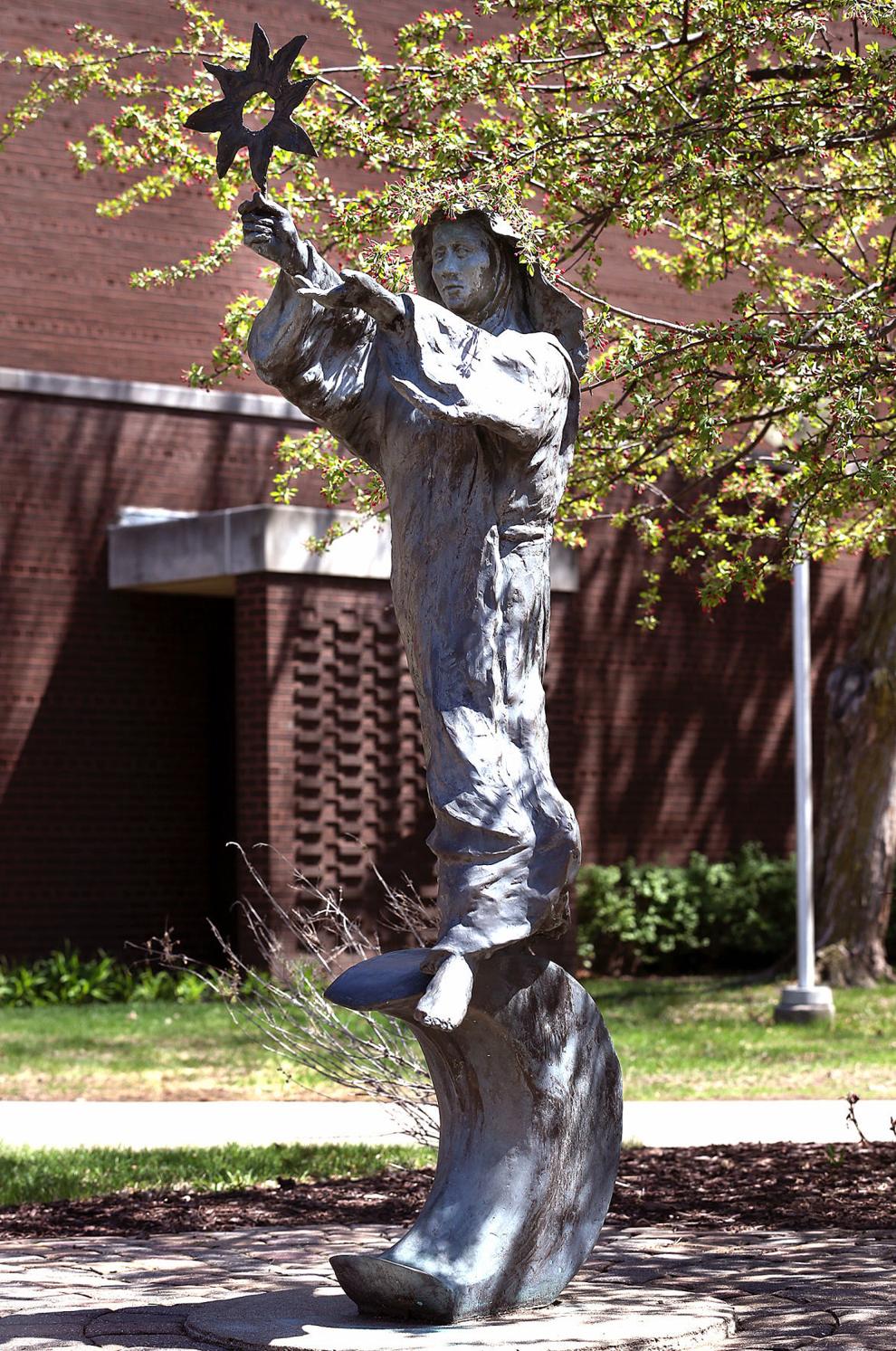 Location: Assisi Courtyard outside of Viterbo University's Fine Arts Center
Bronze sculpture commemorating St. Clare of Assisi
King Gambrinus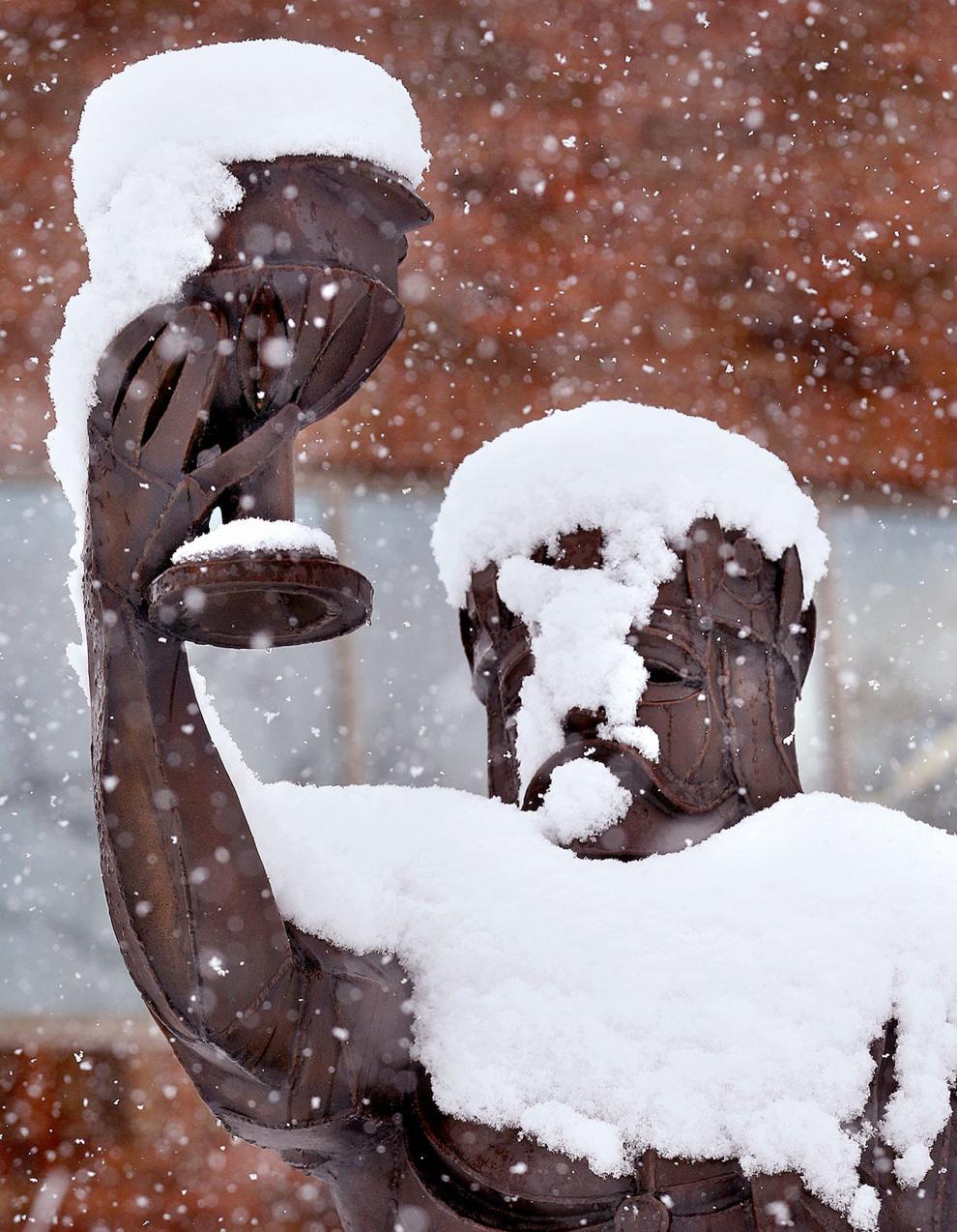 Location: Corner of Front and State streets
Dedicated: 1980 and again in 2017
This bronze sculpture depicts King Gambrinus, patron figure of brewers. The original sculpture by Elmer Petersen was recreated in 2017 by the artist and commissioned by the Cleary Family.
Lacrosse Players replica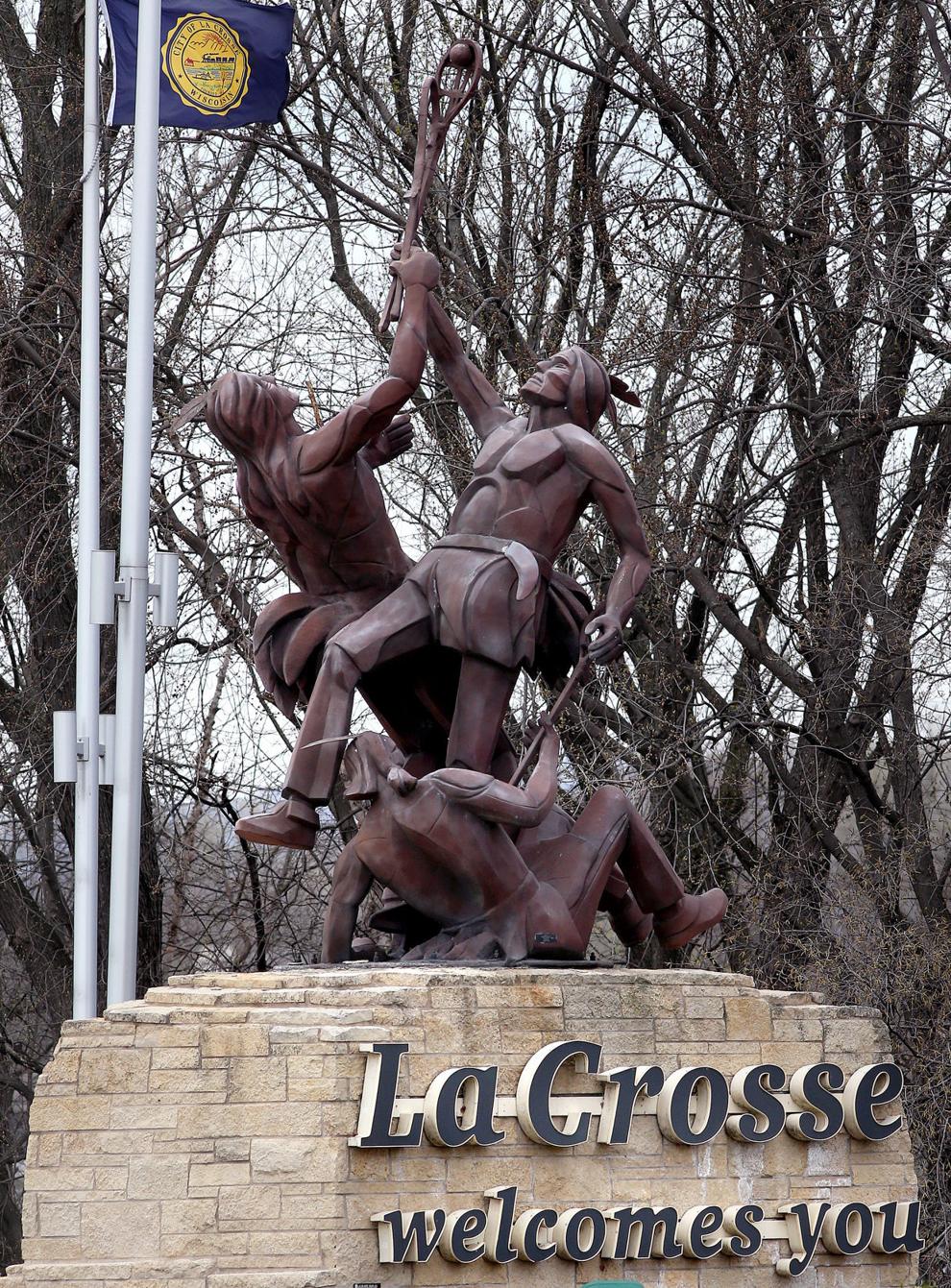 Location: Hwy. 53 south of the Interstate 90 interchange
This is a fiberglass replication of the Lacrosse Players sculpture in downtown La Crosse.
Veterans Memorial Field Eagle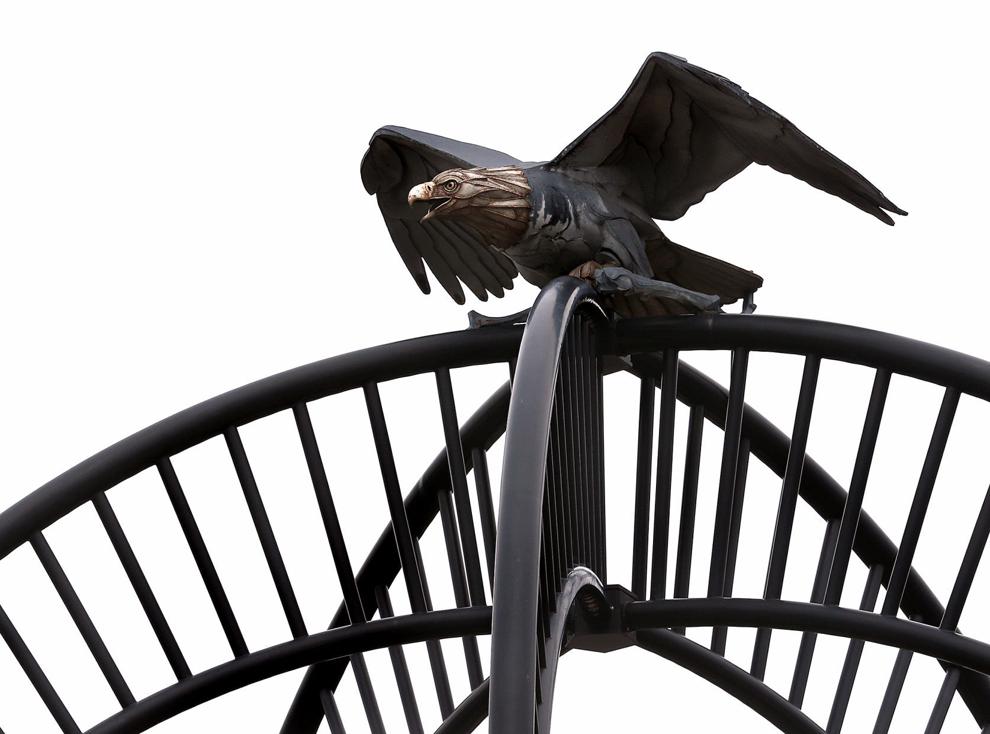 Location: 1725 State St. on the University of Wisconsin-La Crosse campus
The stainless steel eagle, perched atop five decorated steel arches and masonry columns, represents the national symbol, appearing on the Great Seal of the United States, and serves as a local symbol of UW-L athletic teams. This sculpture is intended to honor veterans of all five branches of the U.S. military.
Gideon C. Hixon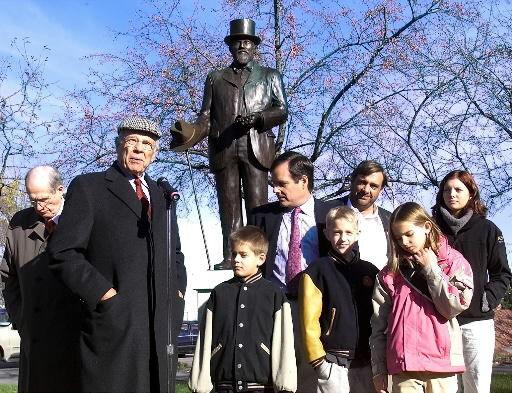 Artist: Elmer P. Petersen
Location: 429 N. Seventh St.
This bronze likeness of 19th century lumberman and financier Gideon Hixon stands just across Badger Street from his stately home, now a museum owned and operated by the La Crosse County Historical Society.
Dancing Francis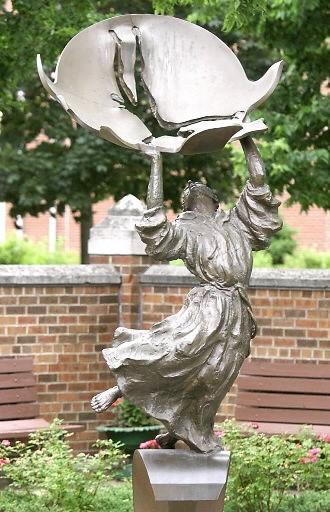 Location: 900 Viterbo Drive on the Viterbo University campus
A 9-foot bronze sculpture commemorating St. Francis of Assisi, who is depicted standing on a crescent of the moon, holding a sun disk in his hand.
A Simpler Time and Fido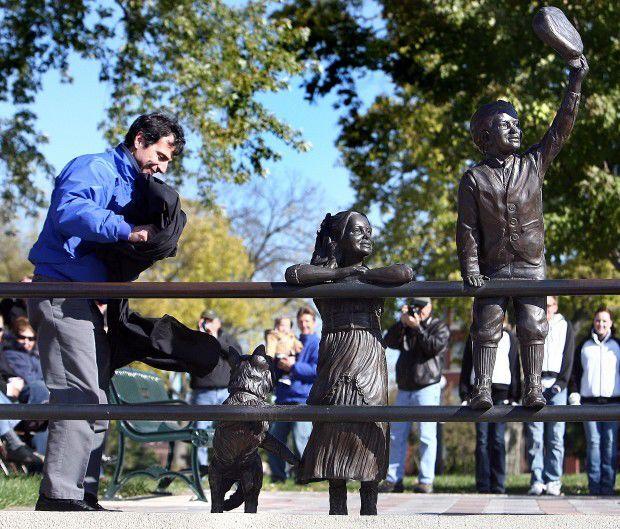 Location: Riverside Park levee
This sculpture, inspired by a photograph by local photographer Theresa Smerud, is reminiscent of days gone by and captures the freshness, innocence and excitement of children as they greet boats and visitors from the river. All funds raised through the sale of the surrounding inscribed bricks benefit the La Crosse City Vision Foundation endowment to support downtown beautification projects for years to come.
Ellen Hixon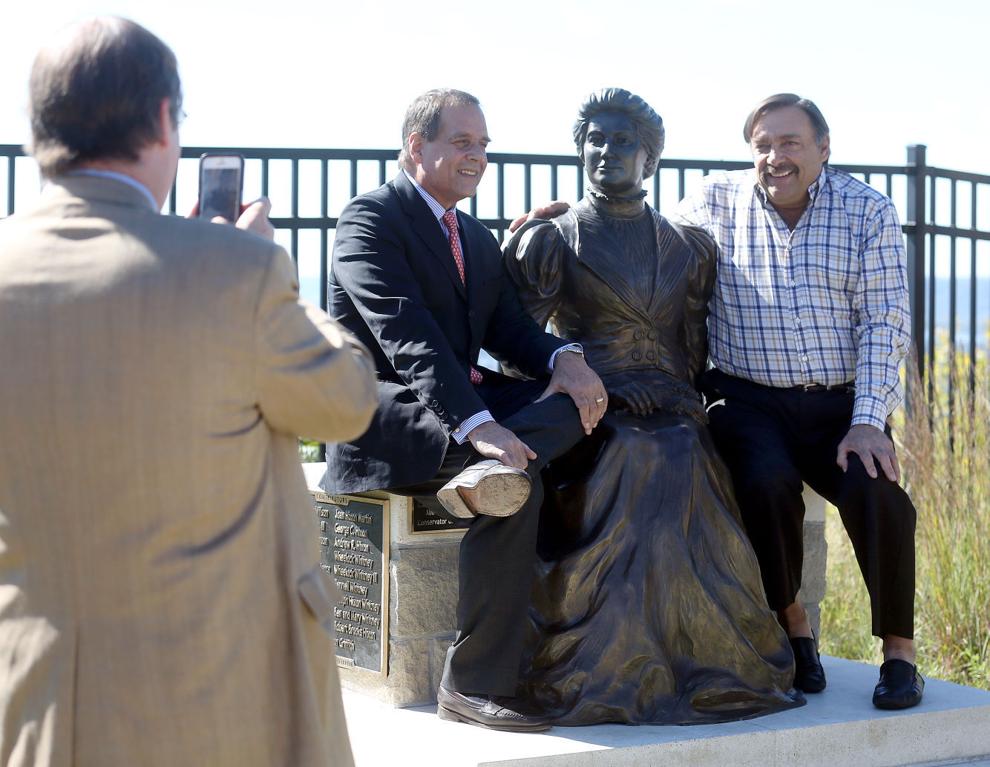 Location: Grandad Bluff Park
This statue is dedicated to Ellen Hixon, widow of Gideon C. Hixon, who was responsible for saving Grandad Bluff and Hixon Forest after a developer began turning it into a rock quarry.
Lacrosse Players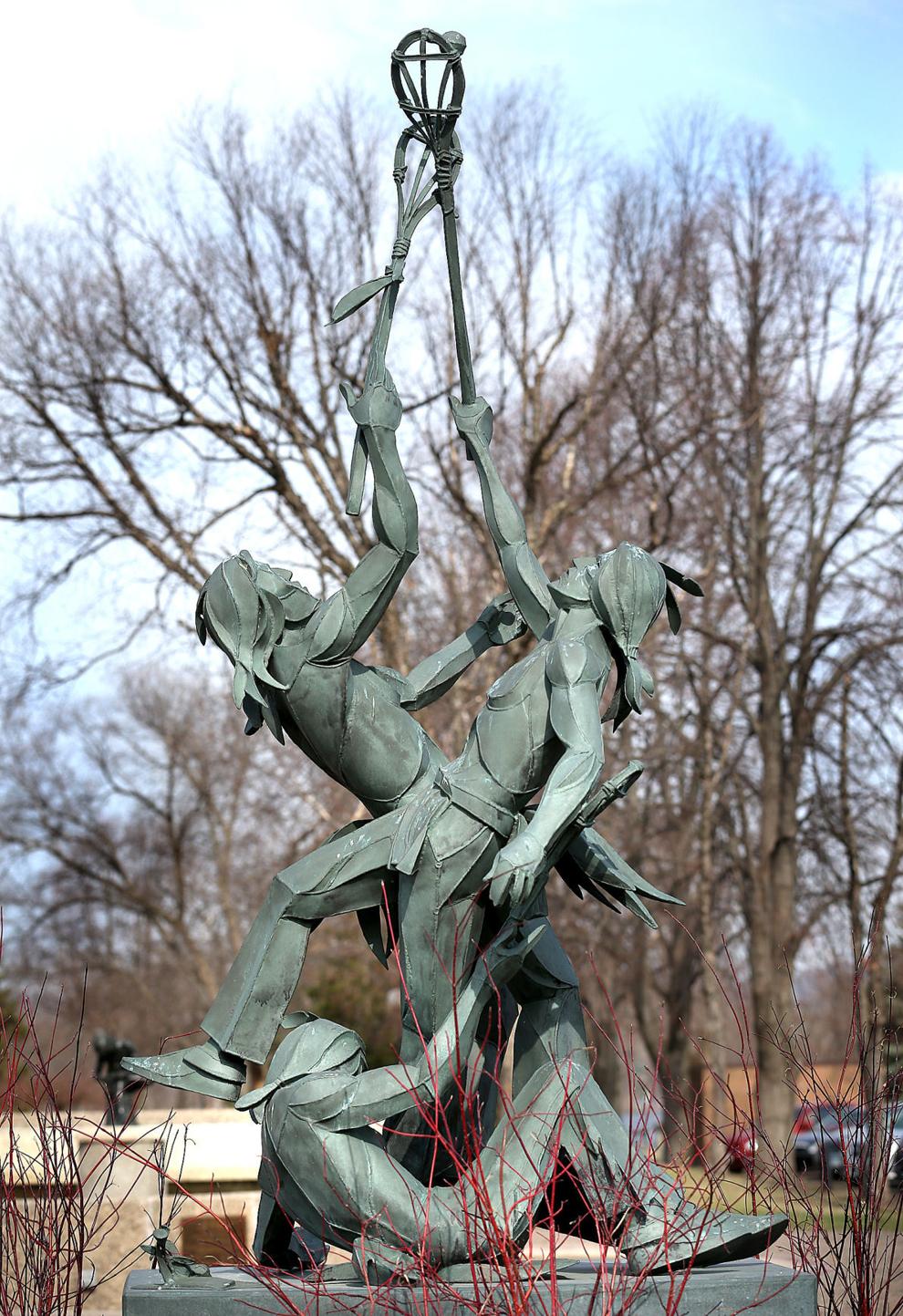 Artist: Elmer P. Petersen
Location: Second and Main streets
This is a reminder of how La Crosse got its name, from the Native American game the French called "lacrosse." The three life-size figures, depicting three men of the Ho-Chunk nation, were made from welded Cor-Ten steel sheets, with resulting planes and welded lines that express motion and strength.
Harmony and Peace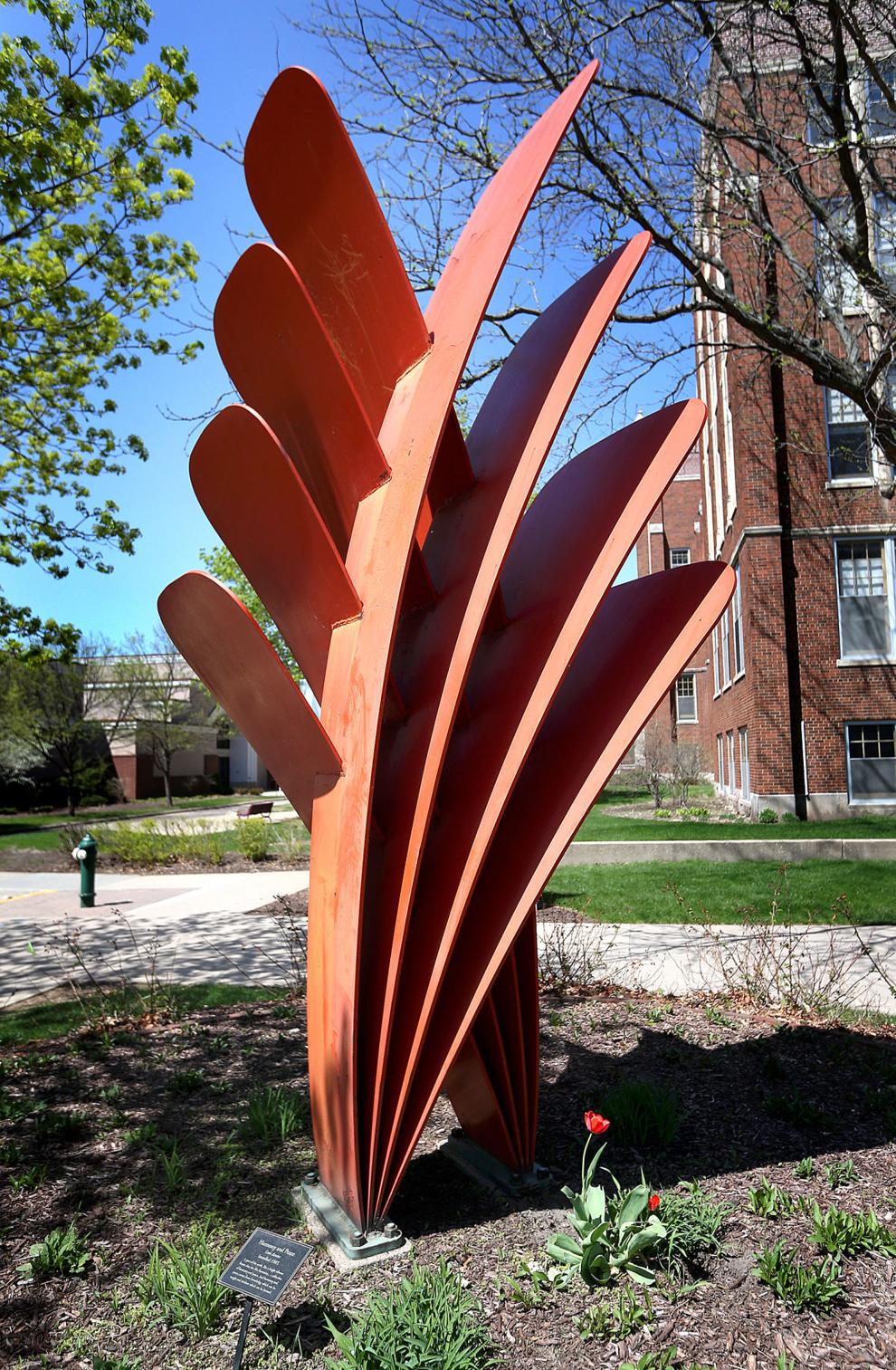 Location: 900 Viterbo Drive on the Viterbo University campus
12-foot steel sculpture enameled in a bright red/orange hue. As a non-objective sculpture, the viewers may provide an imaginary subject of their own.
Hixon Memorial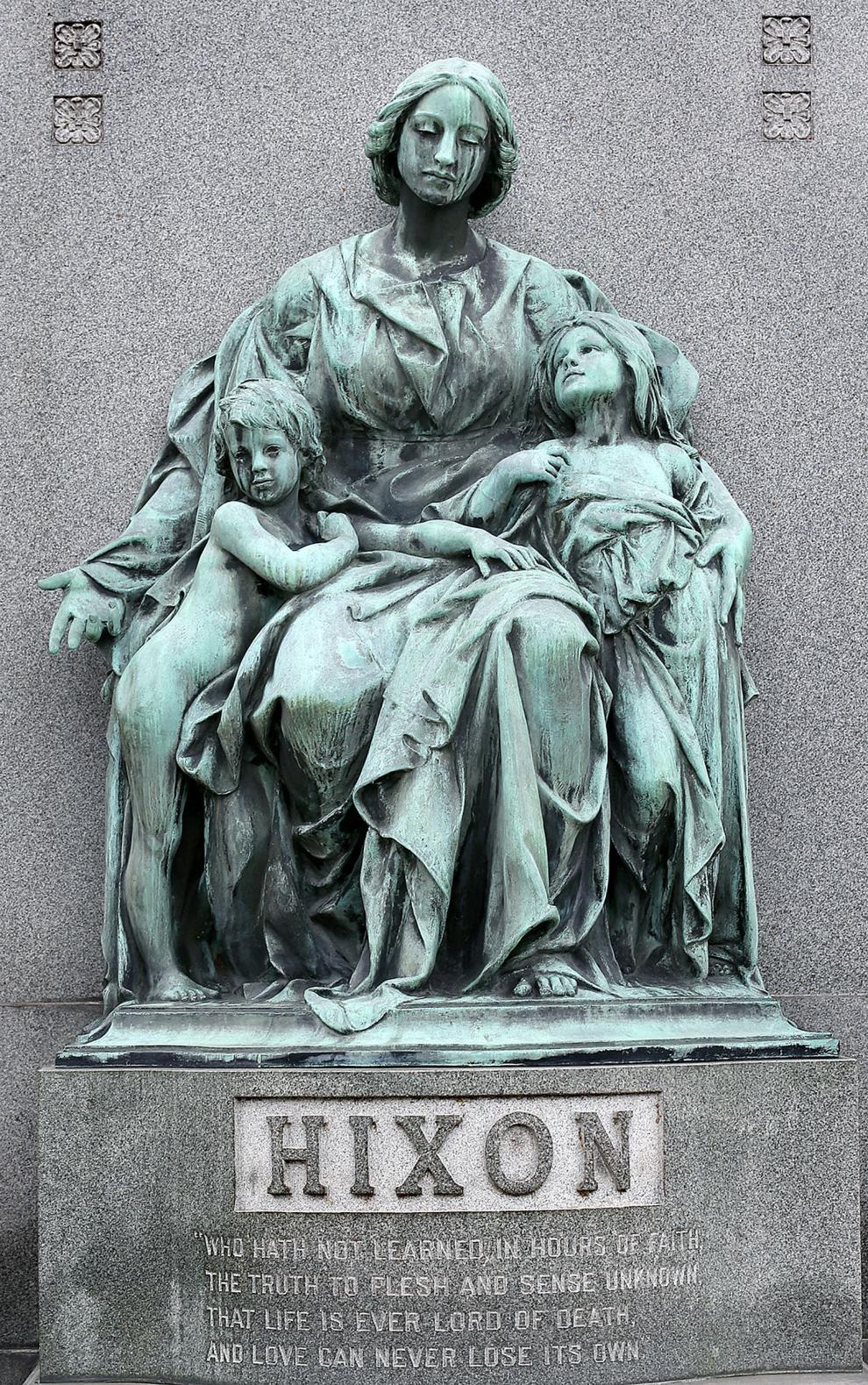 Location: Oak Grove Cemetery 1407 La Crosse St.
A bronze mother and her child rest upon a granite base.
Lyra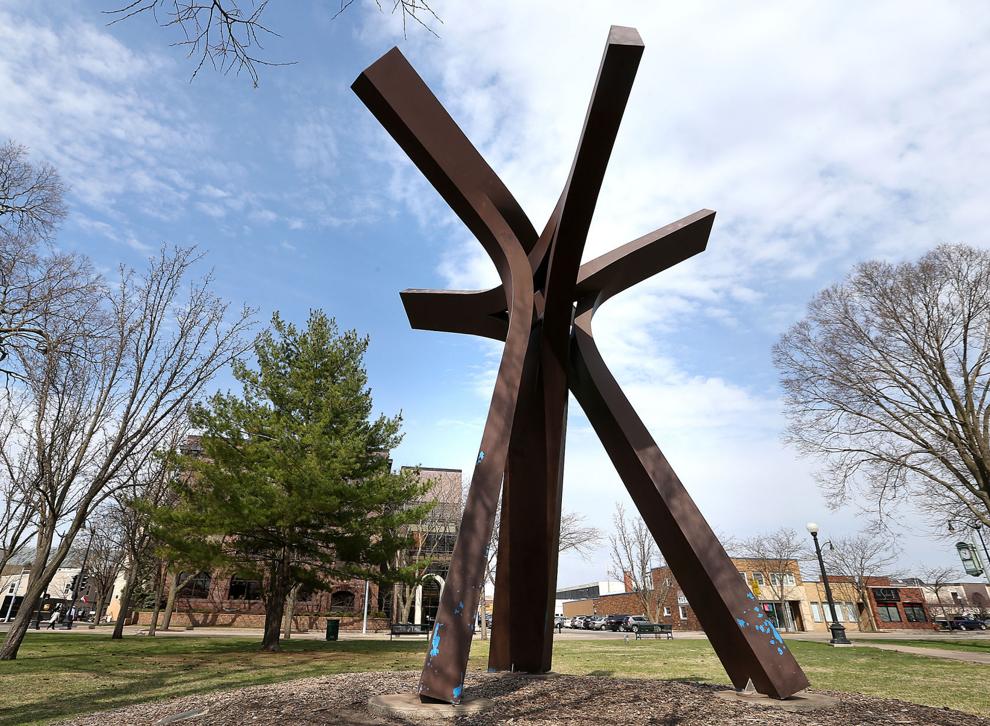 Location: La Crosse Municipal Harbor, 1700 Marco Drive
Standing 20 feet high, this painted aluminum sculpture was originally located in Valley View Mall. After removal from the mall, the sculpture was painted brown and moved to Burns Park. The sculpture was moved to the La Crosse Municipal Boat Harbor in August 2019 to act as a way point for the harbor,
The piece consists of three legs that intertwine and create an interlocked design at the top. The title comes from the word lyre after the constellation of stars.
To see photos from the early years of Valley View Mall, click here.
Adolf and Helga Gundersen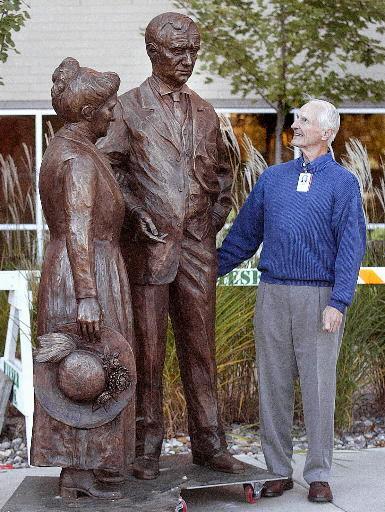 Location: Seventh and Denton streets
Life-size bronze sculpture of the founders of Gundersen Clinic, Adolf and Helga Gundersen.
The Four Muses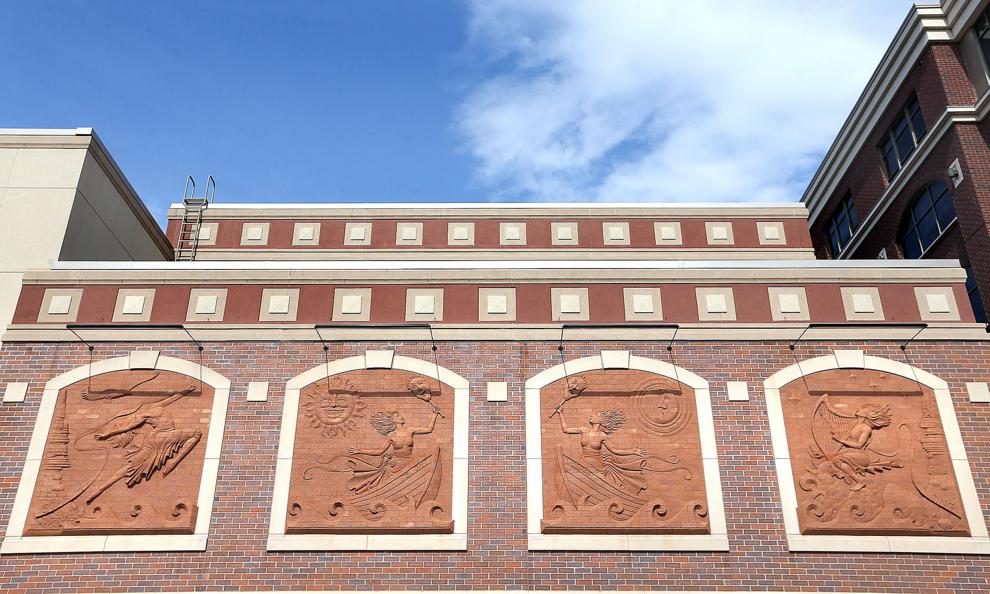 Location: Weber Center for the Performing Arts, 428 S. Front St.
Brick bas relief representing the ancient Greek muses of Dance, Music, Comedy and Tragedy, set in the natural beauty of the area's rivers and bluffs.
Ribbon V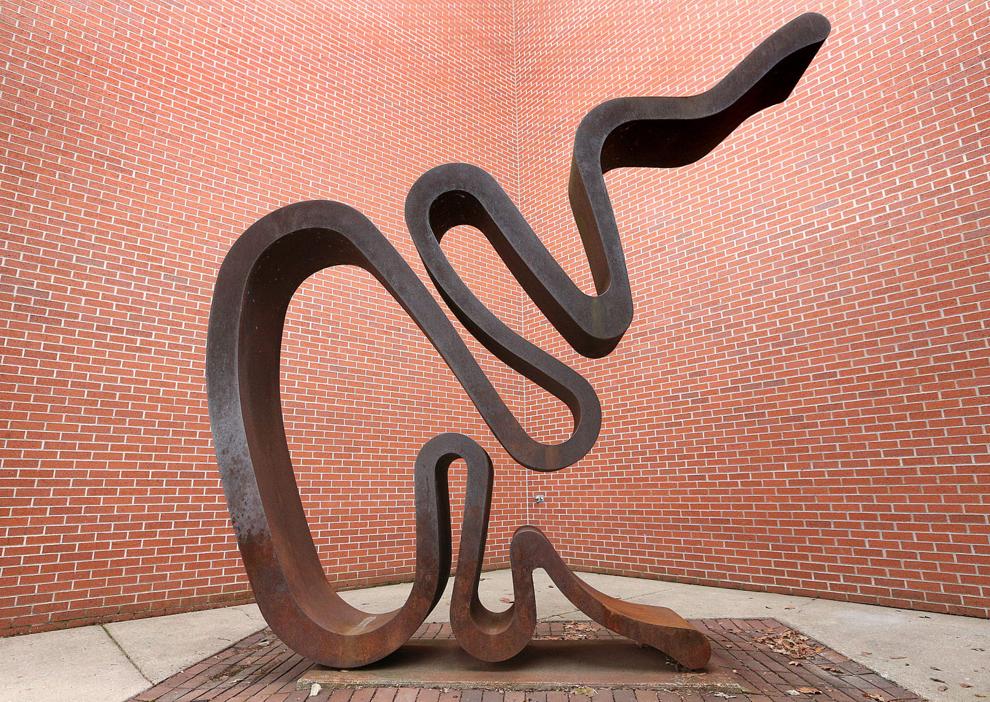 Location: 1725 State St., University of Wisconsin-La Crosse campus
The COR-TEN steel sculpture was designed to resist corrosion and age with a luminous red brown patina. The interpretation of the subject is up to the viewer's own imagination.
Family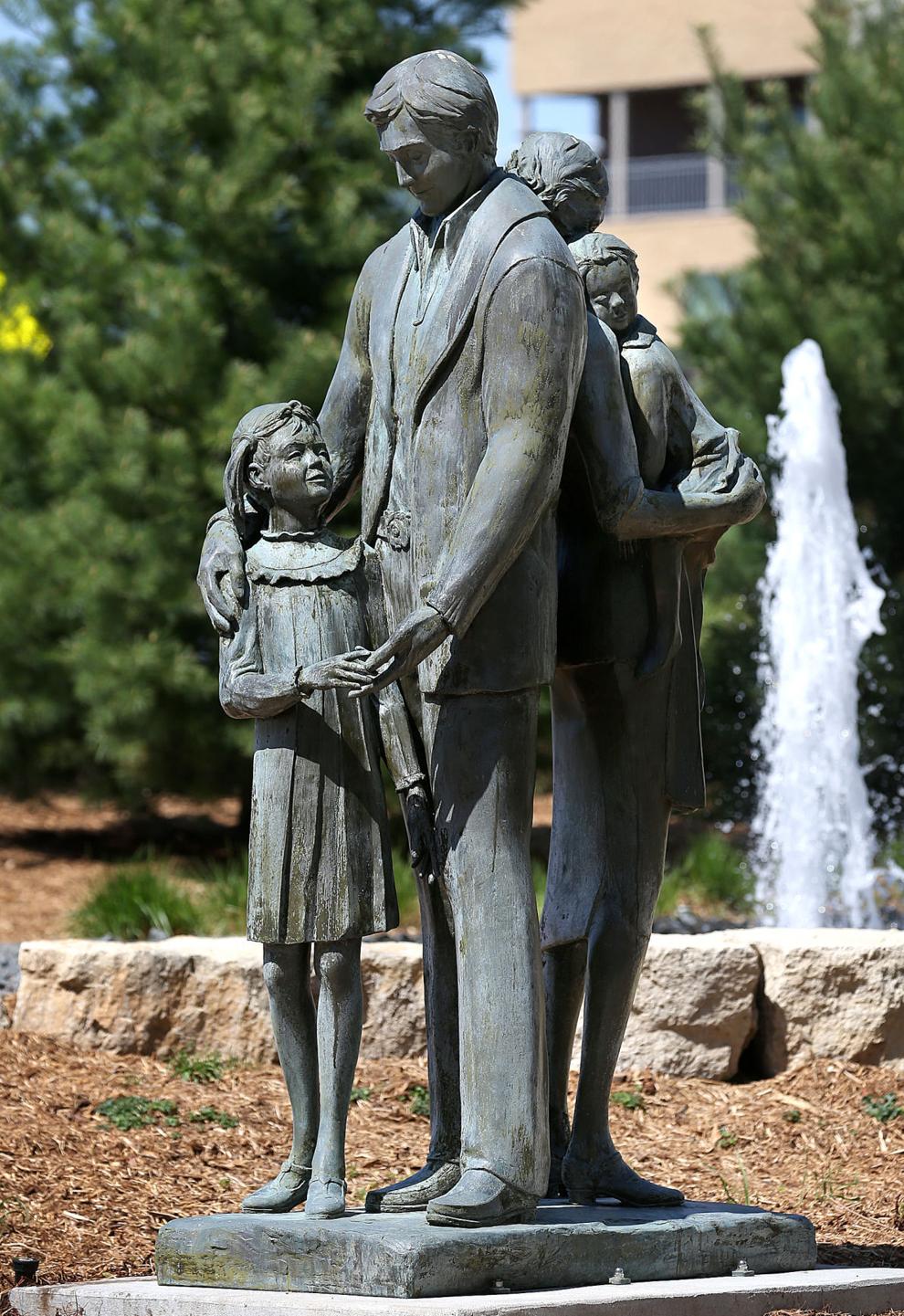 Location: Gundersen Clinic, 1836 South Ave.
An 8-foot-tall cast bronze sculpture of a family of four.
Symphonic Joy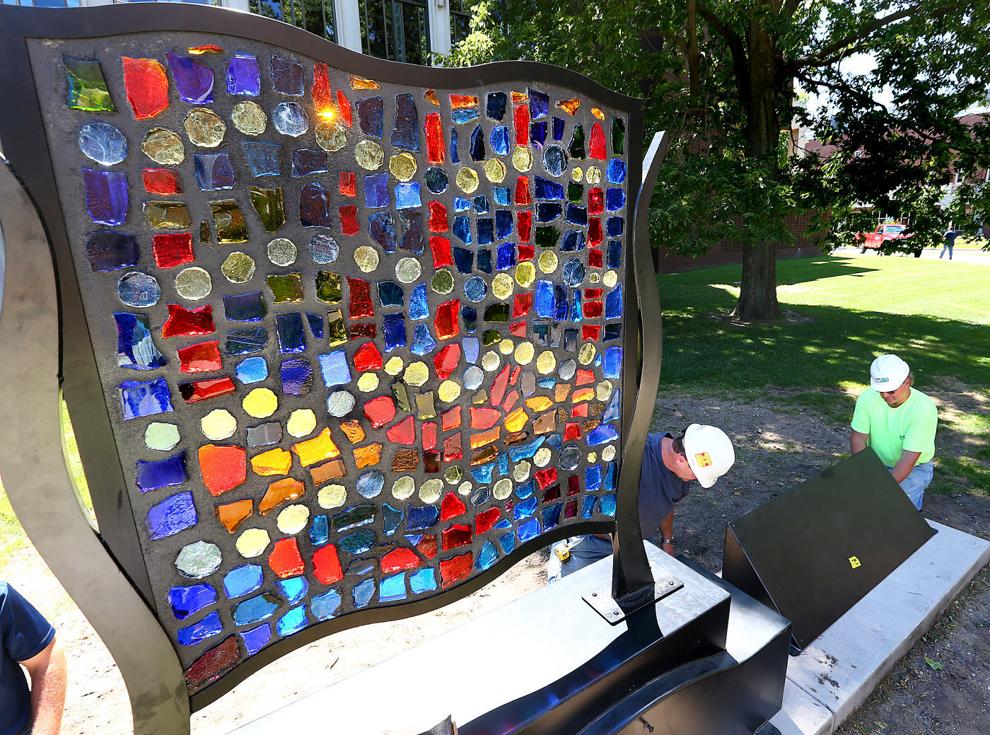 Location: Viterbo University campus
The stained glass sculpture was designed to celebrate the joy and music-making of the La Crosse Symphony Orchestra. The colored glass-filled panel sculpture represents a musical score with thick, stain-glass notes of jewel quality that resemble church windows.
Fledgling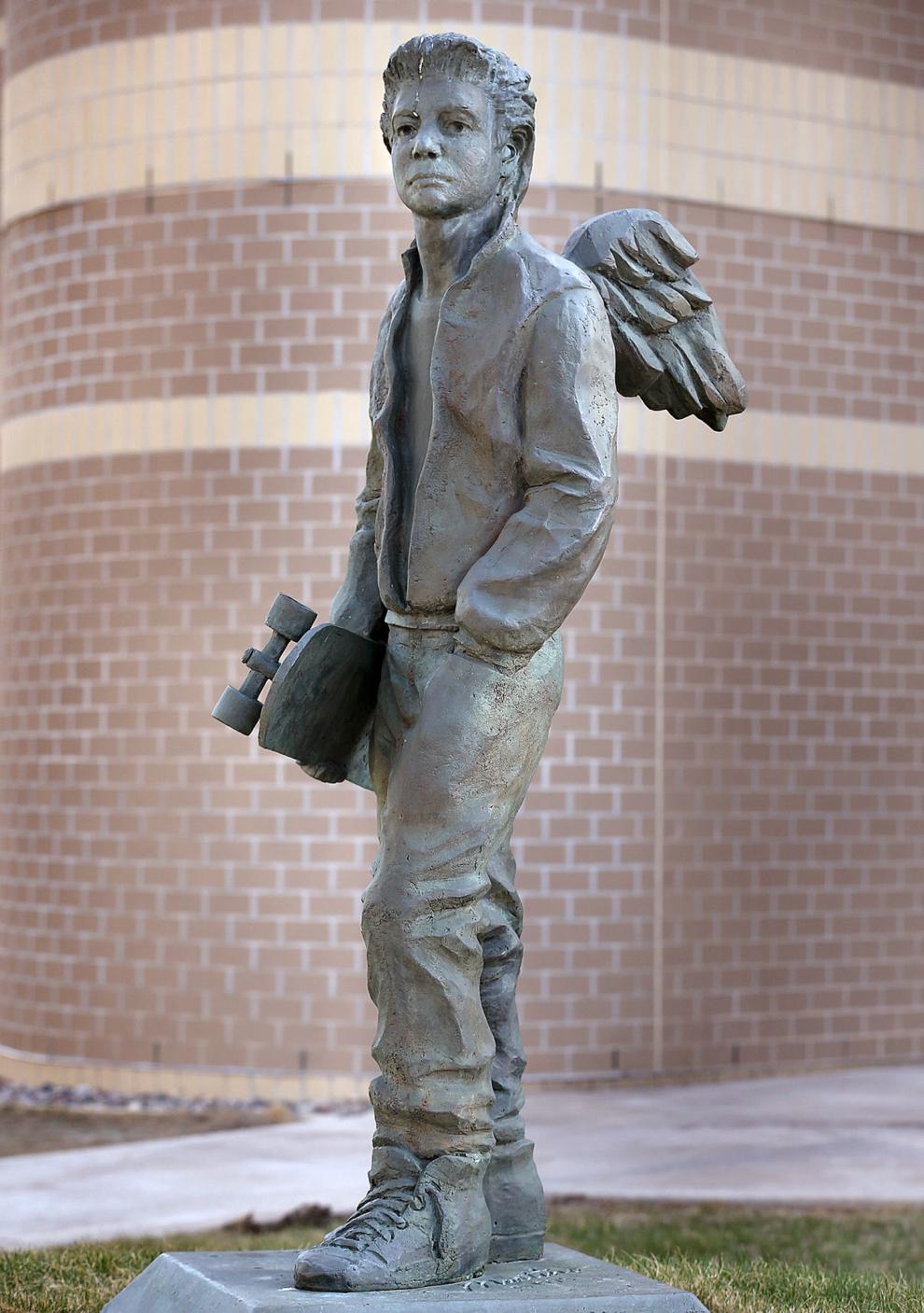 Location: Fourth and and Vine streets
This contemporary sculpture is of a boy with angel wings and his skateboard. Cast in bronze at Lunde Foundry using the "lost foam process." The sculpture was first carved to full size, cut into approximately 25 pieces, cast and welded together, and the final detail formed.
Walter 'Babe' Weigent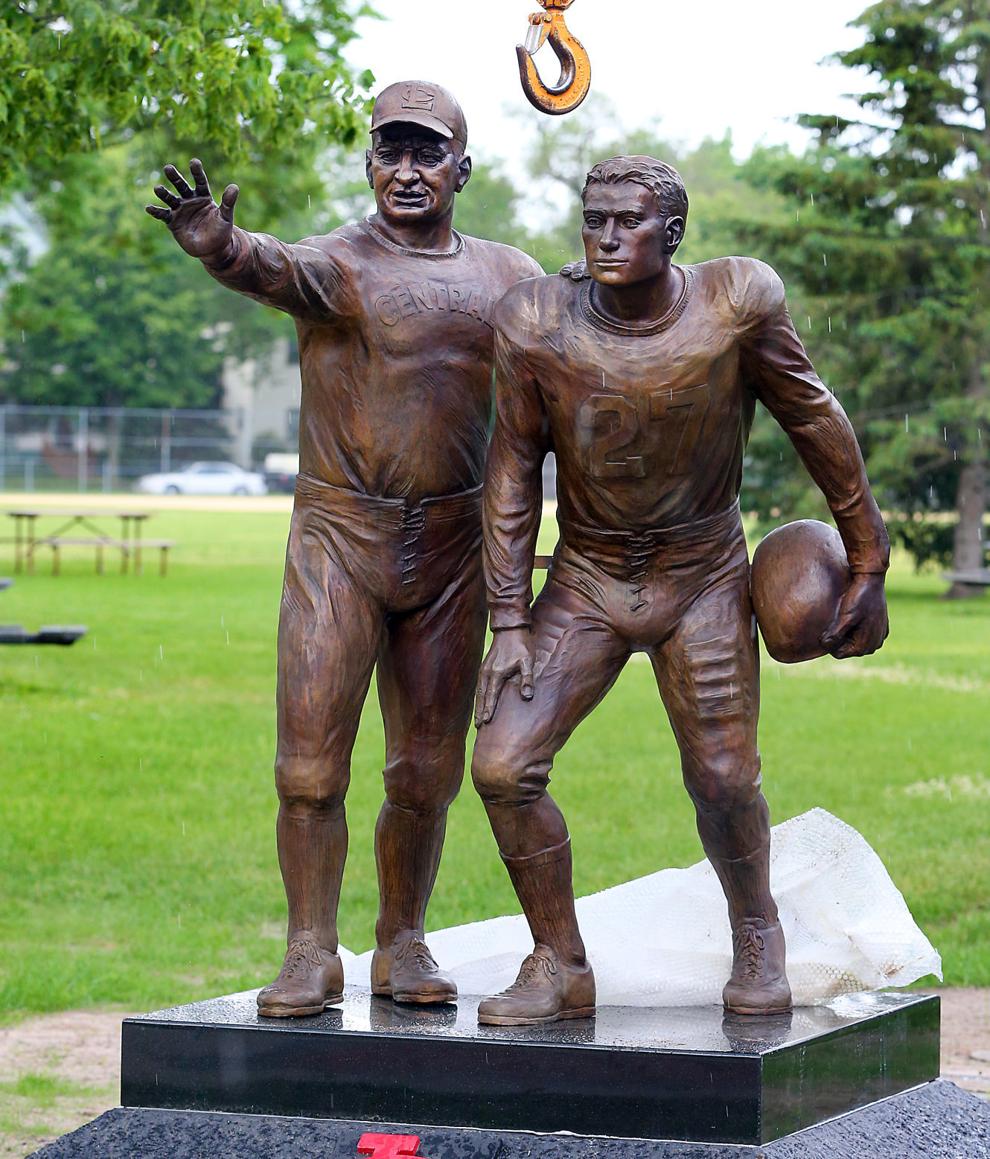 Location: Weigent Park, 16th and Cass streets
This statue of Walter "Babe" Weigent — the longtime teacher, coach and athletic director at La Crosse Central High School — sits at the corner of the park that bears his name. The high school was located at that site before it relocated to Losey Boulevard South in 1967.