Under an almost full moon Wednesday night, nearly 700 protesters gathered in Downtown La Crosse to march against police brutality and racism against black and indigenous people, and people of color, demanding swift reform, starting with its own city officials.
Protesters met in Riverside Park Wednesday evening to hear from local activists before marching to City Hall and elsewhere through downtown, many of the speakers young community members and students.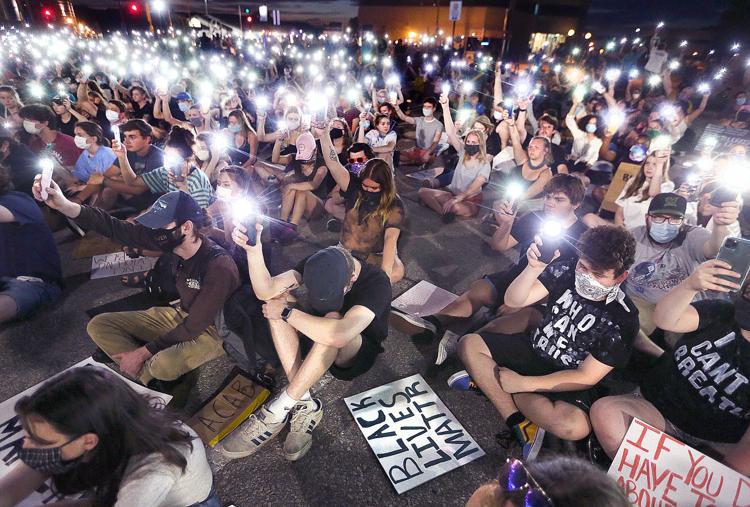 "I am begging you, speak up," Nicole Sutton said to the crowd.
Sutton moved to La Crosse in 2014 from the suburbs of Chicago, with the expectation that things might be different.
"When I moved here, I thought that moving to a small town would be different, that people would have a really cool community and they would all come together for things," Sutton said.
But after moving here, Sutton recalled being chased by a pick-up truck, the passengers calling names and throwing trash.
"Racism is everywhere, just different," Sutton said.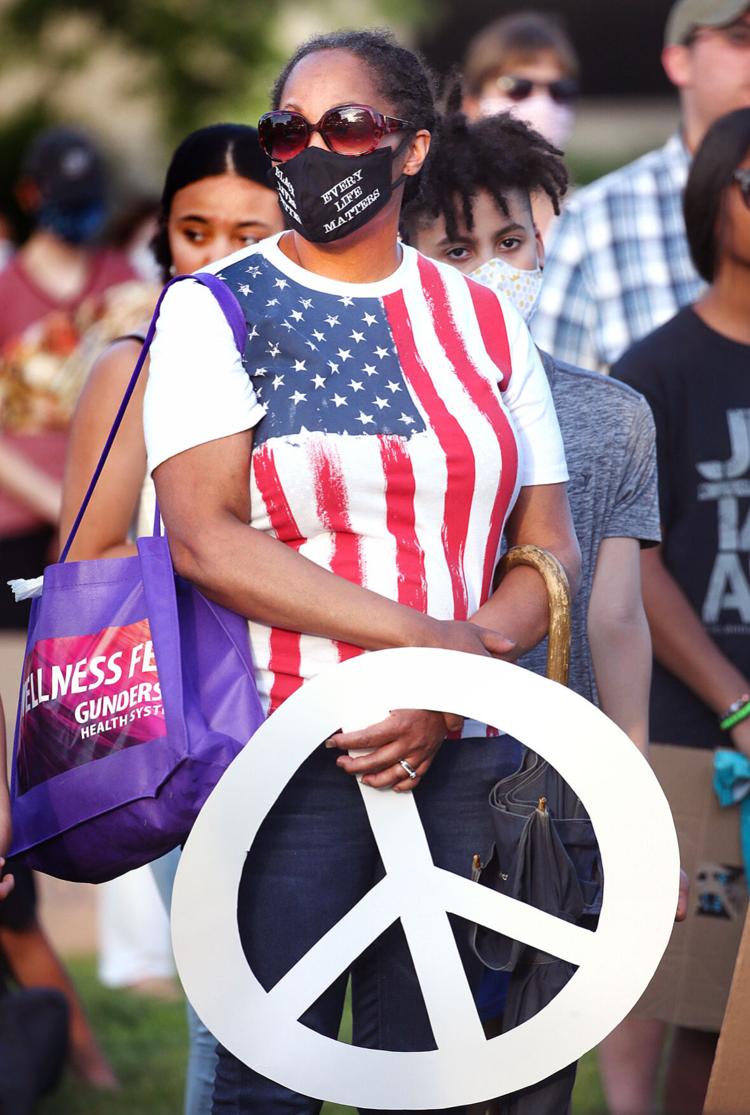 Other young community members of color spoke out about racism they've experienced in the schools and on the streets of La Crosse: watching classmates proudly wave the Confederate flag, being called the N-word, the school curriculums that spend only two weeks on black history and culture in their classrooms, teacher and staff discrimination.
"No kid should have to protest for their future," one young speaker said.
One student spoke on participating in a protest against racial injustice just last November at Logan High School. She said that she and the fellow protesters were marked as truant for walking out.
"It's crazy that nobody realized how wrong that was," the speaker said about the treatment they'd received by classmates, "until we stood up for ourselves. Until we started protesting. Then they wanted to say something."
Organizers said that the choice to have young speakers was no coincidence.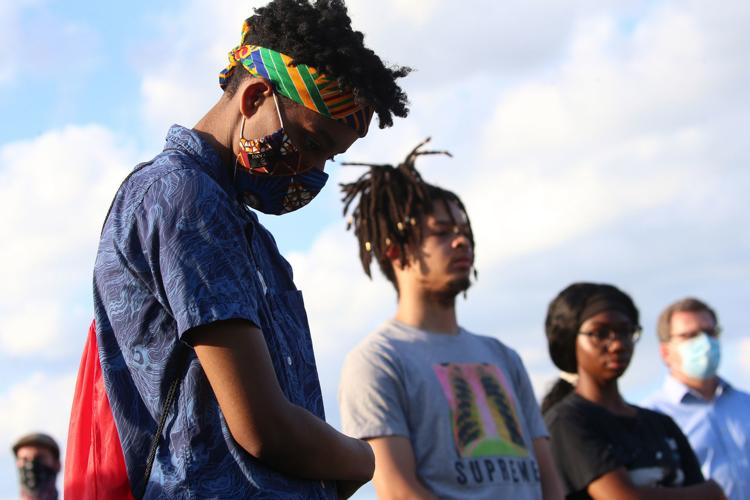 "They are the future, and also they are the students who are learning with your children. And they are experiencing racism," said Kat Sletten, an activist and educator from the area, emphasizing that racism is learned.
"If you aren't talking to your child about being anti-racist, they are going to be racist," she said.
When Sletten, 29, was in second grade, her teacher made her sit in the back of her classroom away from the rest of the students, the only black student in her class.
"I spent a year in silence," she recalled to the crowd. She never told her mom, who is white, about the segregation because she was taught to respect and trust in her teachers, she said.
"Maybe if I was a little whiter like my mom" her teacher would like her, Sletten said she remembers thinking after realizing what had happened.
"And all of those students in the same classroom learned the same lesson I did," she said.
Organizers kicked off the protest on Wednesday night with a message for white participants, that the event was meant for them to hear voices of color from the community and use their privilege to take action.
"I am asking you to listen to understand, not respond," Sletten said, leading the crowd in chants of "I can fix it" and "we can fix this" throughout the protest.
Speakers urged participants to go past attending the protest, but to take action outside of it, too, like donating to groups, signing petitions, voting and speaking out against racism when they see it.
"You are making a promise that you are not just going to hold up a sign, and you're not just going to never forget, that you're not just going to ignore our voice," Sletten said.
Plans to 'fix this'
Speakers called on local leaders to enact real, tangible change, such as reform in the schools and new training for teachers. They also promoted the nationwide initiative known as "Campaign Zero," which outlines policy solutions for police departments.
When the crowd was asked if they had heard of the campaign, fewer than half of the protesters raised their hands.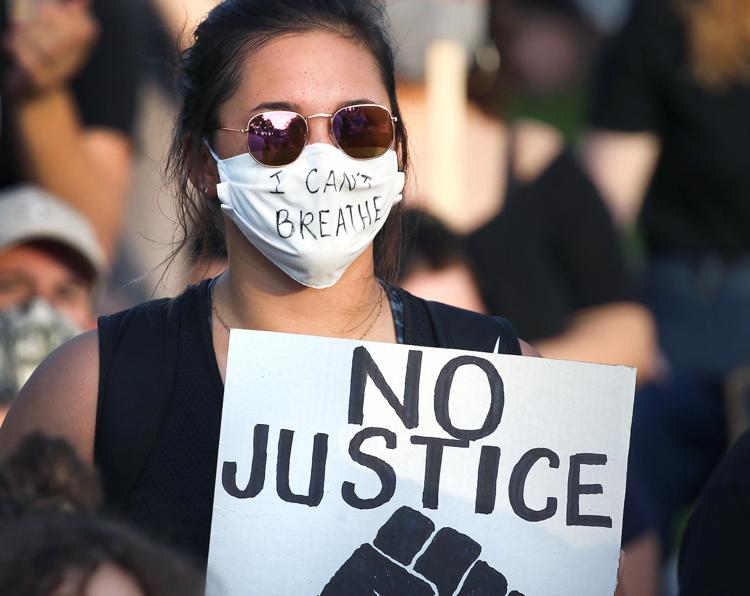 Speakers promoted eight of the policies that could be used in La Crosse's police department immediately: training officers to exhaust all alternatives before shooting, requiring all use of force to be reported, banning chokeholds and strongholds, placing a limit on how long to use force, holding other officers accountable to intervene, requiring de-escalation, banning shooting at vehicles, and requiring a warning before shooting.
"Those are eight initiatives that can be done," Sletten said, "as soon as possible. It can be done this week. We need to start working on it now."
The hundreds of protesters marched through the city, stopping once at City Hall, where they knelt with hands up yelling "hands up, don't shoot," and holding a nine-minute moment of silence — the amount of time George Floyd was restrained by an officer with a knee on his neck — with flashlights in the air.
La Crosse Mayor Tim Kabat listened to speakers at Riverside Park and marched with the group to City Hall, where he and Chief of Police Shawn Kudron spoke to the crowd about their plans to enact change.
"We've got to be willing to put in the work to make change happen," Kabat said. "No matter how many times we feel like we've been down this road before, we've got to throw away our cynicism. We have to go towards action."
Officials announced new initiatives in the city, including a new citizen advisory board that will give "input, reaction and feedback" on police department policies, training and accountability.
New efforts to remain transparent were announced as well, including a new page on the La Crosse Police Department's website that listed statistics on arrests and the department's training records. It went live Thursday morning.
Kabat also emphasized to the crowd the importance of voting and listed off four dates for folks to remember, including the Nov. 3 presidential election, but also Aug. 11, Feb. 16 and April 6 — all local elections.
"It's all about local. This is where we make the change," Kabat said, "Those are the dates you elect mayors and city councils and county boards and school boards. And if you want to see people who represent your values, you need to show up on those dates and vote."
The School District of La Crosse released a statement on anti-racism efforts on Tuesday, speaking out against the "continual unjust killings of countless other black and brown people."
"We will continue to engage in this work transparently and collaboratively," the statement read stating that the administration will work with voices of color to continue its anti-racism work and enact new policies.
Wednesday night's protest was largely peaceful, with emotional scenes of tears, vigils honoring people of color who have been killed, flashlights lighting up a corner of downtown, poems and songs, and streets filled with marchers of all ages, abilities, races and backgrounds.
"One thing we have learned tonight is that racism is a problem in La Crosse. This is not just a Minneapolis issue. This is not just a Chicago issue. This is not just a New York issue," Sletten said, "We have just been silencing the voices. They are not silent tonight."
"If La Crosse is willing to lead that initiative," she said, "I guarantee you other cities in the area are going to follow."
Sign up for our Crime & Courts newsletter
Get the latest in local public safety news with this weekly email.