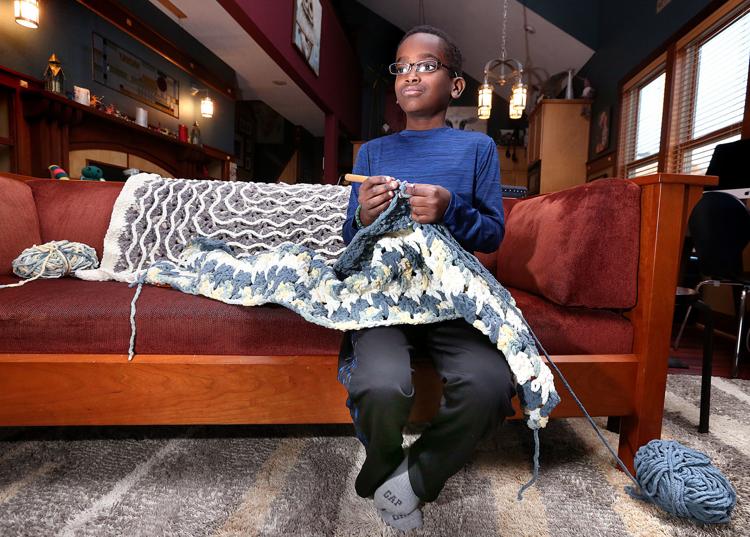 Last winter, Jonah Larson ascended from La Crosse's own crochet wonder to international phenomenon.
Nine months later, his fame shows no sign of slowing down, with a soon-to-be-aired, celebrity-studded talk show appearance, an upcoming workshop at chic clothing and home goods retailer Anthropologie and a holiday issue magazine cover.
Jonah, a student at Lincoln Middle School, filmed his appearance on NBC's new "Kelly Clarkson Show" in late August, flying out to L.A. for the taping.
A big fan of Clarkson's pop music, Jonah learned the admiration was mutual, with show representatives letting his mom, Jennifer, know how much the American Idol alum loves the philanthropic-minded, hook-and-yarn-wielding tween.
"They told us Kelly was so excited to meet him and of course we took them up on the opportunity," Jennifer said.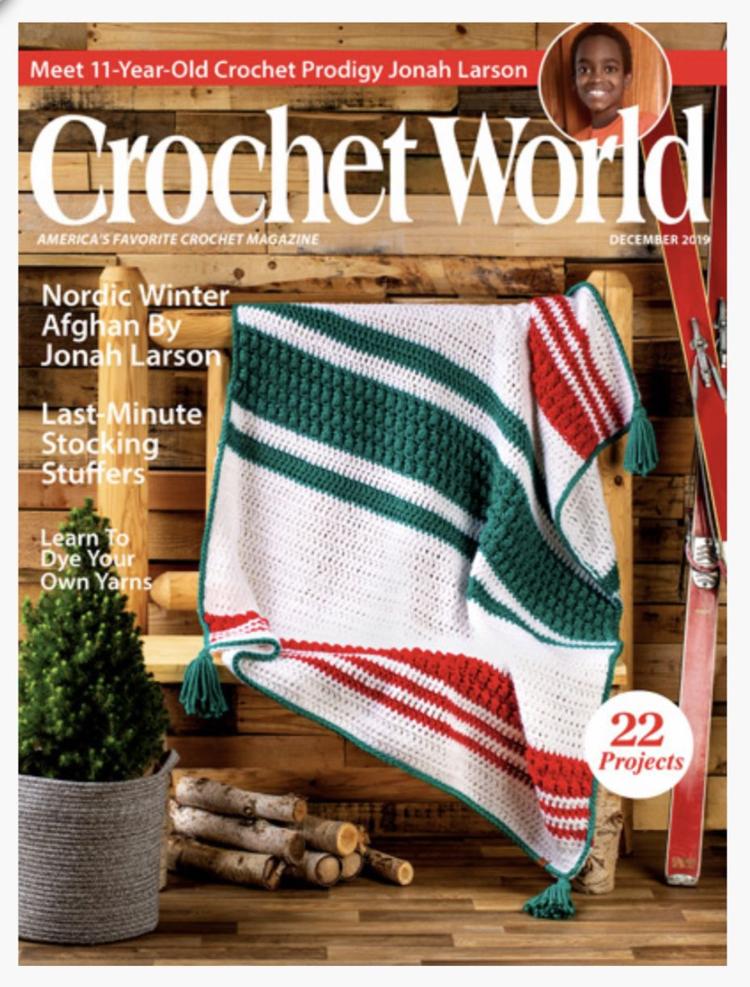 During Jonah's appearance, airing Monday, Oct. 21, he joins Cedric the Entertainer, stunt woman Mindy Kelly and Danica Patrick on the stage, leading the group in a crochet tutorial and presenting each with a gift.
Clarkson, who Jonah notes was "really nice and outgoing," received a finger-knit afghan in her pink and purple logo colors, while Jonah crafted a winter hat for fedora-adoring Cedric.
"Because you can't wear a fedora when it's cold out," Jonah noted.
Kelly was bestowed with a scarf, while Patrick received fingerless gloves and a headband, as well as a special present for boyfriend Aaron Rodgers: a green and gold hat she vowed to wear as she cheers him on at the next Packers game.
"He's like my idol," Jonah enthused of Rodgers. "He's so amazing to me."
Since the taping, Jonah has been busy crocheting items to sell Nov. 7 at the Anthropologie flagship store in Philadelphia, were he will lead a hook-free crochet scarf and cowl tutorial in the evening. Registration for the event is not yet open.
"I can't wait," Jonah says. "I love teaching people how to crochet so they can make beautiful things and teach other generations."
Anthropologie, which contacted the Larsons months ago after discovering Jonah on Instagram, has also pledged $5,000 to Roots Ethiopia, an organization with which Jonah, who was adopted from the country as an infant, has previously collaborated.
In August, Jonah sent the nonprofit a $9,300 check, the money raised through his Go Fund Me campaign, which is being used to build a library in his name. A yet to be announced celebrity contributed an additional $5,000 for a reading room, and the Anthropologie funds will be designated for the development of a science lab in a school located in Jonah's birth village.
"They have no access to microscopes and tools and (with the lab) they can make observations and do experiments and learn more," Jonah says. "I'm so glad (Anthropologie) did that because it helps me build more and expand my dreams. Those kids in Ethiopia would be my classmates if I was still there and I want to help them (have the opportunities) like I have in La Crosse."
Topping off his epic fall, Jonah is also making his magazine cover debut, his smiling face and elaborate "Nordic Winter" afghan gracing the front of Crochet World magazine's December issue. The issue hit newsstands this week.
"It's really exciting," Jonah says.
---
Get local news delivered to your inbox!
Subscribe to our Daily Headlines newsletter.