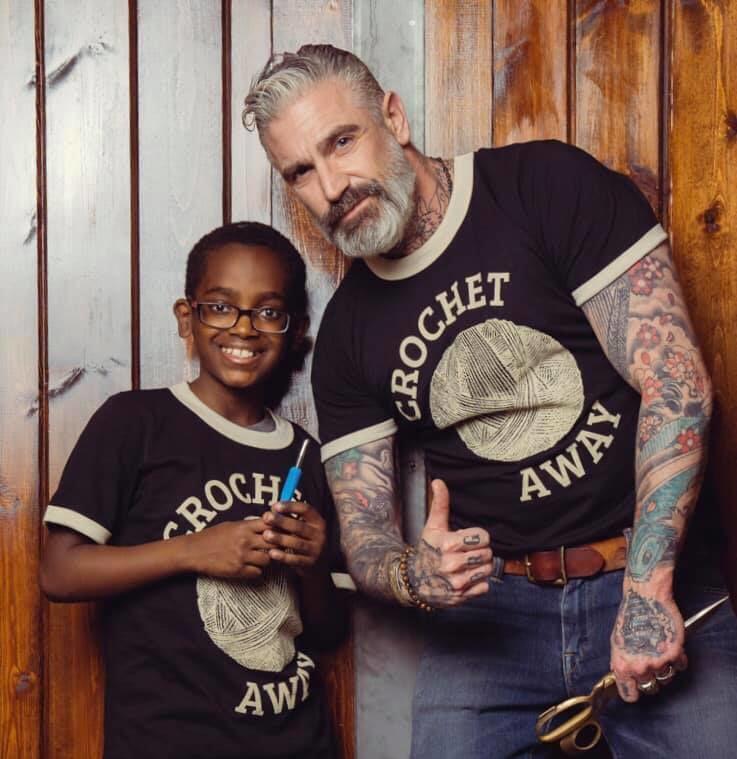 As a child, Daniel Sheehan gravitated toward arts and crafts with his mom over sports with his peers. So in young crochet prodigy Jonah Larson, who shares an equally close bond with his mother, Sheehan found a kindred spirit.
An Atlanta-based fashion designer with big-name clients — Kelly Clarkson and the Zac Brown Band among them — Sheehan began following 11-year-old Jonah's story in February, after Sheehan's vintage dealer in New York pulled up the La Crosse boy's Instagram page, Jonah's Hands, to show him.
"It was this little boy with this little voice saying, 'Hello, crochet friends,' and it stopped me in my tracks," said 44-year-old Sheehan. "I showed my mom and I had tears in my eyes and she started crying. I sent a message to Jonah saying I wish he would have been my friend when I was 11 years old. ... Within 12 hours I had this beautiful response from Jonah."
Today, the pair share more than a friendship.
Under Sheehan's guidance, Jonah — who skyrocketed to fame after the La Crosse Tribune profiled the young speed crocheter in February — has created a fashion line of his own, branching off from a crochet-themed T-shirt collaboration between Jonah's Hands and Sheehan Company.
Jonah's line of clothing, available beginning May 19 at jonahhands.com, will feature his own designs, with slogans including "Crochet Away" and "Bro-chet." A portion of the proceeds will go toward Roots Ethiopia, a nonprofit located in the country where Jonah was born, before being adopted as an infant by parents Jennifer and Christopher.
"It moves me that this child in this stage of the game wants to be charitable," said Sheehan, who funded both the website and the first round of shirts to get Jonah started.
"Daniel has been a wonderful mentor for me — he taught me all the ropes about being a business owner," Jonah said. "He's become more than a fashion designer, he's become my uncle and our minds fit together perfectly."
The two started their communication through video chatting in February — Jonah showing off his crochet creations, Sheehan sharing his designs and even sending Jonah a bespoke orange henley.
"We had a common vernacular — we finish each other's sentences. I heard him describe color and talk about silhouette with such passion," says Sheehan, who invited Jonah and Jennifer to the Sheehan Company design room in Atlanta last month.
Jonah, precocious and articulate, greeted Sheehan's staff by saying, "I want everyone to act with integrity today and do a good job, the best you can, and have fun."
Admiring a tour jacket Sheehan had made, Jonah designed his own, with pockets for crochet hooks and themed patches. After wearing it on his TODAY show appearance April 26, "a little business was born for him," Sheehan says.
"It's about Jonah diversifying. Jonah has a message and it's bigger than crochet," Sheehan said. "He has a fearless approach to everything he does and he accomplishes the same thing with a crochet hook as he does with a T-shirt."
The partnership between her son and Sheehan, who is helping the Larson family find a factory to produce the next batch of garments, is "magical," Jennifer says.
"Jonah's ability to design comes alive through this mentorship — fashion opens a whole new world for Jonah," Jennifer said. "(Daniel) has donated an unbelievable amount of resources to us. He makes this really fun for Jonah — it's not work."
Sheehan, who has no children, had never taken on a young protege but found in Jonah a strength, sense of compassion and spirit of inclusivity — "He's taken away the shame associated with going against gender rules" — that inspired him.
"He moved me. He changed my life," Sheehan said. "He loves me with open arms and there's no judgment. The strength of what the Larsons do and how they've taught Jonah loving and empathy is profound to me. I've learned to be a better person through Jonah."
Sheehan has not, however, learned to be a better crocheter.
"I have to say," Sheehan admits, "I'm not very good."