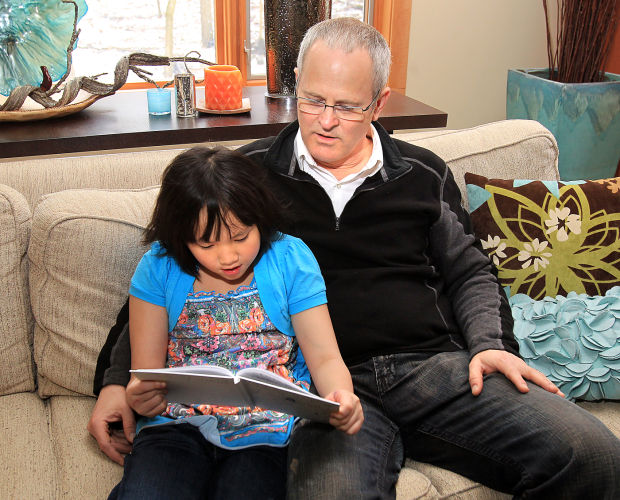 A frustrating weekend in Sin City morphed into a "God moment" that delivered chicken soup to Steve Spilde's soul.
The Onalaska resident has transformed it into a lesson for other parents of autistic children in the newest book in the "Chicken Soup for the Soul" franchise.
Spilde's chapter details his exasperation during a getaway three years ago with his wife, Dr. Jeannette Gasal Spilde, and their daughter, Sophia, now 9, who has autism.
Titled "Thank You, Las Vegas," Spilde's tale is published in "Chicken Soup for the Soul: Raising Kids on the Spectrum," subtitled "101 Inspirational Stories for Parents of Children with Autism and Asperger's."
Spilde, 50, had hoped that the Vegas weekend would give the family respite from a long Wisconsin winter and relieve the pressure of being a stay-at-home dad caring for an autistic child. Jeannette is a radiologist at Gundersen Lutheran.
Instead, it devolved into a chilly encounter with a culture that clashed with their Midwestern values, as well as a maddening moment at a golf range that rendered him a "pathetic" player.
"This is the final straw," he writes. "The damage to my self-esteem is complete. It is time to go home. I find myself questioning the priorities and direction of my life."
But a cab driver erased the dark feeling when she expressed admiration for the Spildes' patience with Sophia as the girl peppered them with questions amid the sensory overload of Vegas.
The cabby's praise prompted Spilde to end his chapter with this reflection:
"Of all the places in the world, Sin City has delivered a clear message of affirmation about my life and my priorities:
"I am a stay-at-home father.
"I provide care for an autistic child.
During an interview, Spilde said, "That story is completely true. Nothing was embellished. I was frustrated.
"But it was a real God moment, with a message made especially for me," said Spilde, a Lutheran minister who recently became part-time spiritual director at the Franciscan Spirituality Center in La Crosse.
The Spildes didn't know Sophia had autism when they adopted her from China at 14 months. She was diagnosed soon after they brought her home.
"We were told to expect developmental delays on motor skills and social interaction," he said.
Despite extensive therapy, "by age 3½, it wasn't clear she would talk," he said. "Now we laugh, because she doesn't want to stop talking."
Patience is a vital attribute for parents of children with autism, he said.
"Sophia has been a graduate course in patience. She is so easily distracted. Focus is very difficult for her," he said. "Part of her challenge is that a lot of autistic people don't have filters. If you go into Barnes and Noble, with lots of noise and people and books, she can't filter and stresses out.
"In school, with 20 second-graders running around, it can be overwhelming for her," he said.
Sophia is faring well in class, said Natasha Pedretti, an autism teacher at Sand Lake Elementary School in Holmen.
"She is the most full-of-life kid I've ever seen," Pedretti said. "She has a feeling of happiness … Is she always happy? No, she has moments like any others. But she loves school and tries to please adults.
"She is exuberant with life," she said. "The other day, she said, 'This is a great day to be alive.'"
Having patient parents like the Spildes always helps, Pedretti said. "They have such patience and unconditional love. When she hurts, they hurt."
The bond between Sophia and her dad is especially strong, Pedretti said.
"They have an amazing relationship. They do so many things together," she said. "They both have a sparkle in their eyes that reaches all the way through."
Get local news delivered to your inbox!
Subscribe to our Daily Headlines newsletter.