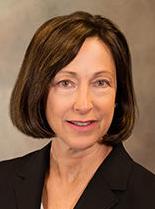 After five years leading Dairyland Power Cooperative, company president and CEO Barbara Nick will retire this summer.
"After 40 years in the industry, it's time to let our bright young people bring their talent (forward)," Nick said.
Nick started at La Crosse-based Dairyland Power in December 2014 after her role at WEC Energy Group (formerly Wisconsin Public Service Corporation/Integrys), and will leave her position in July 2020.
Dairyland Power provides wholesale electrical requirements for 24 distribution cooperatives and 17 municipal utilities, which supply the energy needs of more than 500,000 people in Wisconsin, Minnesota, Iowa and Illinois.
Under Nick's leadership, Dairyland, a Touchstone Energy Cooperative, renewed its focus on resource diversification, leadership development and sustainability, and saw its solar investment double the solar generation statewide in 2016.
"We have been privileged to have Barb serve as Dairyland's CEO for the past five years. She is innovative and works to position Dairyland to anticipate the future needs of its member cooperatives," said Dairyland board chairman Ed Gullickson. "We will miss Barb as a strong leader who values employee development and demonstrates the cooperative principles. She has developed a strong management team and continues to work closely with the board to ensure Dairyland is in a solid financial position to maintain future success."
During Nick's time with Dairyland, the company finalized a power purchase agreement with Ranger Power for a proposed 149-megawatt Badger State Solar Project, the solar photovoltaic facility to be based on land in Jefferson County.
In May, the company also announced an agreement with Avangrid Renewables for 52 megawatts of renewable energy from Tatanka Ridge Wind Farm in South Dakota.
"What I feel most proud of is what our Dairyland team, our Dairyland family, has accomplished," Nick said, citing "robust" resource diversification efforts, and, from 2016 to 2018, the addition of 18 new solar arrays with a combined 25 megawatt generation capacity. "I love the La Crosse area, I love the people here and all the members of Dairyland Power. They have enriched my life."
Nick, who holds a bachelor's degree from UW-Green Bay and completed Harvard Business School's Advanced Management Program, has an extensive resume beyond her work with Dairyland.
Nick served on the state of Wisconsin Investment Board, which oversees $100 billion in state funding, for six years and is secretary on the Wisconsin Manufacturers & Commerce board; an independent advisory director for Mead & Hunt; a trustee for Viterbo University; a board member of the Electric Power Research Institute and a member of the EPRI Governance and Nominating Committee.
In addition to her 30 years of service on the boards of several profit and nonprofit boards, Nick is author and editor of "Lenses of Leadership, A Call to Action."
Post retirement, Nick will continue to serve on the state Investment Board and a few others, calling it a privilege. She looks forward to more time with her husband, kids and grandchildren.
Dairyland's board of directors is interviewing finalists for search consultants and will soon begin looking for internal and national candidates for Nick's successor.
Get local news delivered to your inbox!
Subscribe to our Daily Headlines newsletter.