Dairyland Power Cooperative has announced plans to purchase 98 megawatts of electricity from a wind farm to be built near Platteville, Wis., nearly tripling the La Crosse-based utility's wind capacity.
Construction of the Quilt Block wind farm is expected to begin next year pending regulatory approval. The 49 turbines are expected to begin generation by the end of 2017.
Dairyland CEO Barbara Nick announced the purchase agreement Wednesday at the cooperative's 75th annual meeting in La Crosse.
"This is a significant addition to our renewables portfolio," Nick told the gathering of more than 460 member delegates, employees and guests.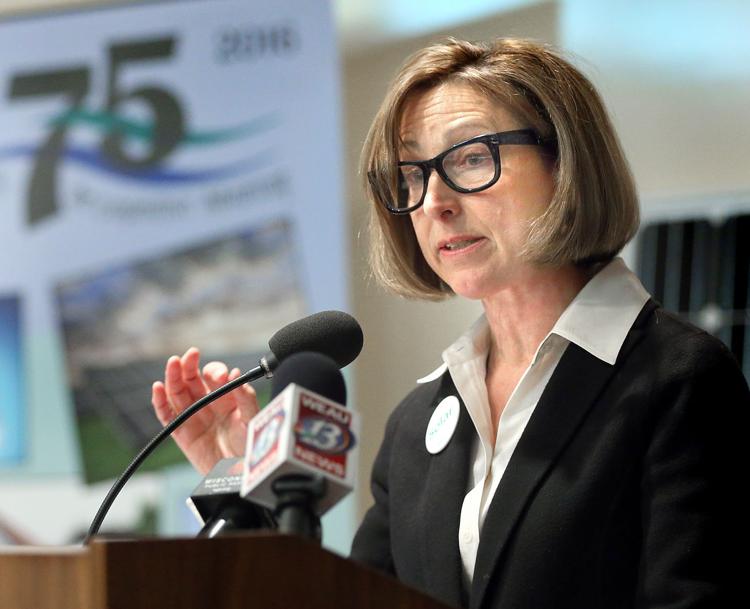 According to RENEW Wisconsin, the wind farm, to be owned and operated by EDP Renewables North America, would be the state's fourth largest and would increase Wisconsin's wind generation capacity by about 15 percent.
The clean energy advocacy group praised Dairyland and EDP for designing a locally-supported project, which will be Wisconsin's first utility-scale wind farm built since 2011. According to the group, EDP will generate nearly $400,000 a year in revenue for Lafayette County and the town of Seymour.
"We congratulate and applaud Dairyland Power Cooperative and EDP Renewables for this major clean energy venture that will bring a multitude of benefits to southwest Wisconsin and Dairyland Power members throughout the state," said RENEW's executive director Tyler Huebner. "Dairyland is making the most of the opportunity at hand to lock in the benefits of low-cost clean energy for its member cooperatives."
Part of the world's third-largest wind energy company, EDP North America is headquartered in Houston and has more than 4,000 megawatts of wind capacity installed in a dozen states. This will be the company's first project in Wisconsin.
The purchase agreement will bring wind energy from about 4.5 percent of Dairyland's capacity to more than 12.6 percent. That's a big step toward the goal of 18 percent by 2025.
Nick also said Dairyland is exploring a partnership in a new natural gas generator. Details of that agreement are not expected until later this year.
The addition of wind and natural gas resources are the keys to Dairyland's "preferred power supply plan," which aims to reduce its reliance on coal from nearly 70 percent to about 52 percent.
Even as the utility seeks to restrict the federal government's efforts to regulate greenhouse gasses, Dairyland's plan calls for a more diverse energy portfolio.
"We must plan for a carbon-constrained future, regardless of legislative or regulatory actions," Nick said. "Our commitment to the environment is the guiding principle of our preferred plan."
Last week Dairyland celebrated the groundbreaking of the first of 12 solar gardens with a combined 19 megawatts of direct current renewable capacity.
You have free articles remaining.
Register for more free articles.
Stay logged in to skip the surveys.
Wednesday's announcement came as Dairyland released its annual report showing a 6 percent decline in power sales in 2015, which was attributed to a mild winter and a long-term trend of declining electricity use as a result of high-efficiency lighting and appliances.
Dairyland's net margins were up more than 16 percent to $26.7 million on total operating revenues of $418 million.
The board approved a 2016 budget with a less than 2 percent annual increase in its wholesale rates.
Founded in 1941, Dairyland now serves 42 municipal and co-operative utilities with about 600,000 customers in Wisconsin, Minnesota, Iowa and Illinois.
Old nukes, new nukes
Dairyland also announced the transfer of its license for the La Crosse Boiling Water Reactor plant in Genoa to a company specializing in nuclear waste disposal.
La CrosseSolutions, a subsidiary of EnergySolutions LLC, has assumed responsibility for decommissioning the 50-megawatt plant, which shut down in 1987. The reactor vessel was sent to a South Carolina disposal site in 2007, while the spent fuel rods were removed in 2012 and put in dry casks that remain on the site.
A federal trial is expected to begin later this year as part of Dairyland's efforts to recoup the cost of storing the waste from the federal government, which was supposed to take possession of it in 1998 but has yet to open a repository.
It's expected to take two to three years to dismantle the rest of the plant. Dairyland has about $94.7 million in its nuclear decommissioning trust fund.
Co-op members adopted a resolution supporting changes in state and federal regulations that would make it easier to build a nuclear plant. Wisconsin lawmakers earlier this year eliminated a 33-year moratorium on construction of new plants, though no plans have been announced.
Construction of U.S. nuclear power plants came to a virtual halt after a partial meltdown at Three Mile Island in 1979. There are currently four reactors under construction in Georgia and South Carolina, while a second unit at the Watts Bar plant in Spring City, Tenn., scheduled to go online this summer will be the nation's first new reactor in 20 years.
Nick said Dairyland has no interest in building another nuclear plant, as it is too small to support the capital costs and regulatory burden.
But she indicated it could be feasible for a larger producer to build a plant and sell electricity.
"I think nuclear definitely has a place in the resource mix," she said. "Public opinion is anyone's guess."