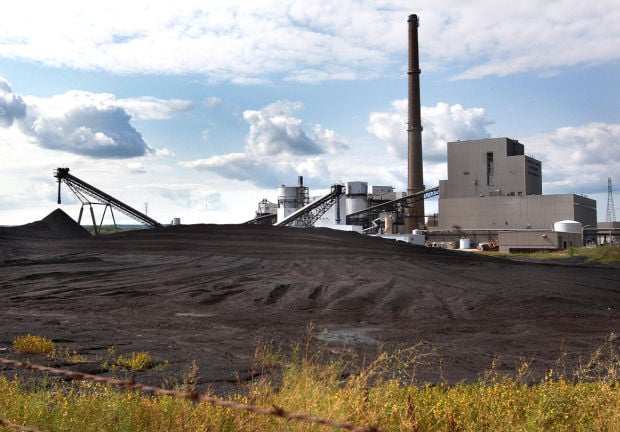 An ongoing rail backlog that has stranded grain shipments across the Great Plains is now threatening to shut down a La Crosse-area power plant.
Dairyland Power Cooperative says it could run out of coal at its Genoa generating plant by January if the BNSF railroad doesn't rapidly accelerate deliveries.
Halfway through the summer shipping season, the coal supply has dwindled to "perilous levels" and is falling further behind each week, according to a memo sent last week to lawmakers.
The La Crosse-based utility, which serves about 250,000 mostly rural customers, relies on coal to generate power at plants in Alma and Genoa. Alma is served directly by a BNSF rail line, while coal is shipped to Genoa on barges loaded at a terminal in southeast Iowa.
The utility typically stockpiles fuel before the Mississippi River closes to shipping in the fall.
Earlier this year Dairyland resorted to trucking coal to Alma when BNSF, its contracted carrier, fell behind. Now it says the railroad is not getting coal to its Iowa terminal.
Sean Craig, Dairyland's manager of fuel supply, said the utility has few options because the plant is set up to burn low-sulfur coal from Wyoming's Powder River Basin and rail capacity is tight.
Xcel Energy, the area's other primary utility, experienced fuel shortages in the first quarter at its three coal-burning plants in the Twin Cities area, but spokesman Brian Elwood said inventories have since returned to normal.
In addition to hauling up to 50 truckloads of coal per day to Alma, Dairyland has had to ration coal and purchase power on the market, which has increased costs.
"When we have to purchase power on the market … it's supply and demand," said spokeswoman Deb Mirasola.
Dairyland has raised wholesale energy prices for its 25 member cooperatives and municipal utilities, but Mirasola could not say if those increases have been passed on to consumers.
BNSF has attributed delays to harsh winter weather and a surge in rail shipments of grain, autos and shipping containers, but critics blame increased shipments of crude oil from the Bakken oil fields. Newly released shipping data show BNSF moving an average of five to six oil trains each day through La Crosse.
Whatever the reason, Dairyland is critical of BNSF for failing to meet a contract signed in 2011.
"BNSF has clearly had plenty of time to plan and prepare but has simply failed to do so," the memo states.
BNSF is one of two railroads required to file weekly reports updating federal officials on efforts to catch up on grain shipments from the Dakotas, Montana and Minnesota.
The railroad issued a statement saying $5 billion in planned long-term improvements – including a second set of tracks through La Crosse – will help alleviate delays. Meanwhile it is adding locomotives and hiring crews.
"We continue to see some gradual improvements in service for customers along our Northern tier as new capacity comes online," the statement read. "We remain focused on priority issues facing our customers and are working with them directly."
In letters sent last week, lawmakers from Wisconsin, Minnesota and Iowa urged the Surface Transportation Board to work with BNSF to resolve the issue.
Dairyland warns the railroad will need to triple its normal pace of deliveries through October to meet demand.
While shuttering a plant would not leave area residents in the dark, Dairyland said "continued poor service by BNSF will pose a significant risk to the reliability of the electric grid in the Midwestern region, as well as increase the likelihood of much higher electric rates for our members."