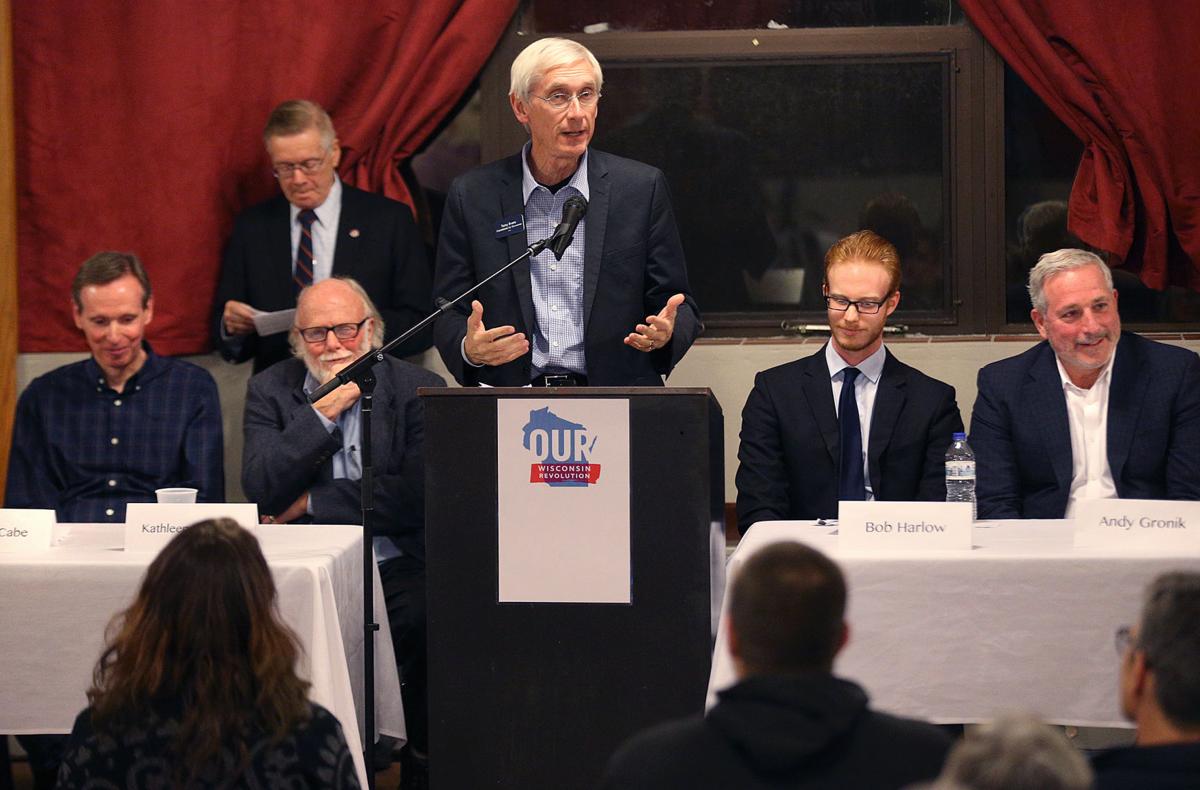 Eight of the Democratic candidates competing for a chance to run for governor took aim at the same target during their debate Monday night: Wisconsin Gov. Scott Walker.
The forum, moderated by University of Wisconsin-La Crosse political science professor emeritus Joe Heim, featured most of the people who have declared their candidacy. An August primary will determine the nominee.
The candidates, or their surrogates, faced off during a debate hosted by the local Our Wisconsin Revolution chapter at The Brickhouse in downtown La Crosse.
Walker visited Onalaska Monday morning, kicking off a statewide tour as he makes his pitch for a third term.
The Democrats attacked Walker's record of job creation and the performance of his job creation agency, the Wisconsin Economic Development Corp. They were also critical of the $3 billion Foxconn deal the Governor has promised will result in 13,000 new jobs and a $10 billion manufacturing plant operated by the Taiwanese manufacturing giant.
"This is not how we do economic development in the state," Wisconsin Superintendent of Public Instruction Tony Evers said.
Evers promised he would eliminate WEDC if elected governor and instead, would focus economic development efforts at the local and regional level. In place of promising tax breaks to big businesses, he said, his focus would be helping small businesses and entrepreneurs get the loans and support they need to start up or expand.
"It is the main street we should be focusing on," he said.
State Sen. Kathleen Vinehout was represented by her husband, Doug Kane, who contended government doesn't create jobs. Lowering taxes and regulations don't work either, he said, pointing to the fact that Walker has yet to make good on his promise to create 250,000 new jobs.
Instead, the government should do what it does well, which is infrastructure, education, health care and improving the quality of Wisconsin's communities. Those things will bring people into the state and attract businesses with high wages, continuing the cycle.
"If the public sector does well," Kane said, "communities will thrive and companies will come in and create jobs."
Education was another big topic tackled by the candidates, many of whom spoke about the need to rein in the state's parental choice programs that send public dollars to private schools. Many also spoke of the need to expand funding for public education — except for disability rights advocate Jeff Rumbaugh of Madison.
Instead, the candidate spoke about controlling education costs, especially those in higher education, which are leaving students with heavy loads of debt. He also said the state needs to rethink school funding to get it away from a property tax-driven model that favors wealthy and urban communities.
"There is money in the system," he said. "The question is how are we going to improve the system."
Many of the candidates also favored increasing the minimum wage, positing either an undisclosed living wage or the common $15-per-hour minimum that has gained traction in some states and communities such as Seattle.
Several candidates supported accepting the Medicaid expansion funding Walker has declined, and some argued for creating BadgerCare for all, which could be used as a model for a national single-payer health care system.
Health care needs a national solution, candidate and political activist Mike McCabe said, but that doesn't mean the state can't lead the way by making BadgerCare, Wisconsin's healthcare insurance program for low-income residents, available to all. He was echoed by self-styled soccer mom and Cross Plains salon owner Michele Doolan, who said a public option is needed as a way to help control drug and insurance costs.
"I say we start something here," she said. "Let's roll out the solution here."
The state GOP countered that Democrats lack viable solutions.
"With more people working than ever before, Gov. Scott Walker is standing up for hard-working Wisconsin families and delivering real results — making historic investments into education and cutting taxes," party spokesman Alec Zimmerman said. "The Democrats running for governor are offering nothing more than a return to the same failed policies of yesterday as they attack Wisconsin's comeback."
The forum, which also included Milwaukee businessman Andy Gronik, Stanford graduate Bob Harlow and former legislator Pat Kreitlow representing candidate and Eau Claire legislator Dana Wachs, ended on a high note. The candidates said they felt a passion in the more than 120 attendees who showed up to listen while grabbing a burger or a craft beer, and regardless of who wins the primary, they expressed certainty it would be someone who could take on Walker and put a Democrat in the governor's mansion.
"This is what democracy looks like," Doolan said. "We have choices this time, like never before."
Get local news delivered to your inbox!
Subscribe to our Daily Headlines newsletter.