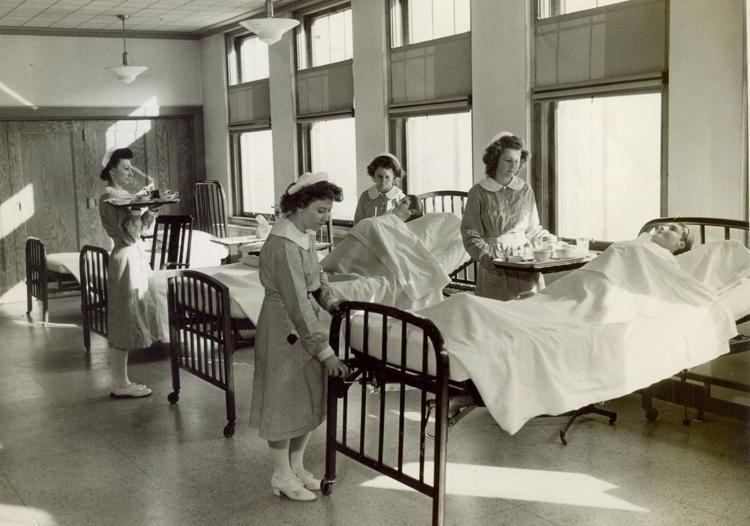 It stands to reason that a hospital would be a welcome addition to a growing city, especially a settlement in which dangerous occupations anchored commerce in pioneer days:
Lumbermen, who could become victim of bone-crunching injuries at the misplaced whack of an ax.
Riverboat crewmen, who risked all sorts of injuries totin' that barge and liftin' that bale — not to mention the peril of working around steam power with wood and coal for fuel.
Construction workers, who often stood on rickety scaffoldings to construct downtown buildings without federal safety regulations that wouldn't even be discussed for more than a century.
Farmers and laborers, whose work encompassed at least part of — and, sometimes all of the above — to clear and plant crops on virgin flatlands and coulees of what someday would be called the Coulee Region, smack dab in the middle of an area that would become known as the Driftless Region.
Oddly enough, though, the Franciscan Sisters of Perpetual Adoration encountered varying degrees of resistance to their plans to found St. Francis Hospital in 1883, according to FSPA members who have studied their order's development and history books that chronicle the establishment of health care in the region.
Hospitals considered places to die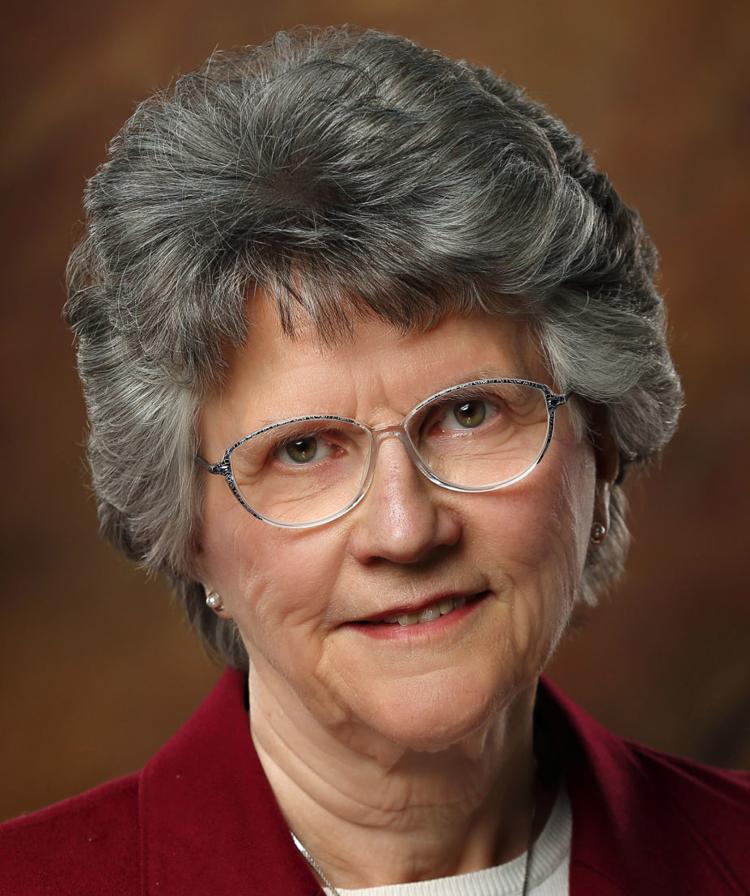 "At that time, hospitals were considered places where people went to die," FSPA Sister Helen Elsbernd said in an interview. "When people got sick, the city didn't have any place to put them, so they put them in hotels."
After all, there were no X-rays, MRIs, CT scans and other acronyms for the array of paraphernalia that abound in health care today. Indeed, in general, the only tools physicians had at their disposal fit in their little black bags, according to in "Franciscan Skemp Healthcare — A History."
"In the waning years of the 19th century, doctors could recognize their patients' diseases and injuries, but there was little they could do. There were no antibiotics to treat the most prevailing causes of death in those days — infectious diseases such as tuberculosis, smallpox, diphtheria, plus all of the childhood diseases such as measles, mumps and rubella," the tome notes.
"With so much infectious disease, it was little wonder that the life expectancy for a person born in the mid-1880s was 44 years," the book observes.
It's also little wonder that someone booking a room in a downtown hotel, nestled among the bars and brothels of the day, would hesitate if the clerk said, "Yes, sir, we have an excellent President's Suite, right between the room where a tuberculosis patient is coughing up blood and the one where a diphtheria victim is gasping for breath, approaching a death rattle."
Beyond hesitation, such a potential patron probably would have responded, "Oh, HELL no."
Recognizing the need for an alternative, the FSPA congregation was "like many religious groups in the 19th century that took on the need for health care in a medical world that is primitive at best. Many Sisters then had little or no formal education in nursing, but embraced their tasks with the same devotion they had for their religious life," according to "Franciscan Skemp Healthcare."
FSPA vocation offers gift of service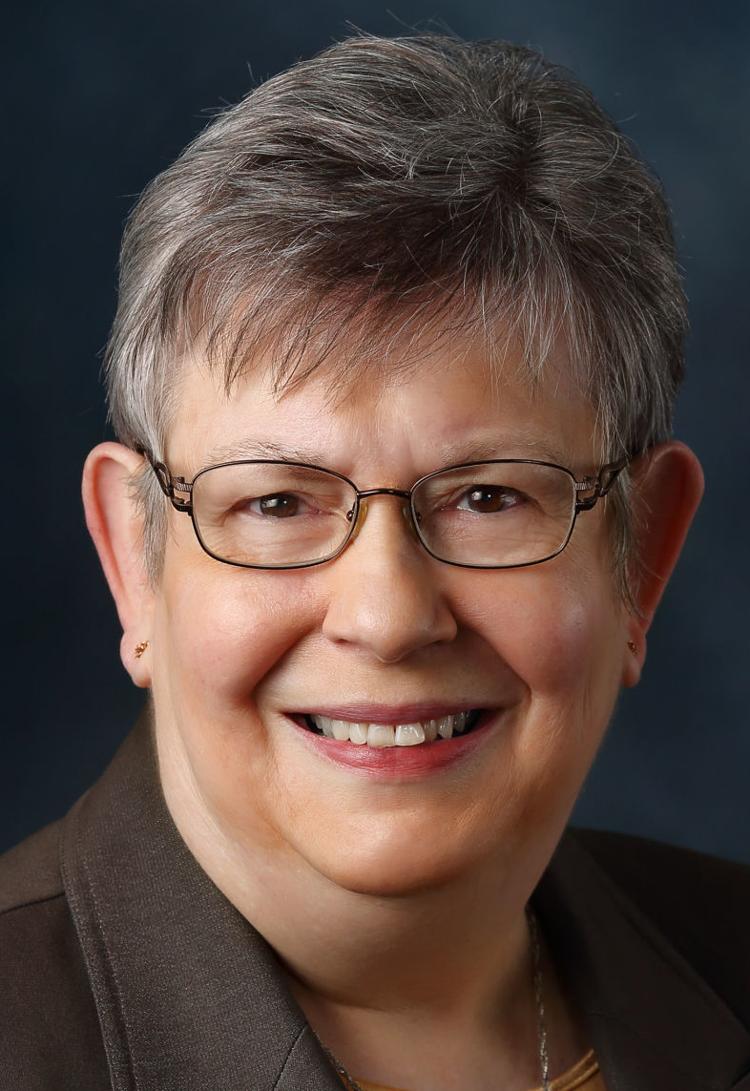 That's the FSPA way, FSPA Sister Julia Tydrich said, adding that the element she appreciates most about her vocation is "the gift of being able to serve. To be of service is very satisfying."
Service in health care ran against the grain of the times, though, because of the common bias against hospitals among not only among laity but also none other than Milwaukee Archbishop Michael Heiss, who had been the first bishop of the La Crosse Diocese, having served here from 1868 until 1880.
"A real need for a hospital in La Crosse does not exist," Heiss stated flatly in a letter in January 1883.
"I only once heard an American express the wish that an infirmary for the steamboat workers might be built in the city; but not another word was ever again uttered on the subject," he wrote, according to the book "A Chapter in Franciscan History."
Catholics in general didn't patronize hospitals but rather, stayed in family and friends' homes when ill, Heiss wrote.
"Moreover, if the sisters ask for pay, the entire undertaking will immediately be labeled as a money-making scheme. As you know, there has hitherto been little sympathy in La Crosse for the supposedly 'rich' sisters," Heiss wrote.
You have free articles remaining.
Register for more free articles.
Stay logged in to skip the surveys.
(God forbid that sisters, who actually were paid next to nothing even toward the end of the 20th century and many of whom still are, for working long, arduous hours as teachers and nurses, as well as other roles in service of the Catholic Church.)
If a hospital were built, it should not be too close to the bishop's residence "where it might become an annoyance," the archbishop wrote, according to "A Chapter in Franciscan History."
But he didn't flat-out say no, so Mother Ludovica Keller waited until spring, went to Milwaukee, pitched the idea to the prelate again and came away with his tacit endorsement of the project, the history book notes. His only stipulation was that the hospital could cost no more than $10,000 — a figure that was doubled in short order, according to the Jan. 2, 1884, La Crosse Daily Republican and Leader.
And, despite Heiss's insistence that the people of La Crosse didn't want a hospital, support for the endeavor came from not only city officials, physicians and residents but also Heiss's successor, Bishop Killian Flasch.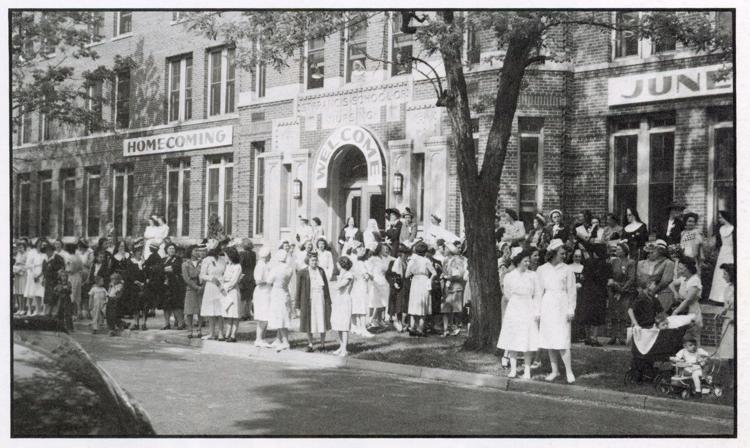 Opened day early for 3 boat crewmen
The hospital was scheduled to open on Jan. 1, 1884, but the sisters got a call in the middle of the night on Dec. 31 that three riverboat crewmen needed medical attention, so it opened a day early, Tydrich said.
Then as now, the Franciscan Sisters of Perpetual Adoration were multi-taskers, founding St. Rose Normal School in 1890 to prepare the congregation's sisters to teach in elementary schools. At one point, many of the 1,000 sisters in the order were teaching in 90 elementary and 20 high schools, Tydrich and Elsbernd said.
"We take care of the needs in the community at the time," said Elsbernd, a chemistry teacher who took the administration track when she felt called to that service and who received the 2018 Saint John XXIII Award for Distinguished Service.
"A student asked, 'Why do that, when you love teaching?'" Elsbernd recalled. "Being in administration, I'm enabling others to use their talents. I help faculty help students."
St. Rose added college courses in 1923, and the school was on its way toward becoming the Viterbo University of today, including the School of Nursing that is a descendant of the St. Francis School of Nursing.
Other milestones along the way were the establishment of St. Rose Junior College in 1931-32 and a four-year college in 1939, according to the Viterbo website. As a university, Viterbo has more than 70 academic programs, including associate's, bachelor's, master's or doctoral degree levees.
As medical care evolved in La Crosse, with the founding of the Skemp and Gundersen clinics and Lutheran Hospital, the FSPAs paired with Skemp, birthing Franciscan Skemp Hospital.
Franciscan Skemp affiliates with Mayo
In 1995, Franciscan Skemp aligned with Mayo Clinic Health System, although not without some angst over whether to merge with Lutheran Hospital instead — moves fraught with physician politics. It was the same year that Gundersen Clinic and Lutheran Hospital formed Gundersen Lutheran Inc., according to Gundersen's history.
Elsbernd and Tydrich recall how arduous was the task of making the decision, which they said included input from national organizations, legions of lawyers and countless accountants.
"There was a great desire of the city and the hospital to have one hospital to simplify for everyone," Tydrich said. "Some at Gundersen were disappointed, and a Gundersen doctor resigned from the Viterbo board."
One of the main concerns with joining the hospitals was the potential for running afoul of antitrust laws and "how to control costs if there were only one hospital in town," Elsbernd said.
This past summer, as part of the sisters recalculating their mission, they transitioned Viterbo to lay leadership under the guidance of the newly created Viterbo Ministries, a parallel development with their sale of Mayo Clinic Health System-Franciscan Healthcare to the Mayo Clinic Health System that took place officially on Oct. 31.
The FSPA resolve to surrender some elements of the order's health care and teaching ministries to pursue social justice initiatives more intensely is a natural outgrowth of the congregation's efforts "to create a healthier community beyond the walls of a hospital, to help it develop and grow," Tydrich said.