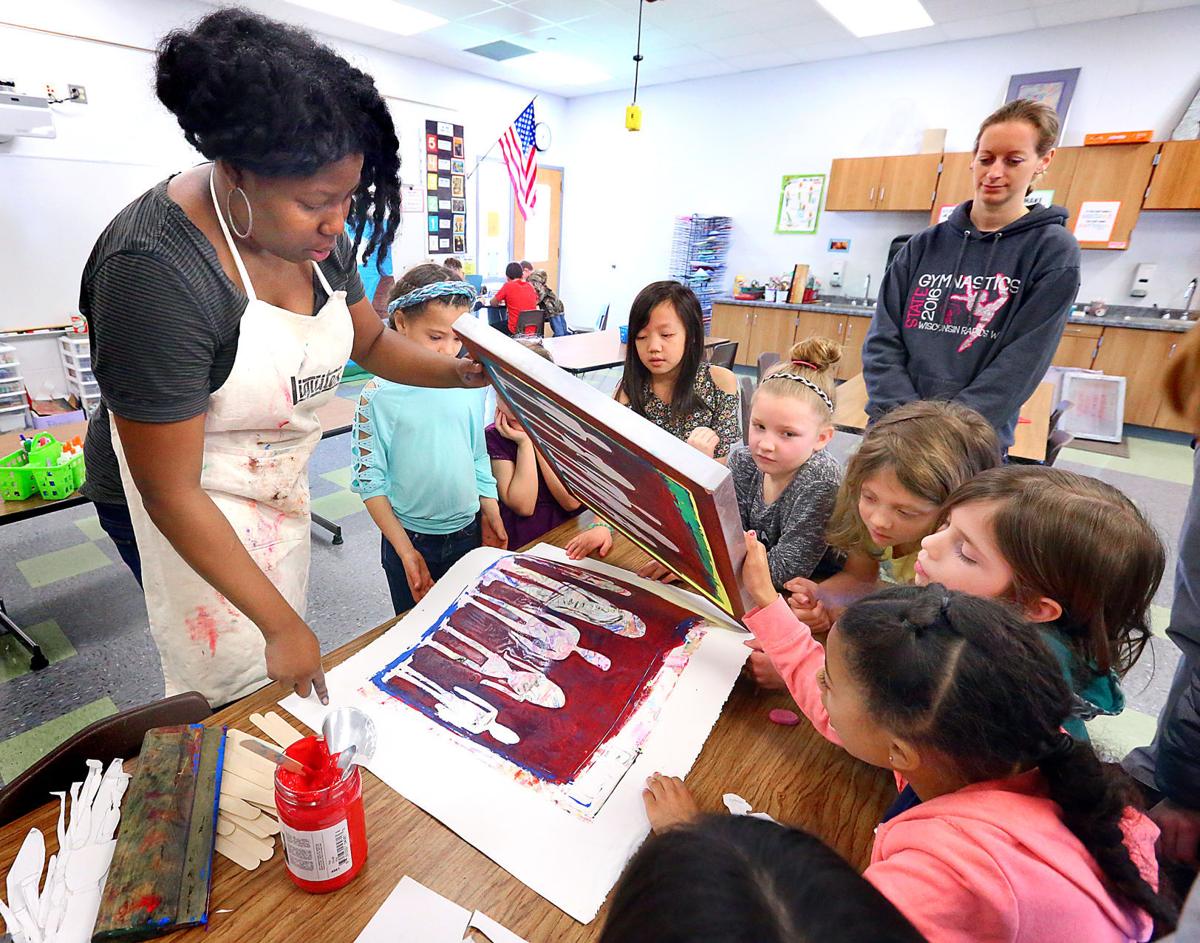 Tyanna Buie knew she wanted to be an artist when she was just six years old.
The daughter of a drug-addicted mother, she spent much of her youth in Chicago and Milwaukee in foster care but found solace and strength in her artwork. Buie, now living in Detroit and the section chair of printmaking at the College for Creative Studies in Michigan, is visiting the La Crosse School District this week, sharing her story of resilience and working with students on printmaking projects at Northside Elementary School and Hamilton Early Learning Center.
Buie's residency at the two schools was funded through a $1,500 grant from the La Crosse Public Education Foundation awarded to Northside Elementary Art Teacher Amoreena Rathke. Rathke had her own struggles at home as a child, and when she saw a video of Buie sharing her story and working with children, knew she wanted to bring the artist to the district.
"We have a high poverty rate at the school and a number of kids dealing with some kind of trauma," Rathke said. "I wanted to show the kids someone who has made it, someone who found their resilience in art."
Printmaking is a sophisticated art technique. Ink is pressed through a cloth screen onto paper, and most students don't get to experience it until high school or college, Rathke said. During her work with Northside students on Tuesday, Buie made prints of paper cutouts the students created of people, with the colored ink unable to pierce the cutouts and thus leaving their outline in the final print.
"This is looking really good," Buie said as she showed the students the final result of one print made with blue ink. Because the paper people stuck to the screen, she said, the students could make another print with the figures, this time choosing red ink to make a purple background.
Buie said art gave her confidence that she couldn't find with other subjects in school. Living in foster care wasn't a stable environment, but she was able to take her art with her no matter where she went, giving her something consistent.
"It is a good outlet for kids struggling," she said. "What do you with all that energy? It has to go somewhere."
Alex Maxwell, a fifth-grade student at Northside's charter school Coulee Montessori, said it was really cool that kids had the chance to visit with an artist. He said art is one of the best ways he knows to let his emotions out and work through things that are bothering him.
Drawing is his favorite art form, and while he was dressed in a green snake hoodie on Tuesday, said his favorite animals to draw are mammals, especially polar bears. Printmaking was cool too, he said, especially how Buie had to use a wooden squeegee to get the ink through the cloth screen and onto the paper.
"If I'm sad I can put it down in my drawings," he said. "If I am happy I can put it down. When I have the blues, I can come to art class and I'm happy by the time I leave."