A Westby, Wis., man was charged Friday with burglary after he allegedly entered an Onalaska home, ate a rack of ribs and found himself on the wrong end of a gun.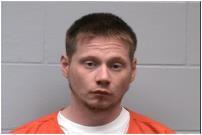 According to a criminal complaint, a woman woke up early Friday when she heard someone open the bedroom door of her home on Hanson Court. She saw a shadowy figure in the doorway and yelled for her husband to wake up and grab the gun.
You have free articles remaining.
The intruder, identified as 31-year-old Kenneth Fish, began running through the house as the owner retrieved an unloaded rifle. Fish ran out a sliding door but stopped on the patio when the woman cocked the gun. According to a police report, Fish begged them to let him go, but the residents instructed him to empty his pockets and lie down with his hands behind his head while they called police.
Fish was holding one of the couple's energy drinks and had one of their lighters in his pockets, according to the complaint. He told them he believed he was at his friend's home in West Salem.
The occupants later discovered Fish had eaten an entire rack of ribs, half a chicken breast, a pickle and some cookies. They noted he had put his dirty dishes in the sink.
According to court records, Fish has multiple convictions since 2011 and was sentenced in June to four years probation on a drug charge in Trempealeau County.