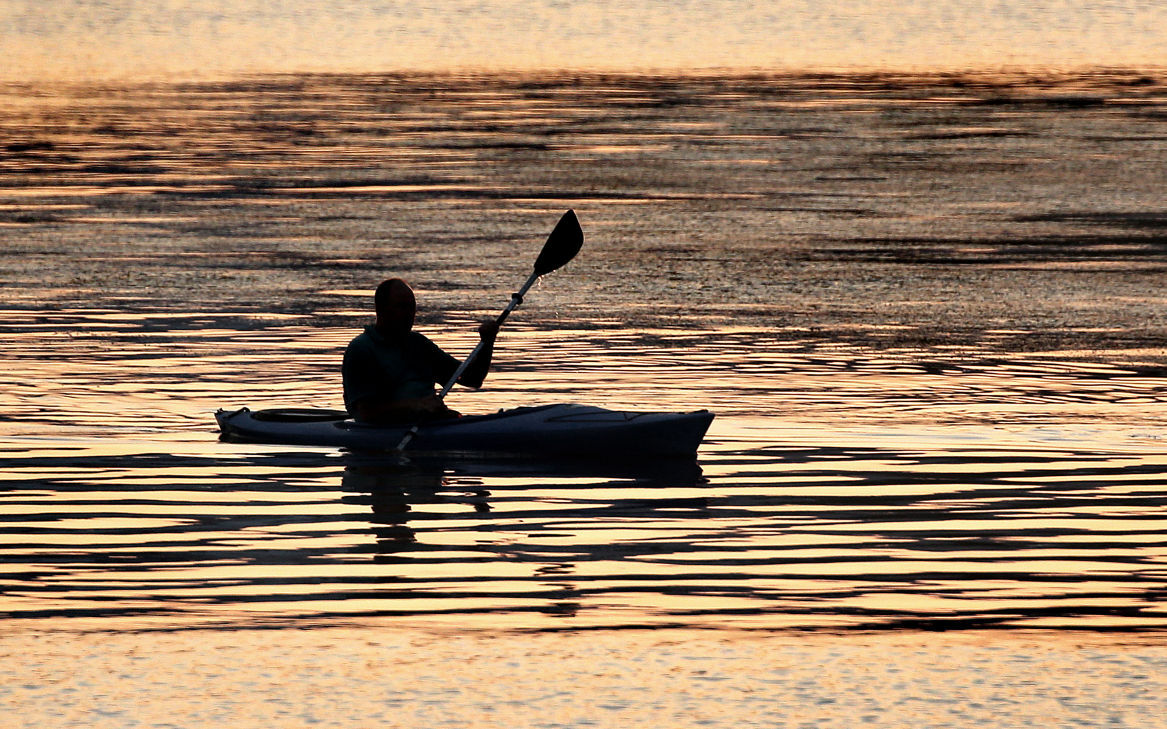 Daniel Christen: Best place to paddle:
An urban experience that is often overlooked is Kayaking! The waters of the Black River from the Onalaska spillway to the northside and over to French Island are perfect for beginner kayakers as well as the experienced. These waters are mostly calm, especially in Richmond Bay where you can rent kayaks to try for the first time. If you are looking to relax this summer, the cool water is the perfect place to be where the fish will jump, and you are sure to see many eagles.
There is also more to do than just paddle while out on the water. Along the way, you or the kids will find several beaches to rest and splash in. Personally, one of my favorite afternoon activities is to kayak to one of the many waterside restaurants we have for a bite to eat and to hear the live music playing outdoors. Those ready for a longer paddle can head to Riverside Park for Moon Tunes or paddle around Pettibone Island. And if you are looking to get away from urban views there are miles of quiet backwaters surrounding us including a Heron rookery on the east channel of the Mississippi that can be accessed when the water is high. Quietly padding below hundreds of nests 3-4 feet in diameter while listening to the Herons almost deafening prehistoric sounds is an experience you will not soon forget.
We are truly lucky to live in a beautiful area with so many activities steps away, and kayaking is one activity I am certain you and your family will fall in love with.
Richard Chrz; Best accessible trail experience:
2018 brought about a power wheelchair for me with limited use of legs, but also my arms. I do not necessarily find myself wishing and wanting for increased use. What I do wish for is continued access to things I have enjoyed running, or hiking on the area trails. I always wish for more access to that.
Two areas on the Southside that I so enjoy are the Paul Stry Nature Preserve, having very accessible pathways going around the park, and the path from State Rd School to Chad Erickson Memorial park that's full of beautiful sounds and sights of the Coulee Region. Chad Erickson Memorial Park is also just a great park. Accessible fishing docks for the pond, shelter for shade, even a place one could plug in their chair for extra battery life.
I think important things to understand about improved accessibility to all areas of the city, not just the sidewalks, is a crucial step in removing unnecessary mental wellness barriers to anyone, not just those with disabilities. Getting people out in their city and enjoying the things they did prior to whatever had happened that changed the ability to go to those same areas. That is a step in creating mental wellness as a city, not just one person. We can't fix all diseases, but we can remove some of the mental barriers that are unnecessary
Chip Schraeder: Best date night adventure:
When people ask me what my favorite day of the week is, I always respond, "well Wednesday of course!" My answer is most often accompanied by a stupefied, knitted brow look from my listener. Little do they know, that Wednesday has long been date night with my wife Sherri. Those that know me well, know not to mess with my Wednesday night.
Depending upon the season, the weather and most importantly, how much daylight we have left to burn, our date night exploits tend to be out of doors whenever possible. From our bike ride loop around the city, to a quick evening kayak paddle around Goose Island, to a mid-week slide down the slopes at Mt. La Crosse, our Wednesday night forays would certainly be categorized as "adventures." Our "go-to" date night adventure however, would have to be the trek from our house, up Old Vineyard Road, to the top of Hedgehog Bluff. Some days the trail seems steeper than others, but in the end, it is always worth the effort.
We have surveyed the city from "our bluff" in all types of elements. From socked in, rainy days where you can nearly touch the clouds from our vantage point, to the most glorious evening sunsets and everything in between, we have witnessed nature at its finest mere steps away from our front door (albeit quite a bit higher up!) Often, the reward isn't the views, but simply the sound of the breeze in the trees or the rhythmic sounds of our feet methodically making their way up the path that help melt away the stressors of the day. So find your trail, your favorite g-bar and your perfect hiking companion and get out there - then repeat!
Eileen Kirsch: Best epic weekend adventure:
The La Crosse area offers so many options for outdoor adventures, sometimes I waste time deciding! The destinations and activities described here are only a small portion of those I enjoy during the warmer months of the year. A perfect active outdoor weekend starts on Friday after work with a mountain bike ride. First a warm-up loop through Myrick Marsh and then the Wood Duck trail, up Vista to Upper Hixon Forest, where I love the single-track trails winding through the forest. Then I'll ride to the new Gateway trail system to play around before descending back into town with a view of the sunset.
Saturday might start with a local group ride on the roads (paved and gravel) where we literally can go any direction. My favorite paved routes are east from Coon Valley or Newton Valley along the Bad Axe River. My favorite gravel routes are around Viroqua and Southwest of Hokah. In the afternoon and evening I'd find friends interested in a canoe or kayak loop around Goose Island listening and watching for birds, followed by a cookout overlooking the Mississippi River. Now, how do we top off everything on Sunday?
For a less strenuous day I'd be game for a kayaking or trout fishing adventure on the West Fork of the Kickapoo River from Avalanche to Hwy 82 in Vernon County. One can do a solo shuttle with a bike or rollerskis along county road S. Since this worked up an appetite, I'd stop in at the Driftless Café in Viroqua before heading back to La Crosse. Feeling restless again Sunday evening, I'd either go for a walk in Hixon Forest or the Shelby Butterfly trails. If the fireflies are out, the La Crosse River Marsh can provide a stunning light display!
Ava Shively: Best mountain bike adventure: 
I enjoy mountain biking because it brings me a great sense of accomplishment and self confidence. I hope that this Simple Guide can inspire you to hop on the bike, seek adventure right here in La Crosse, and help you feel accomplished and self-confident! This doesn't mean being an amazing biker, just pushing your own limits and having fun.
 First off, your bike is ready to go and your water bottles are filled-- now it's time for an epic bike ride. You ride across town (as a good warm up) to Lower Hixon and start up the Vista trail. It's tough but you are strong and now the worst of the climbing is out of the way. Drink water now! You take Vista 2 or the roads over to Upper Hixon (it depends on what kind of views you want). It doesn't matter which trails you take or how fast you go, choose as you go whatever trails and pace suit your fancy! Hydrate again.
Once you've gotten your fill of shredding the upper trails, take the roads to the beautiful new Gateway trails (CTH-FA to Bliss Rd to Grandad Bluff Rd). How you descend is up to you: If you're feeling sendy, go for the black diamond trail War Eagle, if you'd rather a smooth and swift route, take Tramway. Bonus points if you time your ride to pass through Wolfsbane during sunset to catch a great view! Whichever way, enjoy the breeze on your face and a joyous descent. Heck yah! Congratulate yourself on an awesome ride, what a strong person you are! Welcome to the wonderful world of the La Crosse biking community.