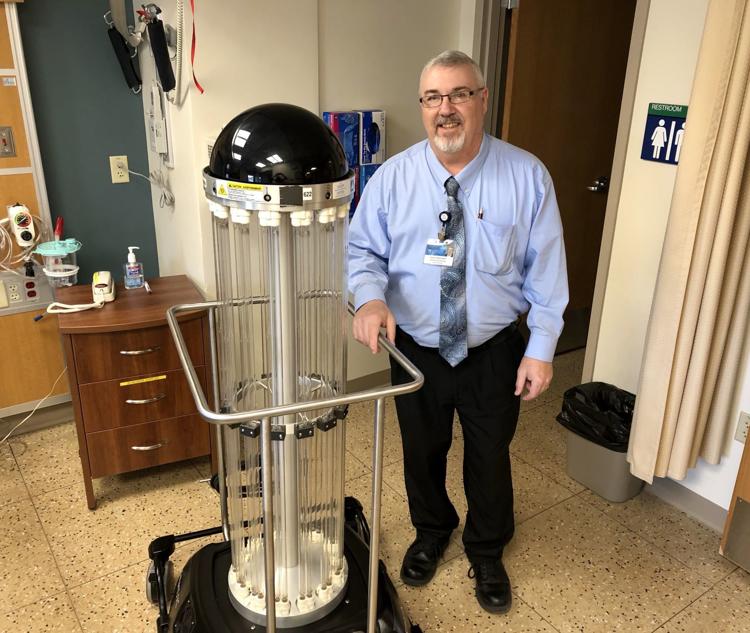 A disinfecting robot may conjure the image of a rigid-limbed figure armed with a bottle of Lysol, but in truth, the machines, while verbal, aren't especially human-like in appearance, and their purpose is serious: potentially saving lives.
According to the Centers for Disease Control and Prevention, 1 in every 31 patients will contract a health-care associated infection, not only causing unnecessary pain, stress and financial strain on patients, but costing the health-care system billions of dollars.
In addressing the very real risks of super germs and infection spread, Mayo Clinic Health System has added two remote controlled, disinfection robots to its La Crosse facility, giving rooms hospital-wide an extra sweep of sanitation.
After a standard protocol cleaning by environmental services staff, the robots, equipped with high efficiency, germicidal lamps, make a second round through the some 230 exam, operating, radiology and emergency department rooms, along with surgical suite. While human error, and the difficulty of reaching nooks and tight spaces by hand, can leave certain areas of a room with lingering bacteria, the robot is able to effectively kill germs such as methicillin-resistant Staphylococcus aureus, more widely known as MRSA, and Clostridium difficile (C. diff).
"Environmental services cleans hundreds of rooms a day, and our main focus with the UV light is (targeting) C. diff," said Daniel Bagniewski, director of environmental services for Mayo Clinic Health System's Southwest Wisconsin Region. "It's a spore that's harder to kill."
An estimated 2 million people contract health-care associated infections on a yearly basis, according to the CDC, resulting in nearly 100,000 deaths and, per the National Center for Biotechnology Information, between $30 billion to $45 billion in expenses to hospitals nationwide. While Mayo does not yet have data on the robot effectiveness in its facilities, the CDC-funded "Benefits of Enhanced Terminal Room Disinfection" study found the use of a disinfection robot may have a major impact on those numbers, with a robot cleaning "decreas(ing) the relative risk of colonization and infection of target multi-drug resistant organisms among patients admitted to the same room by a cumulative 30% in a hospital setting, with 93% compliance of standard disinfection protocols."
You have free articles remaining.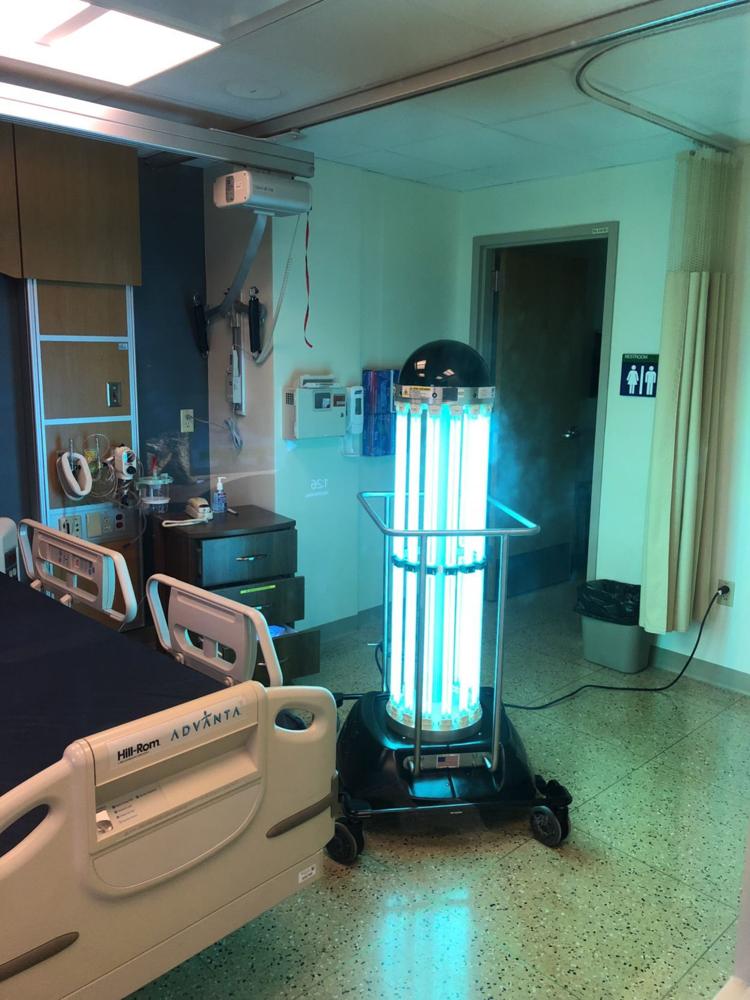 Operation of the robot is streamlined, controlled by an person outside the room using an iPad. Due to the power and heat of the ultra-violet lights, doors to the room remain shut, with caution signs and an alarm on the outside to keep people from entering. If the alarm sounds, the robot will shut down automatically.
Drawers in the room being treated are opened during the disinfection process, and the robot remains stationary, using eight sensors. A typical cycle runs between 10 and 15 minutes, with the machine providing a completion alert.
Since being acquired in 2018, the robots have run 5,700 cycles for preventative maintenance, and 240 times for rooms with a suspected infiltration of C-diff. The robot is unable to confirm the presence of the spores, which the CDC notes can last months, but is able to "destroy the DNA strands" in around 30 minutes using the most aggressive setting, Bagniewski said.
The downside to the disinfection robots, Bagniewski says, is the added minutes to the turnaround of patient rooms, which puts pressure on the environmental services staff. However, it's a tradeoff that can prove valuable in the long run.
"It takes a little bit longer, but we want to make sure we're taking care of the patients," Bagniewski says. "The patients are No. 1."