Ann Kappauf didn't know she was a survivor of domestic violence until 15 years after she left her abuser.
While going through the application process for New Horizons, where she now works as executive director, Kappauf was asked the question that sparked the realization.
"I interviewed for a supervisor position and one of the questions was, 'Why do you think a victim of abuse stays with a person who abuses them?' and I was able to rattle everything off: love, finances, children, guilt," Kappauf said. "I walked out of here thinking, 'Oh my God, [he] was abusive to me.' "
Kappauf's experience isn't abnormal, according to local experts in addressing the tangled web of domestic violence. The way the criminal justice system — and society — has changed drastically in the last 30 years, with members of the system taking domestic violence more seriously and taking into account its complexities and the dynamics of relationships.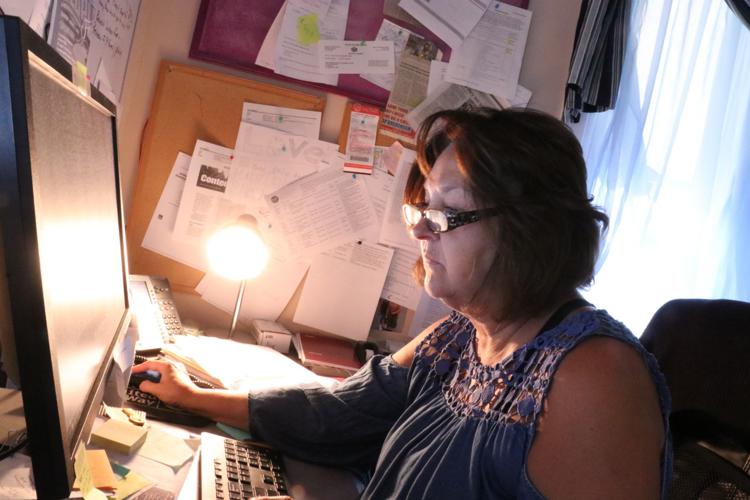 La Crosse County had 1,439 convictions on domestic violence-related charges from 2013 to 2016. Wisconsin had 53,338 during the same period.
"I think the numbers, the data from the DOJ is important because it gives us a snapshot of how the system is dealing with those who come into the system, but I think that it would be a mistake to think that was the full picture," said La Crosse County Circuit Court Judge Ramona Gonzalez, who is also the president of the National Council of Juvenile and Family Court Judges.
January 2019 saw a dramatic increase in the number of nights abuse survivors stayed at the shelter, Kappauf said. The shelter reached 168% capacity for the month, an increase over 57% capacity in January 2016.
On average, each temporary resident needed a safe place to stay for roughly 31 nights in January 2019. That number of days increased compared to January 2016, when temporary residents stayed an average of 15 nights.
Local experts credit an increase in education and research for the changes, both in the community and the justice system.
Domestic abuse never came up when Kappauf was young.
"My college at that time, they didn't talk about it," Kappauf said.
She didn't have the presentations and classes that New Horizons puts on now in the La Crosse community.
"I didn't even know there were organizations like New Horizons," Kappauf said.
These days, not only is New Horizons putting on educational programs to talk about red flags and definitions of abuse, but it also partners with the justice system.
"We get a copy of every incident report when law enforcement goes out to domestic abuse, and we call that person and offer our services," Kappauf said.
Trauma-informed care
Things have changed on a systemic level, with the way law enforcement, lawyers and judges address domestic violence taking into account thorough research and learning from past mistakes.
Detective Lt. Andy Dittman, who has been with the La Crosse Police Department for 12 years, has heard what he deems horror stories from before he was an officer.
"Law enforcement would be called and then the discussion would be, 'Bob, why don't you go somewhere and cool off for tonight? If we have to come back here, somebody is going to go to jail,'" Dittman said. "Research and evidence show, you know, that that was totally ineffectual."
Research shows that the justice system needs to be more nuanced if it wants to keep people safe, said Gonzalez, a member of the National Council of Juvenile and Family Court Judges and Domestic Violence Institute for Judges.
There's a new focus on trauma-informed care, early intervention and viewing families holistically.
"What we can do as part of the system is we can try to figure out a way that the first time there's intervention in her life, in this family violence, the intervention came from the [perspective] of, 'OK, this is an issue for your family. How do we help you? Is there something we can do for him? What is it we can do to rehabilitate the family so that this violence stops?'" she said.
The problem with the research is "the more you know, the harder it gets," Gonzalez said.
'All-out assault'
Addressing the issues has taken rethinking every aspect of the system. Law enforcement officers get advocacy groups involved immediately, the police department and the La Crosse County District Attorney's Office each have their own advocates and the circuit court judges have more options when it comes to bond and sentencing.
"This is an all-out assault on this issue from many fronts led by the Office of Violence Against Women and the local teams," Gonzalez said.
Each group has specialized training to take a victim-centered approach to domestic violence, learning how to listen to their needs and see things from a different perspective.
La Crosse County Circuit Court Judge Gloria Doyle said finding those answers are multi-faceted and complicated, and changes in the family's circumstances can change behavior.
"Maybe he loses his job and so he gets worse than he's ever been before. So things start happening to her. She still loves him. She loves her children. Her children are half her blood. It makes it difficult to make that decision to leave. And I think the national statistics, again, another study shows that some women try to leave at least seven times before they actually leave because that's a hard situation to be in," Doyle said.
For example, three of the eight prosecutors in the DA's office form a sensitive crimes unit, which spends most of its time on domestic violence crimes.
"They can specialize in them because it takes a little bit more to do those cases, to learn how to work with victims, to get their trust," La Crosse County District Attorney Tim Gruenke said. "It's different than traffic and drugs and other things."
They work with the La Crosse Police Department's Domestic Abuse Reduction Team, advocates with New Horizons and judges to find the best way to address violence and support victims.
"When we're all talking from the same page, when we're all understanding the dynamics of domestic violence, and the complexities of it, we have a much more nuanced view of what's going on," Gonzalez said. "We're able to do what hopefully helps the family, helps the survivor and holds the perpetrator accountable in ways that are just not for the system."
The judicial system doesn't create diversion agreements and other ways to allow offenders avoid prison time because people aren't taking domestic violence seriously, she said.
"Yeah, they are very serious, but somewhere early down the line, we need to start figuring out a different way to help survivors than doing what they don't want. They want you to stop the violence. What is it we can do to stop the violence?" Gonzalez said.
To do that, judges and attorneys look at options for agreements for lesser or no charges on the condition the perpetrator gets treatment and doesn't reoffend. They help line people up with jobs or treatment for drug or alcohol addiction or make sure victims have a place to go in an emergency.
"It's not just notching a conviction," Gruenke said. "It might mean that, but it might mean treatment. It might mean helping them get a safety plan. It might mean hooking them up with services."
The big thing is taking individuals on a case-by-case basis and recognizing the complex issues that are the source of the violence.
"It's complicated. There's no one way to do it. Every case is a little bit different," Gruenke said.
Investigations
The evidence-based approach begins with the initial call, with law enforcement officers taking a more nuanced look at the situation that lead to intervention in the first place.
Determining the aggressor isn't always clear, Dittman said. It isn't just about walking in and concluding that the person bleeding is the victim.
Officers arrive and separate the people, which Dittman said de-escalates the conflict, protects the victim and facilitates better answers to officers' questions.
Questions can't be as superficial as who hit whom, say police.
Crime service victim officer Joel Miller said the key for him in those investigations is determining the motivation for the conflict.
"If he's pushing you into a corner and he's not letting you leave and … you lash out because of all that, well, you know, that's something that's relevant," Miller said.
Wisconsin requires officers to make an arrest in domestic violence situations – which Miller said was a law designed to take the burden off of victims – and figuring out who to arrest requires taking power dynamics and the pattern of behavior into account.
"The hard part is trying to look at it globally as a relationship and a series of events as opposed to one particular point in time," Miller said.
Lethality assessment
The justice system has turned to research by Jacquelyn Campbell, a researcher and professor at the Johns Hopkins School of Nursing, for help in figuring it out. Campbell's research led to a lethality assessment, which lists a series of questions that help investigators and advocates determine what the risk factors are in that relationship and how likely the situation is to turn deadly.
Gonzalez likened it to seeing the whole movie, rather than a snapshot.
"What does the movie of this relationship tell you?" Gonzalez said.
The assessments include questions such as has the perpetrator used a weapon against the victim, threatened to kill them, have the two people divorced or separated after living together, is the perpetrator unemployed and do they have access to a gun.
"It's the kind of stuff I want to know, but you're not going to get that information inside the courtroom," Gonzalez said.
That's why law enforcement and victim advocates are the ones asking those questions.
'You could do anything'
One of the biggest risk indicators is strangulation, when someone wraps their hands around another person's throat.
"Choking doesn't bring across the actual physical part of it," Kappauf said.
It's also something rarely seen outside of severe domestic violence incidents, Gruenke said.
"People use strangulation as an ultimate control – stopping someone's breathing, making them powerless and letting them know 'I can control your life.' It's more common than people think," Gruenke said.
The state created a felony strangulation charge in 2007 to take those cases more seriously.
"If people are doing that, that's pretty high on the lethality scale, as opposed to people who argue verbally or push. It's a step up to getting close to that line where you could actually kill somebody with just a couple more seconds of pressure," Gruenke said.
Gonzalez doesn't believe it's a matter of acting in the heat of the moment.
"You have your hands around somebody's neck, you're looking at what impact you're having, and yet you're continuing," Gonzalez said.
"If you could do this, you could do anything," she said.
The results are long-lasting.
"What research has also shown us is that it doesn't matter if the impact is immediate. Women who have been subjected to repeated strangulations that haven't reached the level of unconsciousness that get them to police attention, still suffer brain damage, which we're not going to know until they're deceased," Gonzalez said.
It's one of the areas where the approach the justice system takes has changed drastically after new data became available.
"Before the research, a person would complain about the strangulation, then we would have this trial. We would ask them what happened and they wouldn't necessarily be able to tell us, 'A, B, C, D,' because of the trauma and because of the interruption of oxygen flow to the brain," Gonzalez said.
Then judges wouldn't believe the victims, because they couldn't keep their story straight.
"Research has now told us, 'Whoa, whoa, whoa, whoa, trauma people don't tell you a straight story, you have to hear that story in a different way. Oh, and by the way, the fact that she can't remember what happened from Point A to Point B is more indicative than there was an interruption of blood flow to the brain," Gonzalez said.
La Crosse Tribune reporter Elizabeth Beyer contributed to this story.
Get local news delivered to your inbox!
Subscribe to our Daily Headlines newsletter.