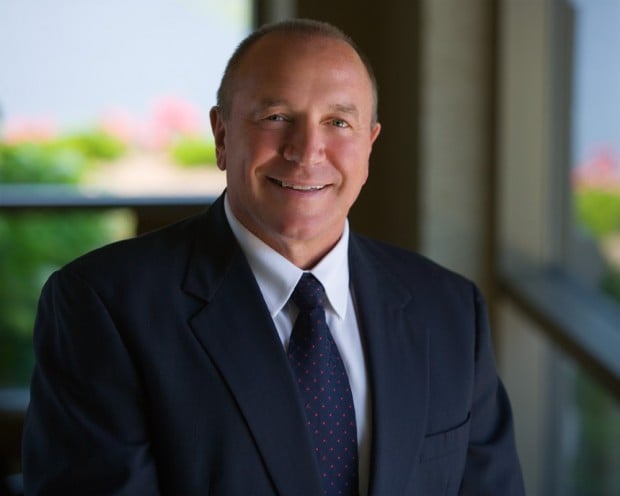 Don Weber knew he had to sell his company to grow and compete for business. But Weber, CEO of Logistics Health Inc., said his No. 1 priority was to keep LHI and its jobs in La Crosse. Weber had interest from potential buyers that wouldn't commit to keeping the company local, he said, but the best offer came from OptumHealth of Golden Valley, Minn. Weber announced last week that LHI will be sold to the company.
The deal protects the 900 jobs in La Crosse and may even create more growth, said Weber, who will continue to operate LHI, which specializes in providing medical services for the government.
"I did not want to jeopardize the company by not finding a good match," Weber said. "I have a responsibility to my employees, almost 1,000 families, and I couldn't take that risk.
"I could have sold the company to others who would have folded it up or moved, and then I could have taught or just retired and lived comfortably," he said. "But that's not what I am about. I owe so much to this region."
LHI will keep its name and La Crosse headquarters under the deal for an undisclosed amount.
Weber said he had been looking to sell to a larger company with huge resources to compete with big government contractors. OptumHealth generates more than $5 billion in annual revenue and manages and finances health care for 60 million Americans each year. The company is part of health care giant UnitedHealth Group, which has about 11,000 employees nationwide.
"I looked for a partner for growth," Weber said. "The contracts are getting so large and they are competitive and require more resources, and I wanted to grow the company here.
"This investment has great potential, growth and opportunities," he said. "OptumHealth is a perfect fit and has a similar Midwest culture and a track record of working with companies locally."
Weber compared the deal to one Mayo Health System in Rochester, Minn., partnered with La Crosse-based Franciscan Skemp Healthcare and invested in the community.
"I don't see a whole lot of changes," Weber said. "But I see added value and benefits."
LHI still plans to provide 2,500 to 3,000 new jobs in the area within five years.
The sale is expected to be completed in May but is subject to an anti-trust review by the federal government.
The arrangement directly affects at least one other local company, Gundersen Lutheran Health System.
Gundersen bought a minority share of LHI in 2009 to help keep the company local. That partnership dissolved LHI's six-year relationship with Boston's TA Associates, which Weber said preferred investing in start-ups and typically divests within five to seven years. In 2003, TA Associates paid $72.5 million for a majority stake in LHI.
Jerry Arndt, Gundersen Lutheran senior vice president of business services, said Gundersen Lutheran had expected a longer-term partnership and investment with LHI. But the sale to OptumHealth protects local jobs and presents opportunities for business growth in La Crosse, he said.
"We're delighted we had stepped up 15 months ago," Arndt said. "The investment needed to be done to keep the company local.
"The objectives of our investment were met - they can continue to grow, stay local, save local jobs and position themselves well for the future," Arndt said. "It was a high priority that the company stay in La Crosse."
Arndt and Dr. Julio Bird were Gundersen Lutheran representatives on the LHI board of directors. "We'll continue a relationship with LHI and we'll stayed connected," Arndt said. "Many of their employees come to us for health care."
He said Gundersen Lutheran earned a good return on its investment.
Also watching the deal closely is the city of La Crosse, which provided Weber with millions of dollars in tax-increment financing and other incentives to build the LHI headquarters in his downtown Riverside Center complex. Development officials have said the project represents the greatest impact to downtown growth for the next 50 years.
La Crosse Mayor Matt Harter said he has faith in Weber to make the best decision for his company and La Crosse.
"Don Weber is committed to this community and has made a significant investment to benefit the city," Harter said. "We're looking forward to a continuing partnership."
Dick Granchalek, president of the La Crosse Area Chamber of Commerce, said he was surprised by the LHI sale but was relieved that the company will stay in La Crosse.
"My first question was, 'What does this mean for La Crosse?'" Granchalek said. "I hope for the best in these situations and trust what is being said is the way it will proceed."
Granchalek said he likes that UnitedHealth Group already is a corporate partner in the La Crosse area. Its UnitedHealthcare unit acquired Midwest Security Insurance Cos. in Onalaska in 2002.
"Don has taken a home-grown business and has grown it to a point that none of us ever dreamt about 10 years ago, providing good paying jobs and benefits in the community," Granchalek said.