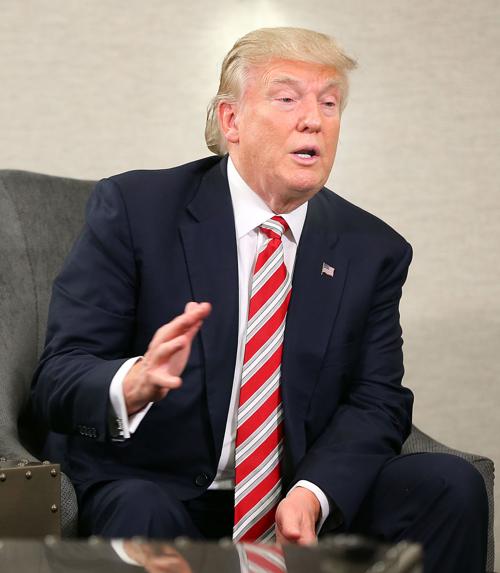 Republican presidential nominee Donald Trump said Tuesday America needs a president with a "strong temperament" and firm tone, and, despite widespread criticism, he is the candidate who has it.
Donald Trump's attack on a Gold Star military family and his lack of respect for U.S. servic…
If he doesn't ultimately win the election and shred our Constitution, the most annoying thin…
"I think temperament is one of my greatest assets. I've won all my life, I've been winning," Trump said during an interview with the La Crosse Tribune. "I always thought that temperament — I mean I have always felt — and been told — that my single greatest strength is temperament."
Trump critics — including some prominent Republicans — have said he doesn't have the temperament to be president. Only 17 percent of respondents to an NBC News poll released Tuesday thought he had the "personality and temperament to serve." Among those who identified as Republicans, 19 percent thought he was fit to serve.
The real estate mogul — who in recent weeks lashed out at the parents of a Muslim soldier who died in Iraq and engaged in public feuds with Speaker of the House Paul Ryan and other members of his party — suggested his Democratic rival lacks a steady hand.
"I actually think that Hillary Clinton doesn't have a good temperament. I thinks she's very unstable in certain ways," he said. "I don't think she has what it takes to make our country into and turn our country into a winner again."
Trump was in La Crosse Tuesday for a $2,700 per-plate fundraiser at the Riverside Center. Earlier in the day he met with former Wisconsin Gov. Tommy Thompson and Logistics Health founder Don Weber at Weber's Charmant Hotel.
Mary Jo Werner, a partner with the consulting, tax and accounting firm WIPFLI, said about 100 people attended the lunch, where Trump spoke for about 15 minutes about the economy, immigration and law and order.
Werner, who said she supported Trump before the event, went "to hear what he had to say with my own ears, unedited."
"It was not loud and outspoken," she said. "It was very businesslike."
Tuesday marked Trump's first visit to La Crosse since April 4, when he rallied supporters ahead of the GOP primary. Sen. Ted Cruz won the state, though Trump carried the western part.
A Marquette Law School poll released last week showed Trump trailing Clinton by 15 points among likely voters. He fares worse with female voters.
Trump is confident he can win over those women in the 83 days before the November election.
"All I can do is talk about safety, talk about security, talk about women's issues, which I'm very happy to do," he said. "But I think we're going to do very well. I think in the end we're going to come out very nicely."
Tax plan to have 'immediate' impact
Trump said his tax plan, which the nonpartisan Tax Policy Center has estimated would reduce federal revenues by $9.5 trillion over the first decade — would not require cuts to balance the budget because it would spur immediate economic growth.
"I think it will be very close to immediate," he said. "Right now companies are leaving because the taxes are so high. We're the highest industrialized nation in the world in taxes. And I think it's going to have an immediate effect."
But he promised to trim the $3.8 trillion budget anyway.
"I'm not talking about the cuts. Of course I'm going to make cuts," he said. "In many different ways, the country is very fat with waste. It's waste, fraud and abuse."
Trump suggested the Department of Education, which this year has a $70.7 billion discretionary budget, and the Environmental Protection Agency which runs on about $8.6 billion. For comparison, the nation spends about $615 billion on defense and $590 billion on Medicare.
"If you look at the Department of Education, if you look at the department of environmental protection, these are massive bureaucracies that have tremendous room for cutting. Tremendous."
Better times?
Trump, whose campaign slogan is "Make America Great Again!" said he views the 1980s as the time when things were good for the nation, though he also hearkened back to the late 1700s and early 1800s.
"The industrial revolution was certainly — in terms of economically — that was when we started to grow," Trump said. "I liked the Ronald Reagan years. I thought the country had a wonderful, strong image."
Get local news delivered to your inbox!
Subscribe to our Daily Headlines newsletter.