Former Wisconsin Transportation Secretary Mark Gottlieb released a statement over the weekend accusing Gov. Scott Walker of being untruthful regarding road work.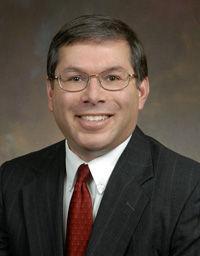 Gottlieb, who served as DOT chief from 2011 to 2017, criticized Walker after the governor suggested that highway expansion projects were being driven by special interests instead of being based on in-depth needs analysis.
"That is not true," Gottlieb said in his statement. "The decision to recommend expansion of a highway is not driven by politics or vested interests."
State Transportation Secretary Dave Ross, Gottlieb's replacement, was in La Crosse on Tuesday for a La Crosse Chamber of Commerce transportation forum. Asked for a reaction to Gottlieb's statement, he said: "I'm not going to criticize a former secretary."
Wisconsin Transportation Secretary Dave Ross acknowledged Tuesday that the state has not adequately funded local roads, but he says the soluti…
Walker recently suggested that the state could trim transportation spending by not including lane additions when it rebuilds major highways, saying "there are some groups out there that want to spend billions and billions and billions of dollars on more, bigger, wider interchanges across the state."
Gottlieb asserted that Walker's position that more lanes don't need to be added because people will be doing less driving in the future flies in the face of the facts and is a slap in the face to the transportation planners whose in-depth studies provide recommendations on highway projects.
"The governor's seemingly offhand comment that the decision to widen our highways is driven by outside interests is not factually based and is profoundly disrespectful to the professionals in the private and public sector who are trained to design and build safe and efficient highways for all to use," said Gottlieb, the third former Walker Cabinet member to be publicly critical of the governor during this year's campaign.
While Ross didn't want to criticize his predecessor, at least one GOP legislator was willing to address Gottlieb's criticism.
On Tuesday, state Sen. Tom Tiffany, R-Hazelhurst, said Gottlieb was a "status-quo secretary in a reform-minded administration."
"It is not surprising he left disgruntled," Tiffany said in a prepared statement. "An audit by the nonpartisan Legislative Audit Bureau found Gottlieb's DOT to lack performance measures to improve operations, incomplete cost estimates, estimates that didn't take inflation into consideration and overestimation of traffic forecasts by 14 percent. Mr. Gottlieb had the opportunity to implement reforms at the DOT. He chose to rearrange the deck chairs rather than implement real reform."
Gottlieb, who clashed with Walker over transportation funding before resigning, told the Milwaukee Journal Sentinel that Walker has been "increasingly inaccurate" in statements about the Wisconsin highway system.
Transportation funding has been a hot political topic the past two years, and Walker has been taking more and more heat for the conditions of the state's road system, with Democrats coming up with a new name for those annoying and sometime dangerous gaps in the pavement: "Scottholes."