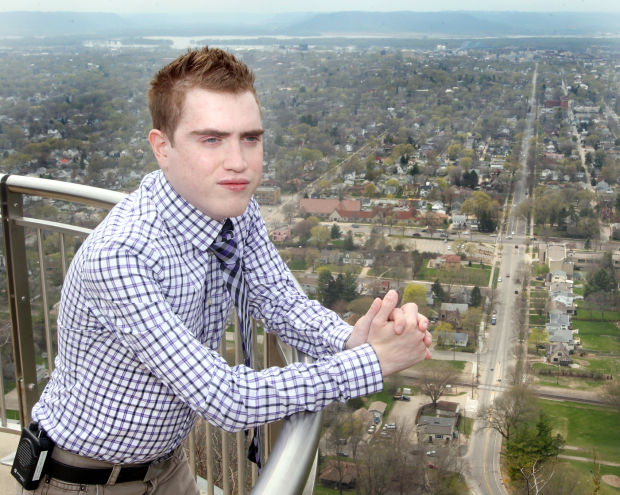 TOWN OF ONALASKA — Death was knocking, insistently, on Seth Melde's door until a double lung transplant infused his life with endless possibilities that cystic fibrosis had denied him.
Diagnosed with CF as an infant, Melde had endured hours of daily physical therapy, mountains of medications and repeated infections as the disease eroded his lung function. Gradually, it robbed him of participating in sports he cherished, including hockey, tennis and cycling.
"I was a big paint-baller, too," the 23-year-old Melde said, sitting in the living room of the Brice Prairie home where he lives with his mother, Joni Nixon. "As my health got worse, I had to give each one up."
Now the 2009 graduate of Onalaska High School with a fresh set of lungs has a bicycle on order to get back to cycling.
Cystic fibrosis, the leading genetic killer of children and young adults in the United States, clogs the lungs with mucus, causes life-threatening infections and hinders the digestive system.
The illness reached its nadir for Melde in March, when he was flown from intensive care at Gundersen Health System in La Crosse to UW-Health in Wisconsin after his lung function plunged to 15 percent.
"Lung infections were taking over my body," he said. "Antibiotics weren't working any more. A lot of CFers go through this and are not fortunate enough to get a transplant. The infections kill them."
At UW-Health, doctors put him on the transplant waiting list, which depends in part on a score ranging from zero to 100.
"Zero is healthy, and 100 is dead," Melde said. "My score was 96. We were without options."
While the average wait time is six to eight months, a donor match was found in 13 days, and he had the transplant during a 10-hour surgery on April 1.
"Now, my lung function is 84 percent and can only go higher," Melde said. "This whole process is nothing short of miraculous."
"It's a significant surgery," said Dr. Todd Mahr, an allergy, asthma and immunology specialist at Gundersen pulmonologist who has been one of Melde's doctors since infancy but was not involved in the operation. "They crack you open … and it involves not only transplanting all of the airways but also all of the blood vessels.
"I admire him for having the courage to do it," Mahr said.
Transplantation is the last resort for cystic fibrosis patients, and about 200 a year nationally have the operation.
"The doctors in Madison and at Gundersen, especially Dr. Todd Mahr and Dr. Jennifer Mattingley, always had my back," Melde said. "Dr. Mahr is like a father figure to me. I'd have been more scared if it hadn't been for them."
Without the transplant, Mahr said, "I don't think he would have lived through 2014 — maybe not even the summer. Now, he can have a fairly normal life. He does have the baggage of immunosuppressants."
You have free articles remaining.
Taking the 75 to 100 medications a day to protect his immune system and maintain vitamin levels is a welcome change, Melde said, adding, "It's a lot to swallow, but it's not like before."
The previous regimen included donning a special vest that shakes the torso to loosen mucus to cough up for a half-hour four times a day, 24/7 oxygen and a BiPap machine to help breathe at night, he said.
"Just the effort it took to breathe every day was exhausting," he said.
He never gave up, he said, adding emphatically: "I was determined to fight and make it happen."
Before Melde started using the vest at age 8, his mother had to clap on six areas of his chest and back for 45 minutes to an hour two to four times a day to loosen the mucus.
"I was doing it every two hours when his health declined," Nixon said.
Nixon and Melde say support from relatives and friends buoyed them throughout their ordeals, especially her sister, Kelli Stinocher of the Quad Cities; Melde's older brother, Justin, in Seattle, and friend Mitch Zielke of Onalaska.
"We've been best friends for 13 years," Melde said of Zielke. "He is a good brother to me and spent many nights in the hospital with me."
With an eye on a medical career, Melde enrolled at Viterbo University twice, but his illness halted both terms after a short time.
"It's very hard for CFers to make plans and follow through with a school, or a job," he said.
Then he went to Western Technical College and became a volunteer EMT with Brice Prairie EMS and Rescue and the West Salem First Responders.
"I want to give back what I got — and that is life," said Melde, who has his mantra of "So others may live" tattooed on his back.
"I want to give to those who need it right then," he said. "That's pretty much what emergency medicine is."
He is mulling becoming a doctor or a lawyer, noting, "Before, that was just a pipe dream. It's so hard to comprehend what I want to become because now I can do whatever I want."
Melde doesn't know anything about the donor, other than that the lungs are pink and strong. "I have the option to contact them, but I want to take the time to get the right words for that letter," he said.
He maintains a philosophical view of cystic fibrosis, saying, "Life with CF is a difficult one. I like to equate it to a rose. It's beautiful because we try to live life to the fullest because of our struggles, but the thorns represent the ugliness of the disease."
Asked about his life expectancy, he said, "You never know with cystic fibrosis. This might be only a six-month adventure or a 10-year adventure, but there has been no rejection yet. Typically you see issues right away, so that's a good sign."