Between work, school and daycare, the Valentine family is used to spending the day away from their dog, Maverick. But for the nine hours the beloved black lab was gone the night of Nov. 25, every second was excruciating.
The family was driving back to their La Crosse home after spending Thanksgiving in Menomonie when the evening took a traumatic turn. Slowing down as the car in front of them attempted to make a U-turn along Hwy. 61 in Winona, the Valentines' SUV was struck from behind by a truck at 60 mph, smashing the back window and crushing the rear of the vehicle.
Stunned, wife Jasmine and husband Eric whipped around to check on kids Lukas, 7, and Claire, 4, when they realized Maverick was no longer in the car.
"Your heart kind of drops," Jasmine said.
As the family, covered in scratches and bruises, was transported by ambulance to Winona Health around 5:30 p.m., state patrol officers and police officers vowed to search for the 1½-year-old dog, who was just weeks old when he joined the Valentine household and quickly proved to be a gentle giant. At 75 pounds, the statuesque Labrador has the snuggly demeanor of a puppy, submitting to the "checkups" from aspiring veterinarian Claire, as well as the occasional tea party. He also enjoys romping around with Lukas.
"Maverick is my best friend because he makes me feel better," said Claire, who began crying when she learned Maverick was missing. "He licks me."
At 7 p.m., with the family still in the hospital and growing increasingly distraught, Jasmine took to social media, posting a plea for help searching and to spread the word. To her surprise, her Facebook page was flooded with comments and questions as more than 1,700 people shared the post.
"It was just amazing, even the people who sent prayers and well wishes, it just kept giving us hope," Jasmine said.
After bringing Jasmine and the children home, Eric set back out to the scene of the accident, where he came across Lynette Sweazey of Winona, who had seen Maverick's story on Facebook and gathered her husband, Paul, and teen sons to search the woods along the highway.
"They were like, 'Yep, let's go,'" Sweazey said of her two sons, who didn't hesitate to spend two hours combing the area as temperatures hovered in the 30s. "We have four dogs of our own — they're like family."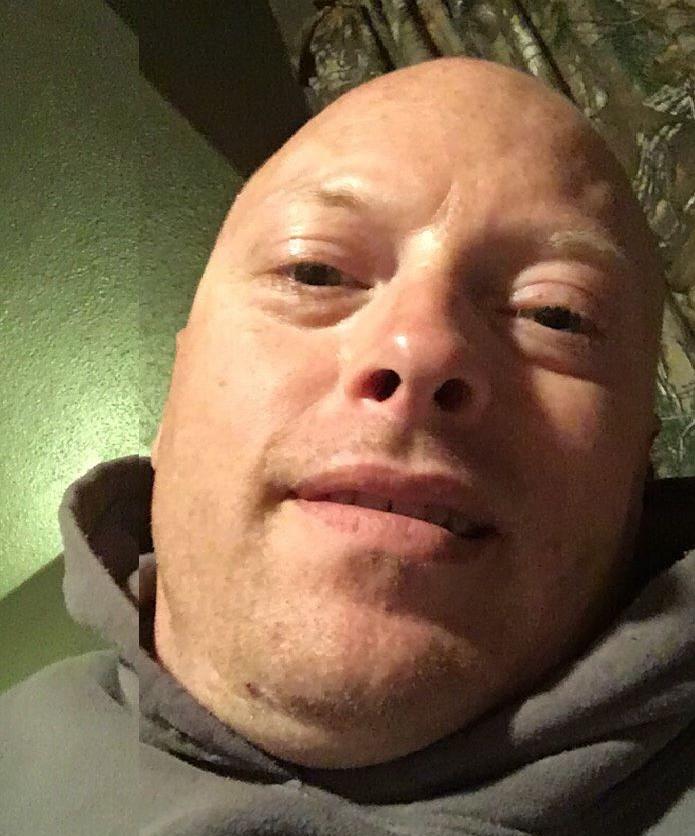 Meanwhile, Shawn Kamrowski of Winona had been searching for four hours by the time he ran into Eric. The two had never met, but even as an exhausted Eric decided to give up for the night, Kamrowski stood vigil, armed with a flashlight and determined to help.
"I feel like I would have done this for anybody, but what struck me was these kids were in an accident, and they had to take care of the kids," Kamrowski said. "So I thought, 'If I can find the dog, I can help them out in that way.'"
Around four dozen people joined in the search that night, eschewing sleep to scour ditches and brush for a dog most knew only from a photo on Facebook. One man was inspired by his cherished childhood dog, another couple had two labs of their own. Others met up with the Valentines' friends and family members, offering the aid of thermal imaging and high power flashlights, and the Sweazey's ran home for a spotlight before returning to the search for another two hours.
"At 1:15 a.m., I was done and they were still out there," Eric marveled. "That's the part that always gets me — they dropped everything."
Eric had just pulled into the driveway when he received a call from a police dispatcher — Maverick had been spotted. Turning the car around, Eric arrived back in Winona around 2 a.m., greeted by a state patrol officer, a cop and Paul, who accompanied him down to the ditch where Maverick was hiding.
"I called his name and he laid down and I picked him up," said Eric, who was shocked to discover the dog in remarkably good shape given his ordeal. The pads on three of his paws were raw from running through glass, and he had small cuts on his face and the side of his neck. His back legs were stiff, but he was mobile.
The next morning, Claire and Lukas awoke to discover Maverick safe and resting in their parents' bedroom. After wrapping him in a hug, Claire examined him and "watched his eyebrow," vigilantly monitoring his cut.
"I was speechless," Lukas said of Maverick's return. "But I think, like, it was a miracle."
Jasmine gives grateful credit to Kamrowski, the Sweeneys and all those who lent their assist for the happy ending, and is attempting to track each one down to send a holiday greeting of thanks.
"They're part of our story, and now they're part of our lives," Jasmine said.
For Lynette, her actions were simply about following the "golden rule."
"I'm all about making sure people are taken care of," Lynette said. "Treat others like you want to be treated. We're just relieved the dog was found and didn't spend the night out in the cold. He's safe with his family."
The Valentines are happy to report that after a few days of nervous behavior, Maverick has regained his joyous disposition, as well as his mischievous habits.
"The first time he was back digging in the garbage, we were like, 'He's back (to normal),'" Jasmine said. "'But get out of there.'"