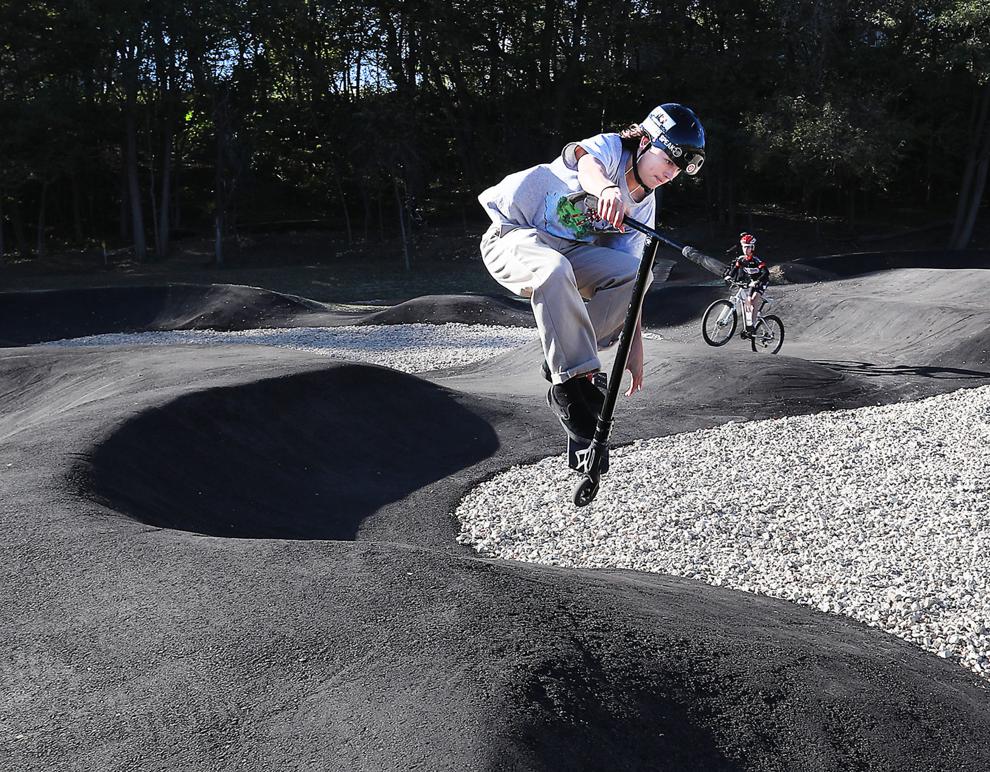 Monthslong renovations to Lueth Park were officially unveiled Tuesday afternoon, with a 25,000-square-foot asphalt pump track at the core of the project.
Construction of the $270,000 project began in late July and concluded in early October, with funding from the La Crosse Parks, Recreation and Forestry Department, La Crosse Community Foundation and Outdoor Recreation Alliance, which spearheaded efforts to revive the park's deteriorating and underutilized skate park and install a multi-use pump track.
A pump track is a circuit of banked turns and other terrain features that can be traversed on a bicycle without pedaling — instead, the rider powers the bike by "pumping," or matching shifts in body weight and bicycle position to the terrain in order to maintain momentum.
Additional contributions for the Leuth Park track came from the ORA Trail Fund, Weber Family Foundation, a Go Fund Me campaign, the Goosetown-Campus Neighborhood Association and local businesses, allowing for extra amenities including wooden skills features. ORA members put in 500 volunteer hours to help complete the pump track, with the UW-L Athletic Club taking the lead on the Building Champions Trail around the track's perimeter.
Mayor Tim Kabat called the project a "true collaboration" requiring a lot of "blood, sweat and tears and hard work."
More than 75 people came out for the grand opening, with some four dozen people of all ages testing out their bikes and scooters on the pump track and about a dozen taking advantage of the adjacent freshly repaired skate park.
Lueth Park's existing ballfield was taken down to make room for the pump track, which is designed for use by people of various ages and skill levels. The track accommodates skateboards, rollerblades and bikes, and is the only asphalt pump track in the upper Midwest. The pump tracks located in Upper Hixon, designed and co-built by ORA member Jed Olson, are made of from soil.
Mark Schuttenhelm, a frequent user of the Upper Hixon tracks, calls the pump track an asset to the neighborhood and entire region, accessible without a vehicle and immune to spring thaws and rain.
"I think it's going to go over real good," Schuttenhelm said.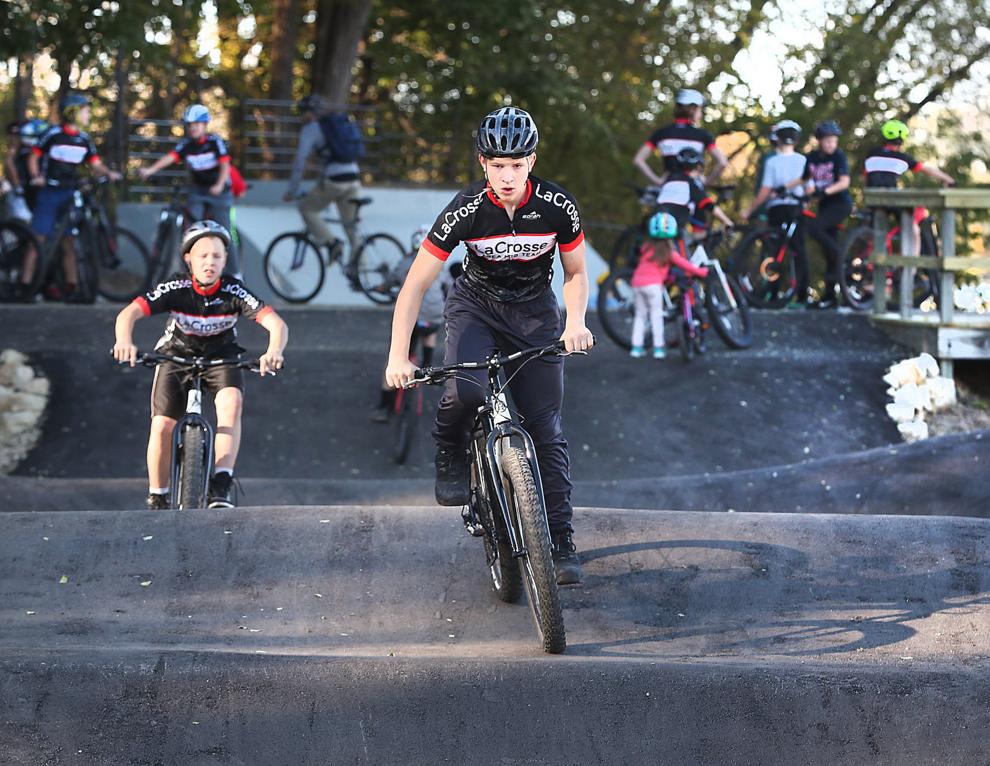 Jonathan Ticku, 11, had already used the pump track four times before the official opening. Though he enjoys the dirt surface of the Upper Hixon tracks, he was enthused by the "wooden tricks" installed on the pump track.
Mayor Kabat declined to test out the track in front of the crowd — "It would be a funny spill YouTube video, to see the mayor crash" — but he expressed interest in bringing his bike back when the cameras were gone.
"It's going to be an absolute treasure for many more decades, and I'm so excited about that," Kabat said.
Olson, who came ready to ride in his helmet and shorts, kept his sentiments short and sweet.
"You say a picture is worth a thousand words," Olson said. "Looking out at this park today is all I really need to say."