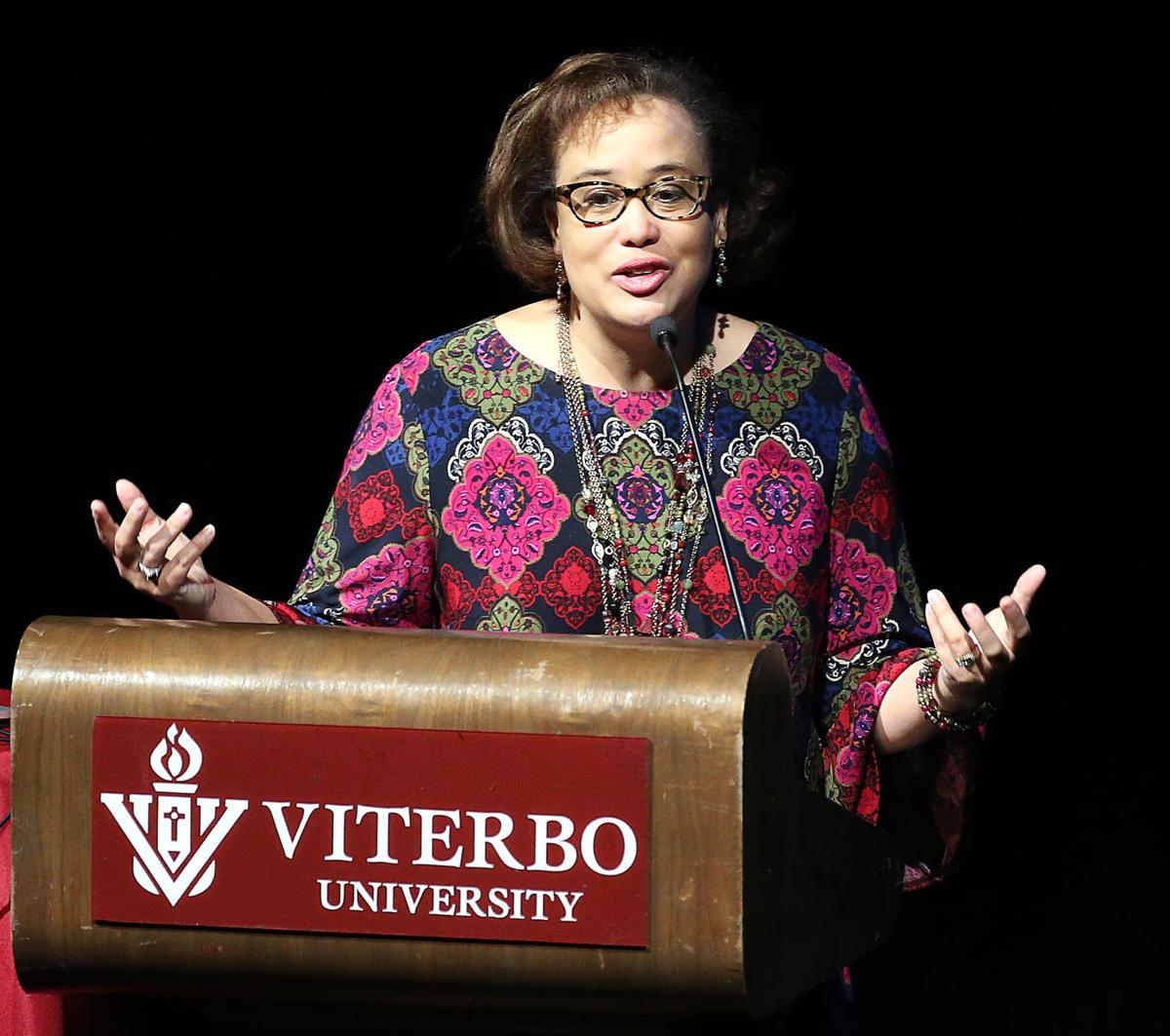 For the first 10 years Miriam D. Mann worked at NASA's predecessor, she was legally prohibited from working alongside her white co-workers, according to her granddaughter, Duchess Harris.
A Twin Cities-based author and professor, Harris shared the story Tuesday of her grandmother, who was one of the first African-American women to work at NASA. She was joined at the Martin Luther King Day event for about 800 La Crosse area middle-schoolers by University of Wisconsin-La Crosse associate professor of physics Taviare Hawkins, the 50th African-American woman to ever receive a doctorate in physics, and senior Adrienne Hester, who will be the first black woman to receive a degree in physics from UW-L when she graduates next year.
Harris was invited to speak about her book, "Hidden Human Computers: The Black Women of NASA," by La Crosse's community committee to celebrate Martin Luther King Jr. The book tells the story not just of Mann, but also of the women who worked beside her checking calculations that sent men into space. Mann started working for NASA in 1943, back when it was known as the National Advisory Committee for Aeronautics.
"This is not a civil rights era story, but it is a World War II story," Harris said.
Mann went to college and studied chemistry, intending to be a teacher, but ended up moving to Virginia where her husband, Bill Mann, got a job as a professor at then-Hampton Institute. When Mann got a job as a human computer at the nearby NACA campus in Hampton, Va., she was lauded as a leader for women in engineering.
"That was actually hopeful. These women don't ever become engineers," Harris said.
However, Mann worked with Mary Jackson, who successfully petitioned to get enough education to become an engineer and gained the distinction in 1958. Harris' mother, Miriam Mann Harris, had her high school graduation party at Jackson's home.
"My mom has a pretty funny story about that where she says they were so loud and rowdy they were asked to leave. My mom wouldn't admit to that until I had my own teenagers," Harris said.
Harris told the students about her grandmother's working conditions, which included being paid significantly less than white co-workers and dealing with the effects of segregation, which prohibited them from working alongside the rest of NASA's employees, eating in the same cafeteria or using the same restrooms.
"They are hidden over there because it is actually, technically still illegal for them to be in that space," Harris said. "NACA wanted their knowledge, wanted their brain-power, but didn't want anyone to see them."
The story of the human computers was portrayed in the 2016 movie "Hidden Figures" starring Octavia Spencer, Janelle Monae and Taraji P. Henson. Harris praised the movie, but said there are some things movie-goers don't learn, such as the large number of African-Americans who were critical of the space race and NASA, arguing that the money spent to beat the Soviet Union to the moon would be better spent at home, improving the lives of those living in impoverished black neighborhoods.
To NASA's credit, it took the criticism well, she said, hiring Nichelle Nichols of Star Trek fame to improve their outreach efforts to people of color.
While the event mainly featured trailblazers of previous generations, the speakers took the time to look to the future.
Hawkins and Hester took the opportunity to encourage the students, particularly African-American girls, to get involved in STEM, or Science, Technology, Engineering and Mathematics.
"As a woman of color, I sometimes felt like I didn't belong, and that is not the case. If you love something and are passionate about something, work hard for it and you will fit in," Hester said.
She shared stories of what first drew her to STEM, from examining bugs under a microscope as a kid to learning hands-on physics in her Lakeville, Minn., high school.
"We did experiments in class; we had catapults. We didn't break any windows unfortunately, but maybe that was for next year's class," Hester said.
She acknowledged that physics can be intimidating, but reassured the students that it's can be a fun and rewarding discipline.
"It is kind of difficult, but you can do it. Just because something is hard doesn't mean you're not able to do it," Hester said.
Hawkins shared the name of the first African-American woman to receive a physics doctorate, Willie Hobbs Moore, and talked about her experience being the first African-American woman to receive degrees in physics at both University of Iowa, where she received her bachelor's degree, and Syracuse University in New York, where she received her master's and doctorate.
"I tell you this to let you know that there are fewer than 100 African-American women with PhDs in physics. Talk about firsts, right?" Hawkins said.
"I'm looking out at you guys, and I know I won't be the last," she told the crowd.
The speakers really appreciated the enthusiasm of their audience.
"I love young people, so it was great," Harris said. "The energy was fantastic."
Middle-schoolers are at a developmental sweet-spot, because they haven't yet become cynical.
"They are still so optimistic. They aren't jaded yet. They are open to learning new things," Harris said.
While young, they demonstrated emotional maturity in their questions at the end of the discussion, asking the three speakers whether they still dealt with barriers in the workplace and what's the hardest part of being a woman of color in the STEM and academic fields.