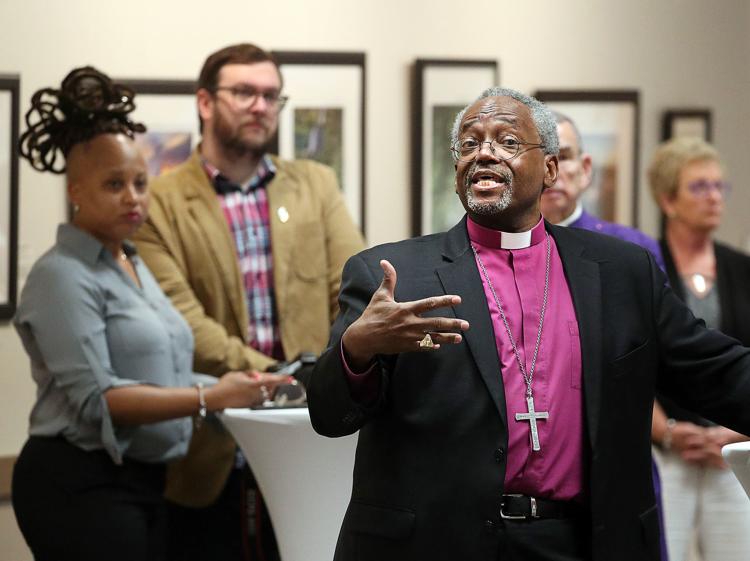 Delivering the sermon at Prince Harry and Meghan Markle's royal wedding last month gave Episcopalian Presiding Bishop Michael Curry a much bigger pulpit, but his head hasn't swelled and his message hasn't changed — judging by his visit Saturday to Christ Episcopal Church in La Crosse.
Curry's sermon at the May 19 wedding, broadcast live to millions of people around the globe, drew widespread praise for his impassioned plea for love of Jesus Christ and each other — widely interpreted as an admonition to restore civility to public and private discourse.
"I don't think I said anything new," Curry said during an interview before he participated in two events at Christ Episcopal, a congregation of 325 souls. "There's something about preaching about love that has gone unsaid for a while.
"I wanted to say something, speaking to the couple, but with understanding for the rest of the world," he said. "It's part of my heart."
The 65-year-old Curry, who was elected the first black bishop of the Episcopal Church in 2015, basically is the top official of the denomination in the United States.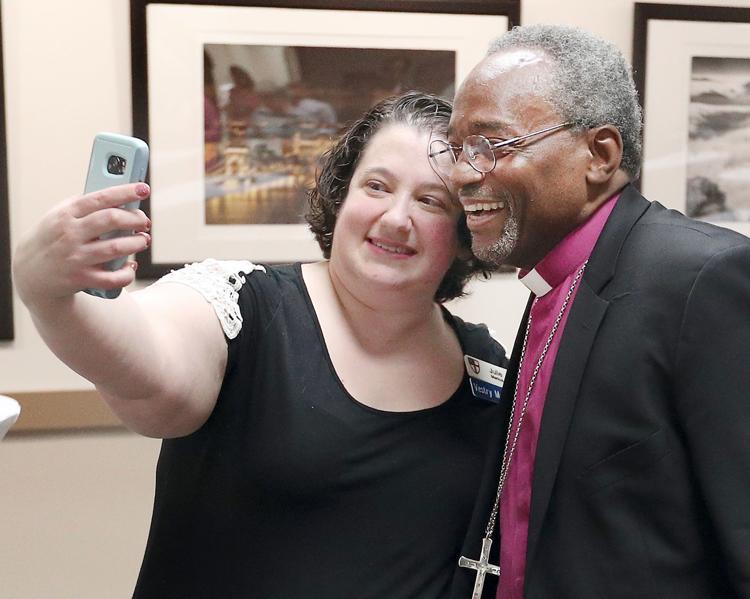 A parishioner said with a laugh that people sometimes refer to Curry with the whimsical title of Episcopope of the U.S.A., hastening to add that he isn't really a pope and that the global leader of the Anglican Communion to which Episcopalians belong actually is the archbishop of Canterbury, England.
Curry, however, does not wrap himself in a hierarchical mantle, instead graciously mixing with Christ Episcopal parishioners, engaging in talk big and small, and posing for countless selfies.
Asked to comment on the immigration furor in the United States, Curry said immigration is "part of our American tradition. We are created equally by one God" and the United States is founded on the principles of life, liberty and the pursuit of happiness.
"That is biblical and American, and we must treat others in a way" that aligns with those principles, he said, adding, "Which means, we don't separate families. What we must do now is unite them, and some of that has started."
Procedures to do so must be "just and compassionate at the same time," he said. "Justice and mercy must walk together."
The numbers of immigration judges and attorneys must be increased, he said.
"You can't just say nobody can come," he said. "We all are immigrants, except for the indigenous people."
Asked whether it is possible to heal the division that has been fomented with vitriolic rhetoric, the bishop said, "It's going to be hard, but (possible) if our president will engage the country as a symbol of unity and work to bring it together instead of dividing it.
"It's a decision, and it may take a long period of time, but we can do it and heal the land," he said.
"Both parties must work together not only to fix animosity but also heal our nation. This is what love looks like — the human family of God," Curry said.
During a question-and-answer gathering with parishioners, a woman asked what people can do in La Crosse.
Curry recalled a conversation with his father when he was 13, saying he wasn't sure what started it but guessing that he probably had been up to no good.
"My dad said, 'The Lord didn't put you here just to consume the oxygen,'" he said, drawing laughter.
Noting that his role as presiding bishop could be viewed as the equivalent of a CEO of a large corporation, with the capacity to manage thousands of employees, he eschewed that definition even as he said he is, indeed, a CEO.
"Chief evangelism officer," he said, calling for people to return to an evangelizing role that often has been abandoned in recent decades.
"The church needs new ways that actually go back to the old ways," Curry suggested.
Love of Jesus and each other also was the common thread he knitted into his sermon during a Communion service for a standing-room-only crowd of nearly 500 in the historic church at 111 Ninth St.
"Jesus of Nazareth founded the most revolutionary movement of all time," one that propels people with love, Curry said.
If people "make his way of life their way, make his way of love their way of love … it can transform the world," he said.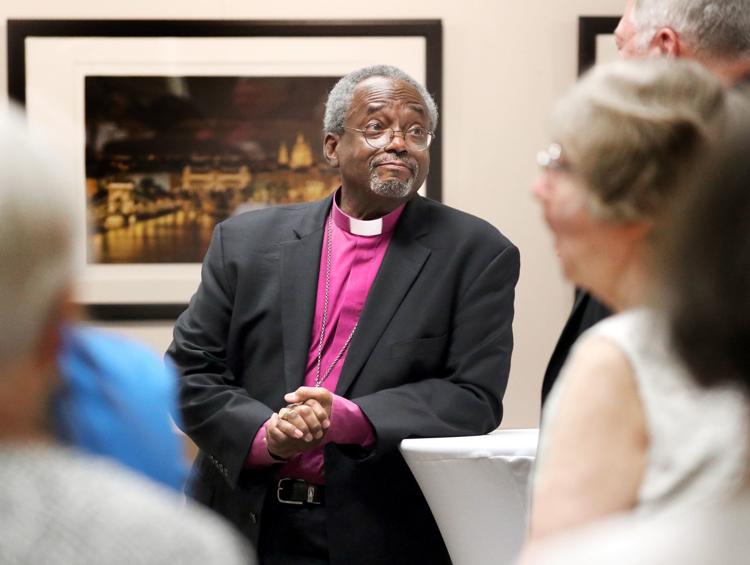 Suggesting that people might be skeptical about the suggestion, he said, "I'll ask a Dr. Phil question — 'How's the world the way it is working out for you?'
"When the power of love overcomes the love of power, there will be peace," he said, to applause.
"The way of love (through Jesus) … is not a way, it is the only way," he said. "When we begin to see each other not just as other people but as children of God … we won't see each other as black, white, red, brown, Republican or Democrat."
When asked to define the opposite of love, most people probably would say hate, he said.
"But the opposite of love is not hate per se. The opposite of love is selfishness. The opposite of love is self-centeredness. Self-centeredness is the root of all sin," Curry said.
"Sin makes me think I'm the center of the universe and you're on the periphery," Curry said.
"Self-centeredness is the cause of all problems — every war, every evil thing, every wrong thing," he said.
"Those who love Jesus no longer are self-centered," he said.
Curry addressed the love he saw between Harry and Meghan, saying, "Their love brought two nations together. It brought the whole world together, believe me — I was taking selfies with them."
Curry, whose sermon prompted a standing ovation, was at Christ Episcopal to participate in two events — celebrating the 168th anniversary of the arrival of the Rev. James Lloyd Breck in La Crosse, where he founded Christ Episcopal, and the dedication and renaming of what had been called the church's undercroft the Augustine Fellowship Hall, in honor of the church's rector, the Rev. Canon Patrick Augustine.
Before his sermon, Curry referred to Augustine, widely honored as a global missionary, as "a remarkable guy — one of God's holy terrors," evoking laughter and applause that surely rattled the historic church's stained-glass windows.