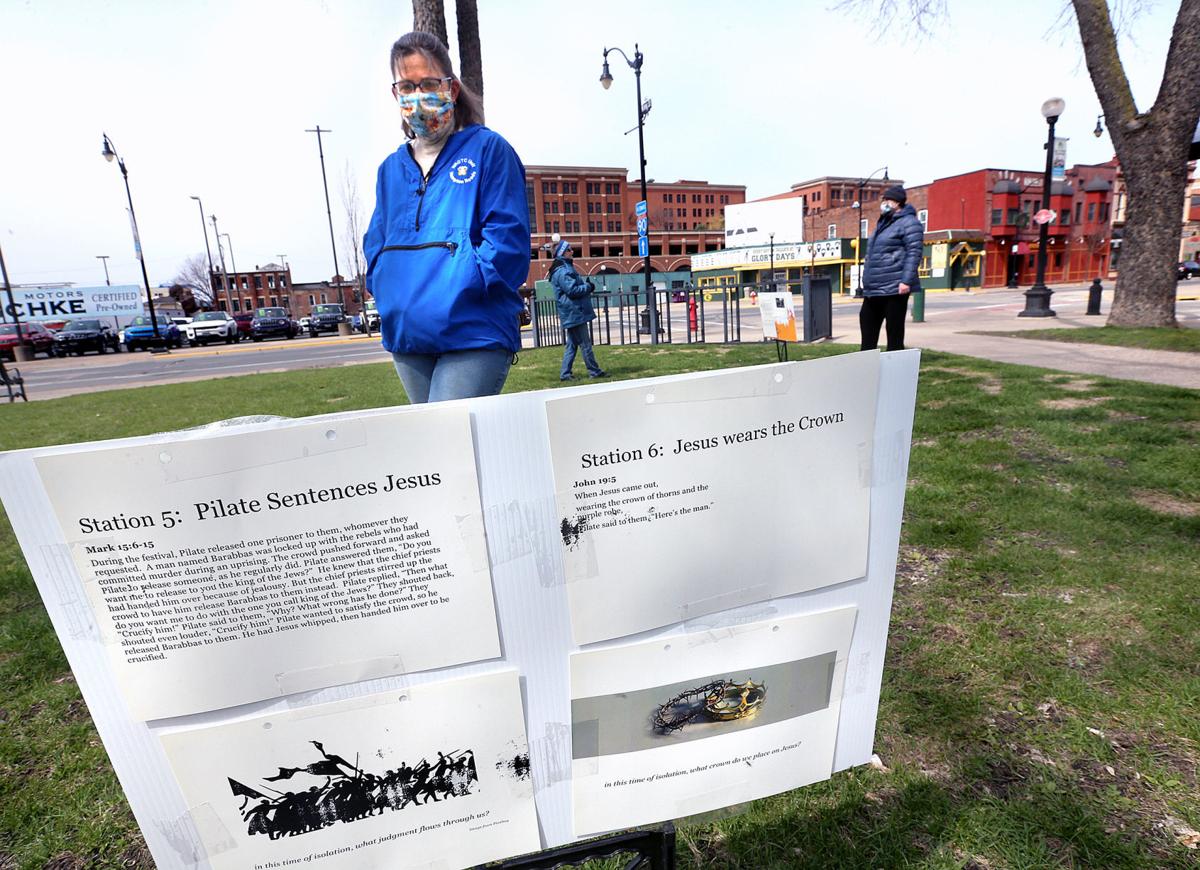 A weekend that usually brings record crowds to churches will now draw people to computer screens, radios and TVs instead of pews.
Places of worship are not exempt from Gov. Tony Evers' safer-at-home order, stopping parishioners from meeting for weekly services. And it has caused some to get particularly creative for the week of religious holidays.
For the people of Bridges United Methodist Church in La Crosse, a recent move from their 1886 church to a downtown storefront has given them a set of unique circumstances during the pandemic.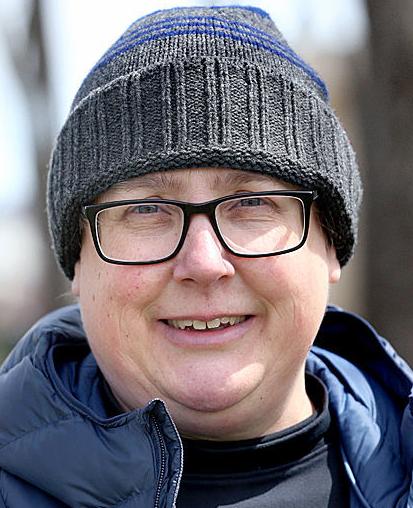 "The building was huge and very complicated to maintain, and we wanted to spend more time on spiritual growth and less time on maintenance," pastor Anna-Lisa Hunter said of the recent relocation.
"And of course now, with the pandemic we are really happy we were able to move because it's a much simpler space to maintain," she added.
The well-timed move has made the overhead cost much less during what is becoming an uncertain financial period for most, she said.
They moved just shortly before the pandemic was in full swing and were able to hold an open house March 1 before things started shutting down. Now, Hunter does her sermons through a livestream in the new building, alone.
"I have been making the video at our location, partly because we're still so excited to have a new place," Hunter said. "We don't really want to see the pastor's house, we want to see the new church building."
For holy week, the group will livestream Easter Sunday service, but they've been creative with other celebrations throughout the week, too.
On Palm Sunday, Hunter said about seven parishioners stood outside of their new downtown location on 4th Street waving palm branches for the traffic driving by.
And for Good Friday, they displayed Scriptures in Cameron Park for worshippers to read while practicing social distancing.
"For people who just want to go for a walk and want to have a little bit of a spiritual moment," Hunter said.
In rural Winona, a small church is also joining the streaming trend, but not without some challenges.
"We try to keep it pretty simple. We don't even have a microphone system in the church, so we've been just trying to do the best we can with what we've got," said pastor Jeff Franko of Cedar Valley Lutheran Church.
Franko has been posting worship experiences and recorded sermons on Facebook and the church's website since the stay-at-home order has been in place.
But some of Cedar Valley's worshippers don't have a computer, Franko said, so he has been mailing them copies of his weekly sermons, which he'll do for Easter Sunday, as well.
Franko has been doing his sermons from home, which he said has felt natural since everyone else is home, too. And it's given them time to get the church repainted ahead of schedule and without interruption.
The church, that serves about 30 people regularly, has felt the pangs of not being able to worship together.
"Basically, this is a family congregation, really. Everybody knows each other and goes back some generations of being members of that church, so I think the biggest challenge is just not being able to get together and be with each other," Franko said.
"Like most of the members, I think what I'm really missing too, is being with my congregation," he added. "They're just a bunch of great people and it's like your week isn't complete when you can't be together."
They've decided to forgo livestreaming its services, directing the 900-some families it serves to other livestreams and radio Masses at other churches.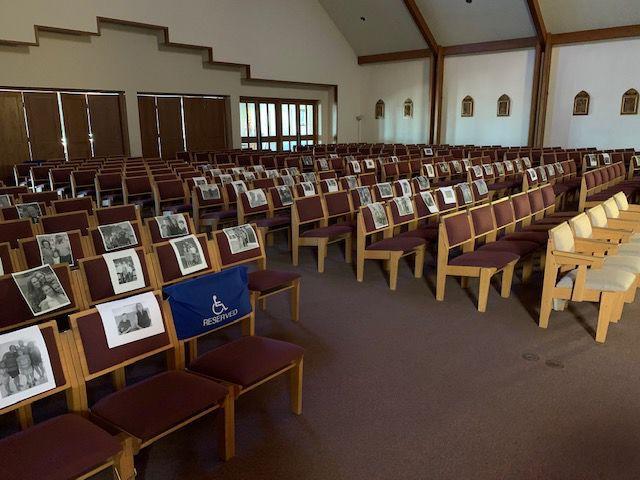 But the pastor, Father John Parr, still shows up to every scheduled Mass to fulfill the weekly services required by the diocese.
It started out with just him and about eight staff members who helped complete the readings and communion. But then one staff member was inspired by something he saw online.
"It was the idea to try to get our parish families into the church, even though they couldn't be there physically," said Pat Brueggen, the church's faith formation director.
Brueggen reached out to the hundreds of families who worship at St. Elizabeth's asking them for photos they could print out and place in the pews for Father Parr to look at while he preached.
"He was celebrating Mass with empty chairs. It must have been a spiritual burden for him as well," Brueggen said.
At least a hundred families had already sent photos to be placed throughout the church, Brueggen trying to place them in the seats they'd normally be in.
"Some would even tell me, I sit in this chair in the left in the back," he said.
It's the plan for the holiday Mass this Easter Sunday, too, with Father Parr, the eight staff members, hundreds of photographs, and parishioners praying from their own homes.
The gathering for Easter Sunday celebrations has been a topic for discussion the past few weeks, as lawmakers and officials at both the state and national level have asked for exemptions to congregate and worship for the holiday, despite the pandemic concerns.
Specifically in Wisconsin, Republican lawmakers asked Evers to roll back the stay-at-home order to allow in-person services for Easter and Passover.
But mass congregation for the holidays in-person has received much pushback from others, even in the religious sector.
"In a time when the frailties of our social order are evident, we must strive to protect the most vulnerable," the Wisconsin Catholic Conference of Bishops wrote in a letter on Thursday. "We urge individuals to act from home."
And while the idea of congregating in-person for the holiday has been firmly opposed by Gov. Evers and other health and state officials, on Thursday, he announced that drive-up services would be allowed, mimicking a drive-in movie of sorts.
Despite the hardships places of faith have seen during the pandemic, some have noticed that the use of technology and virtual worshipping has helped them reach more people than ever.
"This has really been able to reach a lot more people than we typically see on a Sunday morning," Franko said, who said his sermons have been streamed from old and new worshippers, and from people as far as California.
Places of worship have had to cross unforseen hurdles the past few weeks. And just as each house of worship, each religion is unique, their solutions to this global crisis have been just as unique — from the La Crosse synagogue holding its Wednesday night Passover seder over live stream to Father Parr who will look over hundreds of photographs for Easter Sunday mass.
"I think the community of La Crosse has just shown what a vibrant and resilient place that this is," Hunter said. "And people are really coming together, and the churches have really played a big role in that."
"I think the community of La Crosse has just shown what a vibrant and resilient place that this is. And people are really coming together, and the churches have really played a big role in that." Anna-Lisa Hunter, Bridges United Methodist Church pastor
"I think the community of La Crosse has just shown what a vibrant and resilient place that this is. And people are really coming together, and the churches have really played a big role in that."

Anna-Lisa Hunter, Bridges United Methodist Church pastor
Concerned about COVID-19?
Sign up now to get the most recent coronavirus headlines and other important local and national news sent to your email inbox daily.