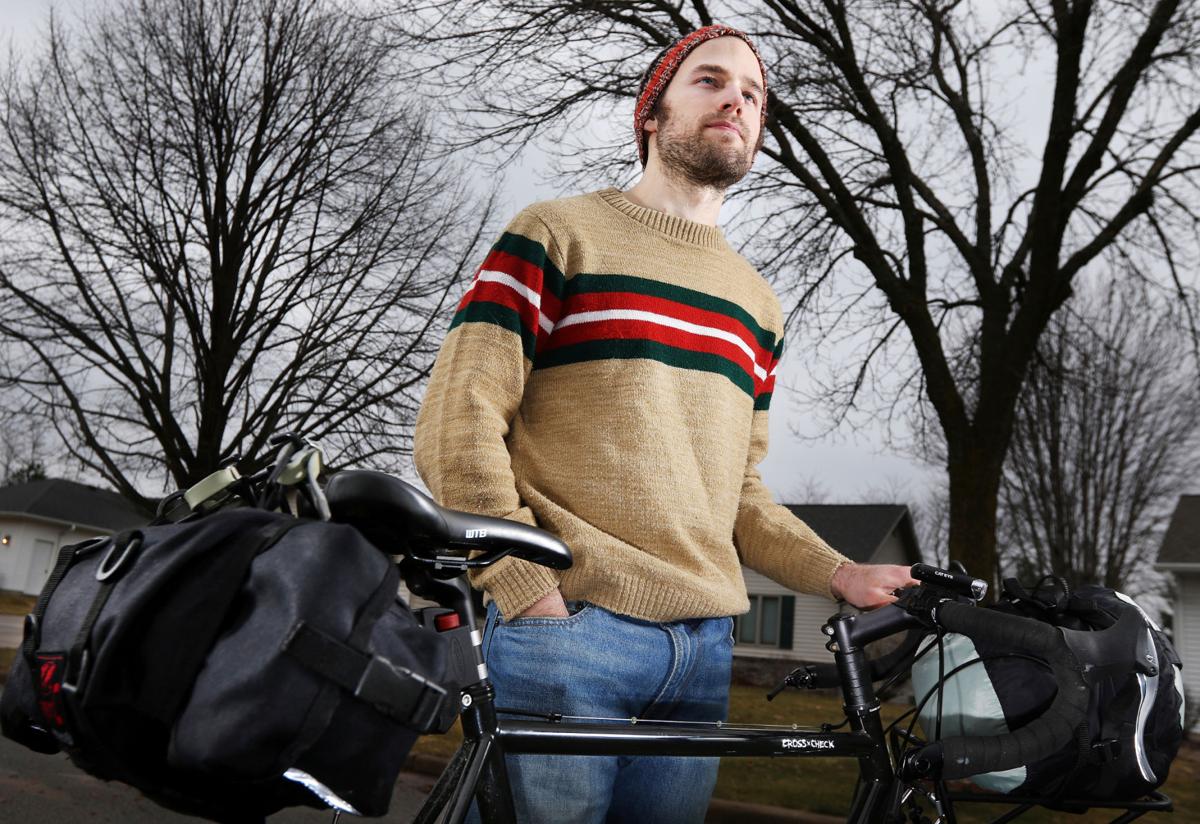 EAU CLAIRE, Wis. (AP) — Matt Boelter threw his head back a bit and guffawed as he thought about how he almost took a cross-country trip with his best friend while they both were in high school.
They didn't have a car or money to get anywhere — it was a harebrained idea, the Memorial High School graduate would say, still smiling and shaking his head.
Now 22, Boelter is resurrecting that discarded idea of a countrywide excursion, trading a teenager's pipe dream for a heartfelt, well-crafted plan to help others in need.
At about 5 a.m. May 1, Boelter will fly out to Yorktown, Virginia, where that same day he will begin a three-month journey — by bike — across the country to raise money and awareness for Syrian refugee children and the crises besetting their living conditions.
"I fully admit and acknowledge that this is drastic, but there needs to be those people in the world," he said.
On the 4,225-mile trek to Astoria, Oregon, he plans to talk with people he meets along the way to catalog American perspectives of the refugee crisis and to advocate for acceptance of refugees in the U.S.
He also will use the trip as an opportunity to encourage others to take small steps in their daily lives to spin positive change.
"I think a lot of people don't know where to start with making a positive change in the world, but being mindful and intentional of the way you live, it goes a long way," he said.
Another goal of Boelter's is to raise $10,000 before and during his trip to benefit Save the Children, an international aid organization that, among its list of goodwill services to people in the Middle East, provides food and nutrition aid to Syrian children.
"I've had the idea in my mind to fundraise for Syrian people and refugees because I've been reading a lot in the news about the great suffering they are going through and experiencing with regard to food shortages," he said.
Toward his goal in support of the organization — which appealed to Boelter because of its transparency and high percentage of expenditures going toward program services — Boelter has so far raised $755.
Boelter had fallen into the same trap that has plagued plenty of millennials who came before him: what to do after graduation.
He spoke with several friends from his alma mater, Luther College in Decorah, Iowa, who faced down the same questions of how to balance what they're good at, what they want to do and how they can make money.
"We were having this conversation about how we felt a lot of times, especially at school, we were in this echo chamber speaking about all these issues," he said. "It's great we're all aware of these issues, but what are we doing in our everyday lives to make the world a better place and try to solve some of these complex issues?"
His desire to help was compounded by health issues that could have claimed his mother's life. It drove a mentality of self-reflection.
"Living a life guided by values or pursuing something greater than yourself is a great way to not only make positive change, but also live a life with as few regrets as possible," he said.
Boelter, a biology major, is particularly moved by the global food shortage crisis and noted that since he started developing plans for the trip a few months ago, the United Nations announced that South Sudan and a few other countries in East Africa are experiencing one of the worst famines in history.
An estimated 20 million people in Yemen, South Sudan, Somalia and Nigeria are at risk of starvation and famine, according to the United Nations.
Boelter's stepdad, Eric Holey, and his mother, Roxanne Litchfield-Holey, said his exposure to other people and cultures has made him a global citizen.
"Seeing what's happening in Yemen, and especially Syria, it just makes him so terribly sad, and he wants to do something about it," Holey said by phone.
Boelter said his focus on global food shortages rose from an article he read about children in Yemen.
"They were eating garbage in order to stave off hunger and starvation," he said. "I don't know why that specific news article struck me so much more than a lot of others, but for some reason it just stuck with me."
But Boelter's reaction to want to care for the world's most vulnerable is molded into his character, said his girlfriend Sarah Stutzke, who lives in Tacoma, Wash.
"He has a very gentle soul, and he really cares about all people, especially people who are more vulnerable to begin with," she said by phone.
That's evident from his decision to move back to Eau Claire from his post-graduation home in Tacoma several months ago to care for his mother after she suffered a stroke.
"He's very empathetic, and he could imagine what she was feeling," Stutzke said. "He moved back to ensure that she received the highest quality of care."
Boelter's ride of choice is the Surly Cross-Check, which he bought in February from Eau Claire Bike and Sport for a discounted price after trading in a snow board, unicycle and old bike.
His bike is already fitted with the 14 pounds of gear he is bringing with him, including one change of clothing, a tarp tent, sleeping pad, sleeping bag and bike maintenance tools.
He admits he probably hasn't trained nearly enough, putting on maybe 100 miles since February. Without much time to train, he bikes to and from his jobs at Noodles and Company and Eau Claire Downtown Coffee-ECDC.
Adamant that all the money he raises will go toward Save the Children, he has held those two jobs to save $6,000 — though he anticipates he won't spend it all.
He has mapped out his journey, which will follow the Adventure Cycling Association TransAmerica Trail.
"Even if I inspire one person to do one good thing that I know came from this trip and what other people have seen me do, the entire trip will be worth it," he said.
Safety isn't a great concern for Boelter, who said he has confidence in his ability to approach each person with an open mind.
"I can see how people would be afraid for me in that some people believe that a lot of people have pretty radical viewpoints or ideologies," he said. "But I think the thing that I have so much confidence in is that I believe deep down we are all compassionate human beings at our core. That's the reason I'm not afraid."
While his mother said it's a little scary from their perspective, the couple agreed that Boelter receives nothing but love, support and pride from them.
"He just wants to make the world a better place," Holey said.
Get local news delivered to your inbox!
Subscribe to our Daily Headlines newsletter.