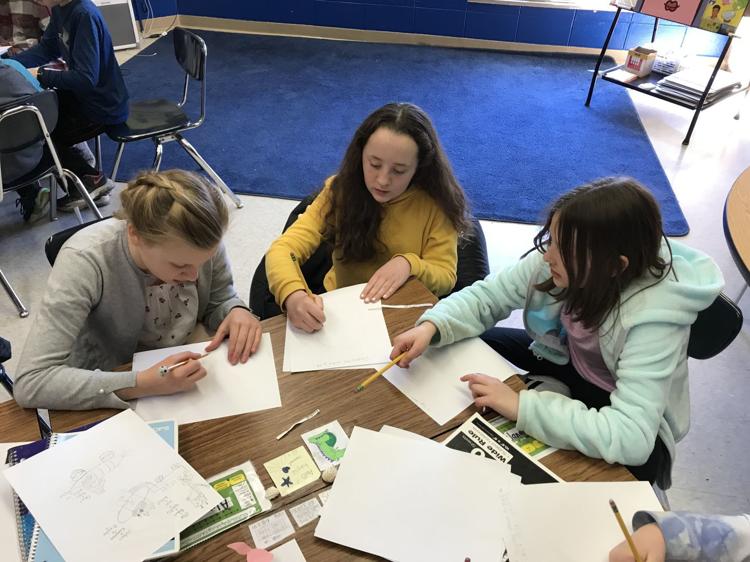 A football with a goatee.
Most days, the cartoonish creations of State Road Elementary School fifth-graders are confined to the pages of a notebook, rarely, if ever, seeing the light of day. But this week, students are displaying their drawings both prominently and permanently, on the walls of their school, with coats of acrylic paint.
"Your work will be immortalized forever — think about that," said Bren Bataclan, a Boston-based artist who is working with the students to create a mural. "Home Depot says the paint, if you take care of it, can last 30 years."
Bataclan, known for painting wacky and colorful cartoon characters — many resembling aliens or dinosaurs — showed students his free-wheeling, no-erasers-allowed style of art on Monday, pushing them to give it a try.
He gave them prompts like carrot, sports car, jelly bean, house, and students drew characters that included those elements, their pencils dancing in their hands.
"Their ideas are better than mine," Bataclan said. "Kids are creative, funny, unique. They're pure entertainment."
Invariably, each string of words hit every student just a bit differently.
One student would draw a kangaroo, with a belly the size of Saturn, wearing a Pringles can on its head. Another student would draw a much smaller kangaroo, munching on Pringles, hopping across the planet's ring.
That was just the warm-up, a chance for the students to stretch their creative muscles.
Their assignments for the mural were more straightforward — draw a football, sun or act of kindness — but carried the pressure of permanency. Bataclan is tasked with re-creating their drawings, as faithfully as he can, along one of the school's main corridors.
"It's a location where kids, parents, everyone will be able to see it," said Carrie Quick, one of the school's fifth-grade teachers. "Every character they draw will represent our core values and the people at our school."
Alyce Wilker drew a football with eyes, eyebrows and a bushy goatee.
Damaren Davis drew a sun that played basketball, complete with sneakers he described as "drippin'" — it means cool — and a jersey bearing No. 23, for Michael Jordan.
"He's looking gucci," Damaren said. "He'll break your ankles and shine in your face."
A person would need sunglasses, the boy added, to guard him.
For others, inspiration proved more elusive, like a hummingbird flashing around the room, whizzing by your head.
Gabbi Zeeb, for example, was asked to draw a character giving a gift, an act of kindness, but could not come up with a creative way to do it. When asked about her ability to draw, Gabbi waggled her hand and sighed. "Eh." She went back to scribbling.
Bataclan collected the drawings and put them on a projector, one by one, so the class could see them.
The chests of fifth-graders bulged with pride as the artist cycled through them, complimenting them. They had turned all kind of things — crayons and pianos, stars and soccer balls — into characters that seemed to live and breathe, with bulging eyes and oversized feet.
Eventually, Bataclan came to Gabbi's drawing of a blobby character carrying a gift, tied with ribbon and topped with a bow, atop its head.
"I would have never thought it would wear the gift as a hat," he said. "That's why I love working with you guys."