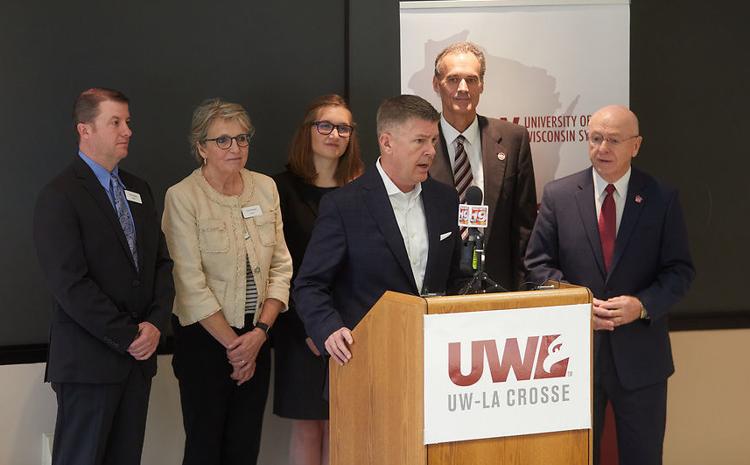 The good news, according to school officials: The UW System brings immeasurable value to communities across the state.
The bad news, according to those same officials: Not everyone realizes it.
"I think we need to do a far better job at showcasing how impactful all of our campuses are, region by region, in the state," said Drew Petersen, president of the UW Board of Regents. Petersen, UW System President Ray Cross and other officials were in La Crosse on Wednesday as part of their cross-state All in Wisconsin tour.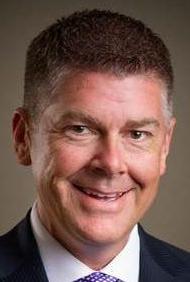 "We have tremendous stories to tell … we just need to go out their and make our case," Petersen said. "And UW-La Crosse is a great illustration of that — high enrollment, high graduation rates, unbelievable career placement in both business and civic engagement. We all need to be in the sales business, and that's exactly the kind of story we want to highlight."
Wednesday's tour included stops at UW-L's Health Science Center and Logan High School's La Crosse Promise Future Center, places where students and faculty are working to bridge the gap between high school and college.
The Health Science Center has a two-year academy — a collaboration among the city's three colleges and two hospitals — that prepares high schoolers for careers in health science.
La Crosse Promise is a nonprofit organization that helps students identify career and post-secondary opportunities, as well as resources they can use to their advantage.
"One of the challenges we're facing in this state is the ability to attract, retain and develop talent. This is an example of eliminating those gaps between partners," Cross said. "What I'm hearing from businesses is they're just screaming for talent — more IT people, more nurses, more engineers. Here, there's almost a seamless transition for these high school students into a career path requiring higher education. How do we advance that elsewhere as well?"
You have free articles remaining.
UW-L Chancellor Joe Gow said the Health Science Academy has been particularly beneficial for students, because it eases what can be a jolting transition from high school to college.
"We have high school students who are getting a taste of not only the health profession and what happens at organizations like Gundersen and Mayo, but also what happens on our campus," he said.
"We have a tremendous focus on reaching into high schools and making sure they're exposed to what's available on campus," Petersen added, "but also that they're prepared from an analytical perspective and from a math and science perspective, so they can hit the ground running."
Soon, however, attracting students from local high schools won't be enough, officials said.
The number of high school seniors in Wisconsin has been steadily falling, causing UW schools to compete for students from neighboring states. That trend is reflected in this year's freshman class at UW-Madison, which has the highest proportion of out-of-state students in at least 25 years.
There's also a competition for dollars.
While UW-L and UW System officials generally were pleased with the budget signed by Gov. Tony Evers this summer, they lamented that some projects — including the $83 million second phase of UW-L's Prairie Springs Science Center — were left off.
Securing more funding will be critical, they said, to the system's ability to maintain facilities, expand programs and retain quality professors.
"It will pay dividends not just for our campuses, but for the employers who get a workforce pipeline from our campuses, and for the regions that build economic development around our campuses," Petersen said. "We compete with corrections, with Medicare, with transportation. In my mind, higher education is the best investment that our taxpayers and legislators can make."