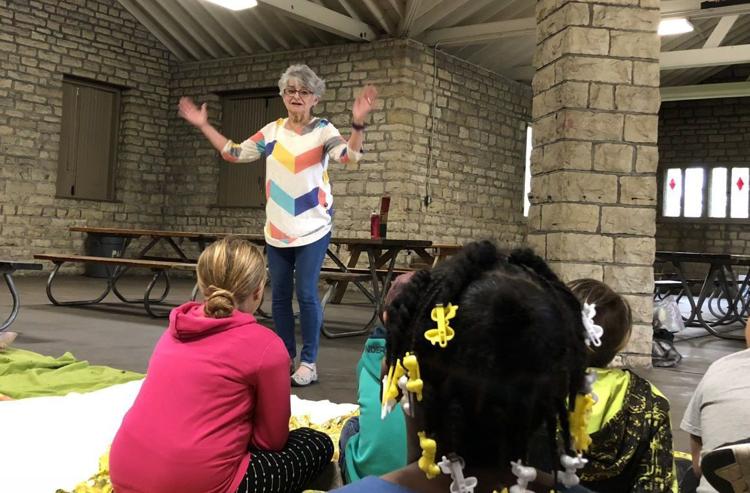 Of all the stories she heard Thursday, "Little Red Riding Hood" was Amelia's absolute favorite.
"I like that the wolf starts being nice," said Amelia, one of a few dozen students who attended the La Crosse Storytelling Festival's Kids' Day in the Park, featuring tellings of fairy tales and modern stories — some with a twist.
"The little girl brings strawberry muffins to Grandma's house, and the wolf wants some," Amelia said. "So they end up having a muffin party."
The students, many from Spence and Hamilton elementaries in La Crosse, sat on blankets and pillows in the Myrick Park main shelter, crowding together as raindrops tapped the roof and the storytellers got into character.
Terry Visger, a longtime member of the Bluff Country Tale Spinners, the group that hosts the La Crosse Storytelling Festival, told the story of "Stephanie's Ponytail," in which a girl is teased for her hair.
Visger used a high, whiny voice when saying the parts of the students, and a low, booming voice when saying the parts of the principal.
By the end, when Stephanie tricks her mean-spirited classmates into shaving their heads, Visger had the group squirming and giggling.
"You look at each kid, and they're just brought into it. It's like they're in the story," Visger said. "There's definitely a power in storytelling. Stories grab you. They grab your whole body."
Teri Wachuta, another Bluff Country Tale Spinner, told the story of an emperor who gets a pet cat but cannot, for the life of him, think of a name for it.
Telling the story by memory, as opposed to reading from a book, makes it that much more engaging, Wachuta said.
"Instead of your focus being on the book, you're making direct eye contact and your focus is on the kids," she said. "It allows them to listen, interpret and come up with their own images in their head."
Meghann Blakstad, a first-grade teacher at Spence, added: "The kids get to make connections with stories they've already heard, and they get exposed to some older stories they might not be familiar with. You can tell they're having a blast."
Ada, a first-grader at Spence, said she especially liked the cat story because of the silly names the emperor tried: Cloud, Wall, Mouse, Cat.
Reading is Ada's favorite subject, she said, by a mile.
"There are so many fun stories," she said.