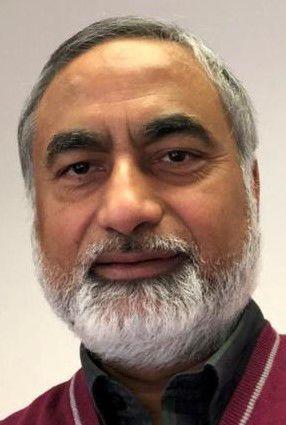 Discrimination toward Muslim Americans and other minorities is perhaps best illustrated by the way politicians and journalists speak about mass shootings, according to Masood Akhtar.
"When a shooter is Muslim … what happens with media and elected officials?" Akhtar asked a crowd Tuesday at the University of Wisconsin-La Crosse. "They say he's a terrorist. Terrorist attack. And it doesn't stop there. Muslim terrorist. Islamic terrorist, associating his action with our religion. And that's where the problem is. If the shooter is a white, young kid, you don't see those words."
Akhtar, an anti-hate activist based in Madison, stressed the importance of fighting discrimination with education during his keynote address at the fifth-annual Hate/Bias Response Symposium at UW-L.
He also highlighted the work of an organization he founded, We Are Many United Against Hate, which seeks to address the root causes of hate through outreach and intervention.
"We strongly believe that when people are engaged, just like the way we are today, we understand each other better and address everyone's concerns," Akhtar said. "And then the fear and the hate start to disappear."
In most cases, hate toward a particular group or culture arises from a lack of understanding, Akhtar said.
In the years after 9/11, Akhtar and other leaders in the Muslim-American community have held events meant to dispel misconceptions about Islam. Lately, they've emphasized that Muslims view the Islamic State as an enemy, just as Americans do.
You have free articles remaining.
Akhtar sees economic insecurity and the competition for jobs as another source of division.
"There's a lot of discussion about minorities taking your jobs away, and that creates a lot of tension and hate," he said. "But nobody hates robots when robots take the jobs. Human beings are hated for the wrong reasons."
We Are Many United Against Hate takes a multi-pronged approach to bridging divides in Wisconsin communities.
The group advocates for bipartisan policies meant to improve economic security, promote religious tolerance and honor America's heritage of accepting immigrants.
It offers no-interest loans to students from low- and medium-income families regardless of ethnicity, religion or political affiliation. (Students who maintain a high enough grade point average can have their loans forgiven.)
And it helps communities respond to cases of hate or discrimination, such as a group of students from Baraboo performing the Nazi salute in a viral photo.
Akhtar noted that We Are Many receives no federal or state money, and is instead funded through individual donations.
The group has touched dozens of Wisconsin communities since it was founded in 2016, in response to President Donald Trump's calls for a Muslim registry. It has grown to include representatives from a wide range of ages, religions and backgrounds, and from both major political parties.
"I still believe that America is the best country on the face of the Earth to practice your religion and fulfill your dream," Akhtar said. "But we all have to work together to keep it that way. If we don't, the consequences will be severe."
"I still believe that America is the best country on the face of the Earth to practice your religion and fulfill your dream. But we all have to work together to keep it that way. If we don't, the consequences will be severe." Masood Akhtar, anti-hate activist from Madison
"I still believe that America is the best country on the face of the Earth to practice your religion and fulfill your dream. But we all have to work together to keep it that way. If we don't, the consequences will be severe."

Masood Akhtar, anti-hate activist from Madison