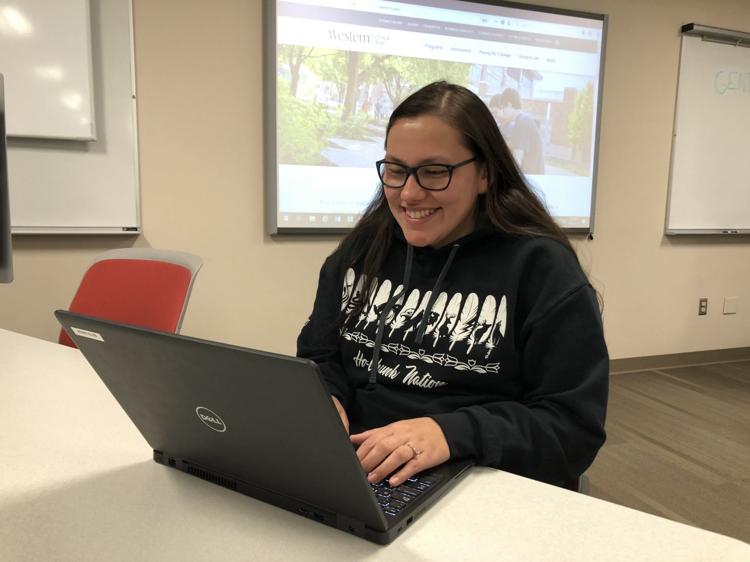 Most college students do not have to:
Drive an hour or longer to school, often early in the morning, often on snow-glazed roads.
Do homework late at night in an empty office building, because their house does not have Wi-Fi.
Cook, clean and otherwise care for an ever-growing family, which includes eight children, one just 7 months old.
Dana Pettibone is not most college students.
"It's a struggle sometimes, and we all have good days and bad days," said Pettibone, 31, who is graduating from Western Technical College on Saturday with a computer support specialist degree. A decade removed from high school, she decided to enroll in hopes of setting an example for her children.
"I did it for them, just to be a better role model," she said. "I want them to know that, if I can do it, anybody can do it."
Few students in Western's computer support program are 25 or older, and even fewer are female. Only Pettibone, it is probably safe to say, has eight kids.
Cindy Prindle, an instructor in the program, said Pettibone is a unique and inspirational case. She has had more excuses to drop out than any student Prindle has taught, and yet here she is.
Persistence was something Prindle noticed in Pettibone the first time they met, during new student orientation three years ago.
"I could see she had it in her, that she could handle it," Prindle said. "I just marveled at how many balls she could juggle. She was so full of life, putting herself out there, stepping outside of her comfort zone."
The time between Pettibone finishing high school and starting college never felt like a missed opportunity, she said, because higher education was never on her radar.
Neither of her parents studied past high school, nor did a vast majority of her 13 full or half-siblings. It was not a family tradition.
Pettibone got pregnant with her first child when she was still in high school, and she had to earn her diploma through an alternative program.
A new child seemed to arrive every couple years, so Pettibone kept her head down, working, parenting, doing whatever she could to provide for her children.
Her husband, Patrick, had a similar story. No college — just working and parenting.
Pettibone, a resident of Black River Falls and a member of the Ho-Chunk Nation, felt pulled toward college as her children got older. If she didn't show them that school was important, Pettibone thought, nobody would.
Her first year at Western was like opening an old book, trying to find her place. She had been out of school so long that it felt strange to have homework again. She'd look around the classroom, at rows of mostly fresh faces, and note the age difference.
"It was a big transition," Pettibone said. "I knew I was coming in a little older, but I think I can work with anyone. I think I really fit in."
You have free articles remaining.
Register for more free articles.
Stay logged in to skip the surveys.
There was no debating, though, that she and her classmates were in different stages of life.
Pettibone would wake up early to see her kids off to school. Then she would go to work at the Ho-Chunk Nation Tribal Office, spend a few hours there, and make the hour-plus drive to Western in La Crosse.
Back at home, she'd help the kids with their homework, do the laundry, put the kids to bed. Then, because the family could not afford internet, she'd drive through the dark to the tribal office so she could do her homework.
"It was a lot of late nights," she said. "It was a lot to juggle."
Sometimes, there were simply not enough hours in the day.
In her second year, Pettibone failed a basic-level math course because, between her family and her other courses, she had two many demands of her time.
Still, she was on track to earn her associate's degree last spring — until she got pregnant again and had to leave school.
"It was frustrating," she said. "It's like I was right there, so close to crossing the finish line, and then I had to run in place for a while."
Pettibone said it was a matter of when, not if, she would finish her degree — she never considered dropping out.
Prindle was nonetheless relieved last fall when she saw Pettibone's name on her course roster. She thinks Pettibone's story can serve as motivation for not just her children, but for mothers and fathers who are considering going back to school.
"There are a lot of people, especially single women with children, who are trying to balance a lot of different things in their lives," Prindle said. "I think hearing her story will be an inspiration."
Pettibone will miss Western, but her wistfulness is outweighed by her excitement to graduate and "feel a sense of completion," she said.
Her family will be at the La Crosse Center when she receives her degree on Saturday, although it won't be the whole group. Western, which gives students five tickets apiece, did not plan for a family like hers.
Even after graduation, Pettibone does not intend to cut ties with Western. She wants to take more classes so she can get a technical diploma in networking, and her husband is planning to attend in the fall to pursue a degree in business management.
It all changed for Pettibone — for the entire family, really — when she decided that college was not only something other people did, but something she could do, too.
"No one ever told me I could go to school," she said. "No one told me I was smart enough. No one told me I had the potential."
That will not be a problem for her children.
"No one ever told me I could go to school. No one told me I was smart enough. No one told me I had the potential." Dana Pettibone, who will graduate today from Western's computer support specialist program