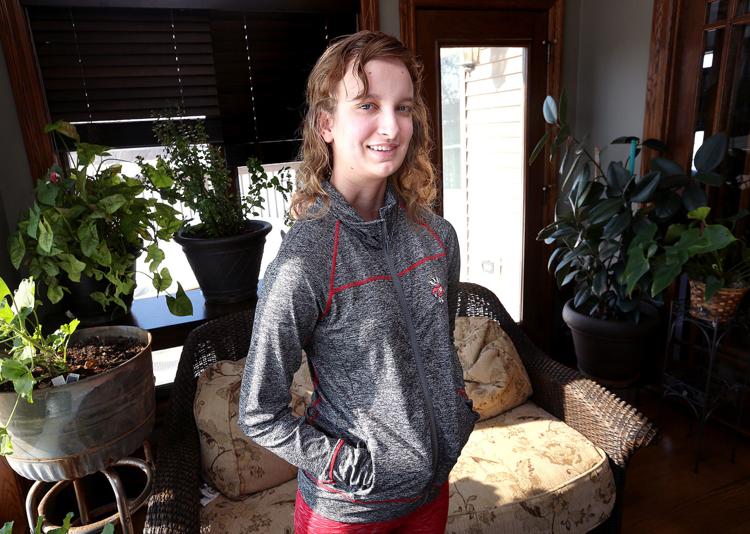 Kiara Updike, 17, has a rare genetic condition that causes her bones to shift and weakens the tissue lining the main artery from her heart, but the last thing she wants is to be wrapped in bubble wrap and shielded from the outside world.
The Arcadia High School senior maintains a 3.82 grade point average and a challenging academic course load, though she's had to miss classes for corrective surgeries starting in middle school to keep her rib cage and spine in place.
She manages three sports teams throughout the year and attends the games, though loud noises exacerbate her headaches, caused by the metal bars in her back that have shifted about an inch since they were put in and rub against the base of her skull.
She drives to school in a car outfitted with blin -monitors and a custom headrest because all but one of the vertebrae in her neck have been fused.
And she still goes snowmobiling, though that level of physical activity worries her mother.
"My mom absolutely hates that," said Updike, who until a few years ago also rode dirt bikes and roller coasters. "I'm still doing things I probably shouldn't, but if I sit in my room my entire life, that's no way to live."
Updike's work ethic and attitude haven't gone unnoticed, said Sally Braun, school counselor assistant at Arcadia High School.
Teachers at the elementary, middle, and high school overwhelmingly voted Updike as their 2019 La Crosse Tribune Extra Effort Award recipient, Braun said.
Health issues have been a part of Updike's life for as long as she can remember.
As an infant, she had five surgeries to correct a cleft palate and hernia, Updike said.
When she was getting ready for preschool at age 4, her parents noticed a limp that turned out to be a severely dislocated knee. She went to preschool with a full cast on her leg, which all her classmates signed. Updike still has the cast today.
In kindergarten, she sometimes had trouble breathing during physical activities, Updike said.
By the end of her kindergarten year, the doctors figured out why.
Updike was diagnosed with Loeys-Dietz syndrome, a connective tissue disorder caused by an inherited or spontaneous gene mutation in the cell signaling pathway. The pathway is important for cellular growth and development as well as the formation of the extracellular matrix, a scaffold of macromolecules including collagen on which tissues and organs grow.
The condition not only causes bone and joint instability; individuals affected by Loeys-Dietz have twisting arteries and are prone to aneurysms in the aortic root, the main artery that carries oxygenated blood from the heart. Updike takes heart and blood-pressure medication to reduce the risk a cardiac aneurysm rupture, which can be life-threatening.
Since her diagnosis, Updike has had operations to push out her sunken rib cage and sternum, remove a cyst from her spinal cord, and fuse her spine.
She's also had complications from surgery and Loeys-Dietz syndrome, including fatigue, infection, spinal fluid leakage, and compression on her spinal cord that temporarily paralysed her left side.
For a year and a half, she couldn't use her left arm, Updike said.
Updike said she just carried on like she was going to be OK because she didn't want to her parents and younger brothers to worry. At the same time, she learned never to get too comfortable because things can change in an instant, Updike said.
As much as she'd like to play sports, Updike's health keeps her off the field so she manages the school football, basketball and softball teams. It's something she genuinely enjoys and considers as a potential future career, Updike said.
She's especially fond of the football team because her father is the coach, she said. "It really is a family thing for us."
And though she gets tired easier than her classmates and likes to reserve weekends for "recovering from being active," Updike said she also enjoys going out with friends, seeing movies and shopping.
In fact, Updike can be spontaneous when she feels up to it.
She and her dad took a last-minute weekend motorcycle trip before football season started. They rode from Arcadia to Ashland and then Duluth, Updike said. Both are big fans of bikes, country music festivals, and of course, football.
The song "Mr. Mom" by Lonestar reminds her of their family, she said. Her mom travels a lot for work so when it's just her, her brothers and her dad, "it's chaos, but he does a good job."
In December, Updike was accepted by early action to the University of Wisconsin-Madison, her first choice.
Although she was hesitant about whether college would be worth the investment if she was going to be sick all the time, she said she decided the experience will be worth it. And the Madison campus is just two blocks from her doctor's office, she said.
"Accepting what I have and my illness is not the same as giving up or giving in," Updike said. "I've accepted what I have and I'm not letting that keep me from having a good life."
Updike said she plans to study political science at UW-Madison. She's always been interested in politics, but since the 2016 election, Updike said she's been paying extra attention to immigration and health-care issues.
Her mom, an immigrant, came to the United States from Honduras on a college exchange program, so she has "pretty strong feelings about how we treat people who come to this country," Updike said.
Guaranteed access to health insurance that covers pre-existing conditions is another personal issue, especially after she turns 26 and no longer qualifies for coverage through her parents, Updike said. "It's weird that you require doctors notes to miss school or work in a country where you may not have access to healthcare," she said.
Updike said she's also considering business administration and law school in the future.