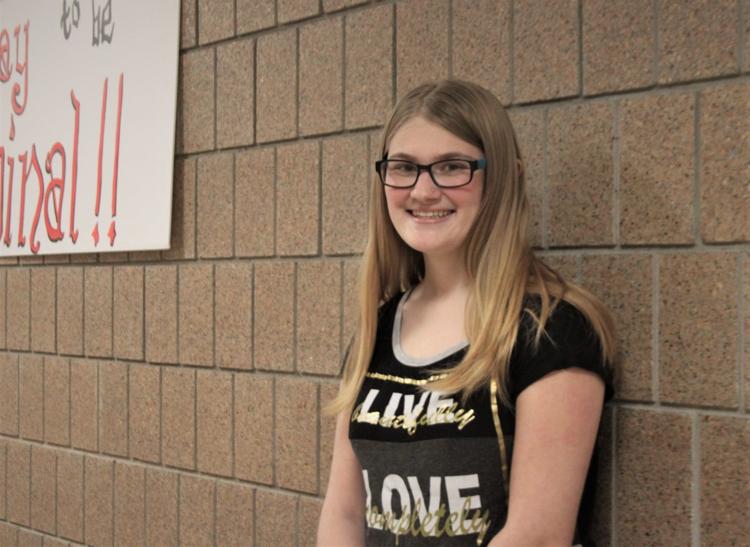 Makayla Challet's life is almost the exact opposite of what it once was.
A few years ago, the Bangor High School Senior was used to seeing D's and F's on her report card. Now those grades have changed to A's and B's.
Challet used to struggle with finding happiness in her home environment, but now she lives with two guardians who provide her with a sense of safety and security.
She used to be bullied by her peers, but now she has a tight-knit group of close friends.
The La Crosse Tribune Extra Effort Award recipient from Bangor never really pushed herself to excel, but now she puts extra effort into everything she does.
"I'm just really pushing myself to be better than who I was before," Challet said. "I'm using my past experiences and building off of those to push myself to do new things."
Challet's report card took a turn for the worse during her middle school years when where she was staying was up in the air.
She had been living with her dad and stepmom, but she says the environment wasn't a positive one. Then she spent some time with her grandpa until the perfect living situation came along.
Challet entered the foster care system toward the end of her eighth-grade year to live with her current guardians, who she previously went to for day care.
That living change made all the difference, Challet says.
Her grades began to skyrocket, and her mood turned from negative to positive as she began to push herself like she never had before.
Julie Theurer, Challet's homeroom and math teacher, noticed the changes, too.
"She was such a quiet little mouse as a freshman," Theurer said. "But then as a junior she was able to come out of her shell and be the person to go to when you need something done. … She's a good leader."
Both Theurer and Challet agreed on one personality trait of the senior — she loves helping others.
Challet channels her interpersonal skills into making sure that everybody's voice and input is heard in the classroom setting, Theurer said.
The love of helping others is continuing past high school, too, as Challet plans to attend college and study elementary education. So far she has been accepted to both UW-Stout and UW-Stevens Point.
Challet's passion for kids isn't anything new — one of her earliest memories involves an instant feeling of love and care for her first young sister.
"One of the earlier memories that always sticks with me is from first grade when my sister was born," she said. "My grandma came and got me, and she had a picture of my sister and I went around showing everybody saying, 'Hey, this is my new sister!'."
The relationship Challet holds with her siblings still carries the same amount of love and excitement to this day, even though she doesn't see them as often as she would like.
Besides helping others, the senior enjoys volleyball and track. She competes in the 100- and 200-meter dash.
With the amount of effort put into sports, maintaining relationships and academics, Theurer has no doubt that Challet will accomplish anything she sets her mind to after graduation.
"She is very kind-hearted and a very hard worker," Theurer said. "School isn't always something that comes easy to her, but she doesn't let that stop her from trying her hardest and putting forth that effort."
Be the first to know
Get local news delivered to your inbox!