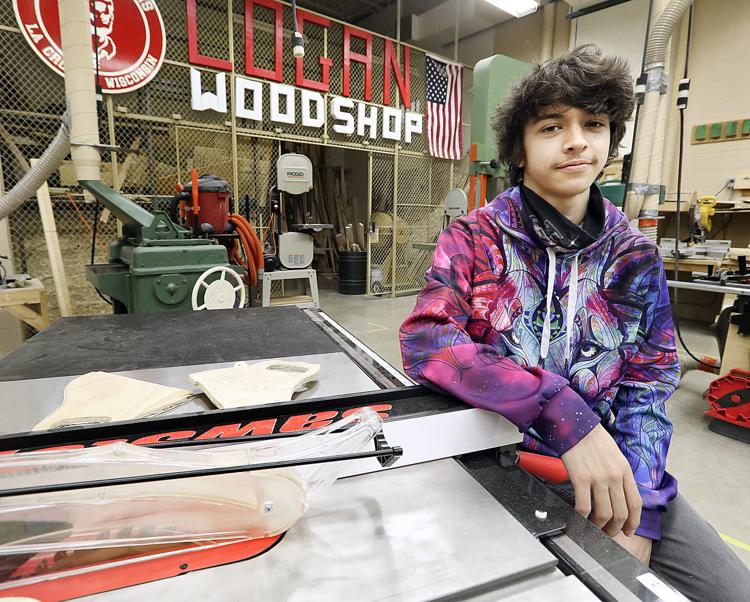 Christian Dungy was on a trip.
It was January 2017, a few days after his 16th birthday, and his small group of friends had just done acid. The minutes slipped by and the drugs took hold, and as they did, Christian was filled with an overpowering urge to kill himself.
He went for his shoes, but a friend got there first, grabbing them, so he would not go outside. A few other friends blocked the door.
Christian lowered his head, bushy hair flopping as he barrelled toward them.
It was a cold, black night in La Crosse, below zero. The snow crunched under his socks, now studded with road salt, but he continued to run, determined, thinking about how to do it. Eventually, Christian lay in the street.
A set of headlights floated toward him, then stopped. The driver began to honk.
Christian got to his feet, letting the vehicle pass.
A little later, another vehicle pulled up. The same thing happened.
That was when Christian had an epiphany: "I need a busier street."
Remarkable as it is that Christian Dungy is alive, it is perhaps more remarkable that he is truly living, aspiring, working to carve out a future.
He earned his high school diploma in January, a semester early, and plans to attend Western Technical College.
He recently scraped together enough money for an apartment, which he shares with his brother.
And he pictures a day when he runs his own construction business, when he has his own place.
"There were times I felt like I didn't have anybody," said Christian, Logan LaCrossroads' 2018-19 Extra Effort winner. "Now, I know that people are here for me, that they're counting on me. I know how lucky I am."
Two years ago, Christian found himself in a hospital bed, staring at his battered, frostbitten feet.
On his way to Rose Street, intent on being run over, he had met a police officer who asked for his name.
"Acid" was all he could manage to say.
"Two tabs," Christian replied, referring to how much acid he had taken.
For Christian, the next few minutes were an out-of-body experience, "like watching yourself on TV," he said.
Christian crumpled to the ground. Seizing, he began to foam at the mouth.
Paramedics surrounded the blue, shaking boy. Christian remembers looking up at them, that carousel of faces, as they went about their routine, lifting him onto a stretcher and into an ambulance.
An hour later, Christian was getting warm at the hospital, flanked by his grandma, brother and brother's girlfriend.
"My brother was crying," Christian said. "My grandma was pissed."
Christian recounts this story, in vivid and sometimes vulgar detail, a few feet from the school coordinator, Dorothy Hart.
Hart hates when he swears, when he talks about drug use, but she can see far enough into Christian, into his past, to accept who he is.
She knows that he bounced between his mom in California and his dad in La Crosse, as both parents grappled with substance abuse.
She knows that, as a boy, he worked long hours so his family could afford groceries, and that his dad sometimes withheld food as a way to punish him.
She knows that he has long struggled with his mental health, once trying to shoot himself with a .22 he had gotten for Christmas, only for the gun to jam.
And she knows that he has dealt with many more trying circumstances and toxic influences — dealt with them, and risen above them.
"Everyone talks highly of Christian — great worker, dedicated, always there for other people," Hart said. "He really is the nicest guy. He'd give you the shirt off his back."
That's who Christian has always been, friends and acquaintances say. His problem was a lack of direction.
That changed a week after he got frostbite, when he, once again, did acid.
"It was the best trip of my life," Christian said. "I realized I was lost. I was sitting on my ass, doing drugs, doing nothing to help myself. It created this ambition, this fire in my soul."
Soon, he was devoting his afternoons to Western Tech's YouthBuild, an alternative education program in which students split time between a classroom and a construction site, building homes in La Crosse.
He spent nights tossing salads and washing dishes at Digger's Sting — except now, Christian was working not just to put food on his family's table, but for himself, for his future.
And that goodwill, eventually, came back to him.
When Christian's favorite boots, soles shot, could not endure another step, his managers at Digger's rounded up some money and bought a new pair.
"For them to do that … I wanted to cry," he said.
When Christian takes stock of his life, a smile spreads across his face.
There's the apartment, the job, the school and career plans.
Christian loves working with his hands, loves when pieces of wood and glass and metal come neatly together, like he had imagined.
His teachers say they are deeply proud of him — proud, with a cautious optimism about his future. They know that, just as quickly as it was set, that fire in Christian could fade to a smolder, going up in smoke.
It would be nice, they said, to see a different ending.
"I hope he achieves his goals, because he definitely has them," said Ryan Schreiner, Christian's construction teacher at Logan. "Christian has a plan for himself. I don't know if every kid can say that."