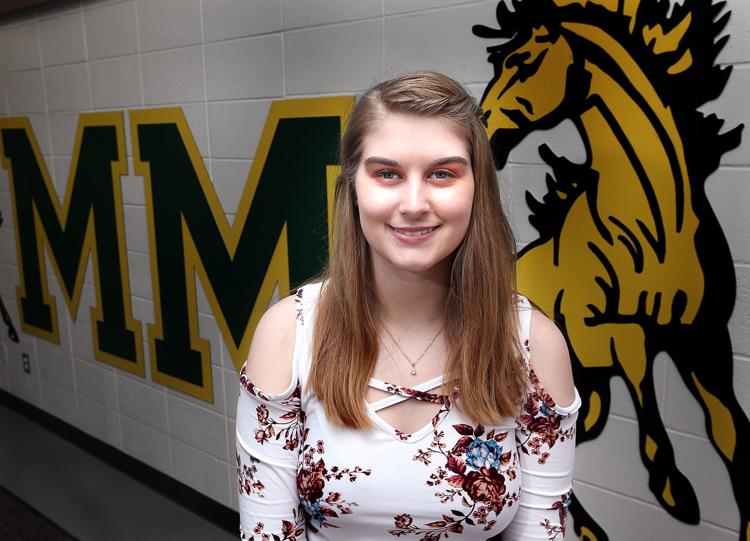 Karissa Kaiser missed the first day of her senior year of high school.
Instead of walking down the hallways, catching up with friends and attending class, she was in the operating room. The Melrose-Mindoro High School senior was having her third hip surgery of her high school career.
Kaiser, who is the La Crosse Tribune Extra Effort Award recipient for Melrose-Mindoro, was born with hip dysplasia. Because of having hip dysplasia, Kaiser's ball and socket didn't align properly, which caused a large amount of pain.
The senior had her first surgery her freshman year of high school, but then re-injured it a year later which called for a second surgery. Although the first two surgeries took place during the summertime, her third was in the fall.
After missing out on the first day of school, Kaiser missed out on more than 100 class periods while recovering and going through physical therapy.
But the worst thing wasn't the pain, healing or spending an extended period of time on crutches — instead, it was something else.
"The hardest thing, probably, was having to learn patience," she said. "I wanted to do stuff right away and I hate sitting around, so it was hard being patient and letting it heal and waiting to do stuff until I was ready."
While missing out on school, Kaiser was able to keep up without skipping a beat and was able to maintain her standing on the honor roll. The senior admits she was worried about how she would be able to handle all of the coursework for each class, but her friends and teachers chipped in with extra effort to make sure that she received her homework and understood the topics being taught.
Kaiser was able to push through a challenging physics class, which is taught by Darcy Sawyer. Sawyer also had the senior in chemistry, and by watching Kaiser work she was able to see that she wasn't just like every other student.
"Each year there's a few students in each class that stands out, and Karissa is somebody who especially stands out with her work ethic," Sawyer said. "She's a serious learner and she always wants to learn. Each year, there's students that amaze me and Karissa is one of them."
Besides putting her all into academics, Kaiser is also involved in several extracurriculars. Even though she had to drop basketball and volleyball due to missing time with the trio of hip surgeries, Kaiser has still been able to participate in soccer. While she did have to miss the first few days of practice due to having her wisdom teeth removed, Kaiser is still able to be the team's goalie this season.
The senior is also involved with the academic decathlon team, choir, mock trial and forensics. Her involvement in the clubs is due to her drive for competition and desire for success. That drive isn't only evident to herself, though, because Sawyer also knows that whatever Kaiser chooses to do in life, she'll always give it her all.
"She obviously has goals for herself and she's very independent," Sawyer said. "It takes a lot of drive and determination to do that. If she wants to do it, it's because she wants to achieve great things."
After Kaiser receives her diploma this spring, she hopes to further challenge herself by attending the University of Wisconsin-La Crosse in the fall to study psychology, which stems from an interest of wanting to understand the human mind.