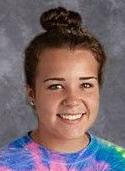 When Melrose-Mindoro High School senior Monika Tracey was a kid, she hated going to school, afraid of what would happen if she left her mother alone.
Now she's worried about not being able to go back to school before the end of the year due to the coronavirus.
"It's upsetting to think that (March 16) was one of the last times I'll be walking through those hallways," Tracey said.
Tracey is the La Crosse Tribune Extra Effort award-winner for Melrose-Mindoro High School.
Kay Ciechanowski, a teacher at Melrose-Mindoro, nominated Tracey for the award after knowing her all four years of high school, noting the student's hard work both in the classroom and outside of it as a three-sport athlete and member of the band.
"Monika has had to deal with many family issues including losing her mother to a drug overdose," Ciechanowski said. "At times, Monika was technically homeless because she lived most of an entire school year with a classmate's family."
The 18-year-old Tracey remembers fighting with her mother, Brittany Peck, when she was little and often winning, with her mother letting her stay home from school.
"I would always be like 'I'm sick' so I could watch over her," Tracey said.
Throughout her elementary school years, Peck was in and out of jail, mostly for theft charges. While Tracey had other siblings, she was the one who spent the most time with their mother.
"Growing up, my mom was my best friend. I was always the one with her," Tracey said.
When her mom was arrested, Tracey would stay with her grandparents, sometimes being driven to their home in the back of a squad car – an experience she did not enjoy.
However, she never wanted to go to her dad's house because she didn't get along with her stepmom at the time.
Everything changed before the start of fifth grade, when she was taken from her mother and placed with her dad, Jason Tracey. She was cut off from regular contact with her mom and grandparents and her dad got her started going to school regularly.
"I didn't really know how to do anything, and I struggled so hard, but the teachers helped me out," Tracey said.
Since then, school has been a reassuring constant in her life.
"Due to the home situations and stuff like that, I would always look to school as like a getaway. I really loved going to school. I had perfect attendance for two years in a row in middle school," Tracey said.
While she always has a place to stay with her dad, Tracey often stays at the home of her friend, Katie Peterson.
"It's closer to school," she said.
Even after moving in with her father, her life still hasn't been easy. Her mother died Feb. 2, 2018, after overdosing on heroin.
Tracey remembers being pulled out of class by an office worker, who told her she needed to go home.
"I said, 'What home should I go to?'" she said.
On her way to her dad's house, she was afraid something had happened to her grandpa. She never expected to come home and have her father, who was clearly struggling to give her the news, tell her that her mother was found unresponsive.
"I didn't believe him. I was just like, 'No, they did not.' " Tracey said.
It was a difficult time. While Tracey had called and texted her mother, she hadn't seen her regularly in years.
"It still is (hard). Sometimes I drive and feel like I'm just going to see her walking," she said.
Tracey was able to get through it thanks to her friends and family at Melrose-Mindoro.
"My two best friends and I, we went to a movie. They treated me to a movie, then I helped my grandpa and my siblings, Megan and Molly. We set up my mom's memorial," Tracey said.
Despite the hardship, she maintained a 3.5 GPA as a senior, while participating in cross-country, basketball and soccer. She also has a part-time job.
"Monika always worked hard in the classroom and in her job so she could provide for herself and this sense of pride will serve her well in her future," Ciechanowski said.
Monika plays both the E-flat and B-flat Clarinet — her clarinet choir received the top score at the Wisconsin Solo and Ensemble event last year — and is a member of Teens Against Tobacco use, teaching younger kids about the dangers of smoking, chewing and even vaping.
She had seen people struggle with nicotine addiction and wanted to help younger people avoid it.
"Monika always tries to be a positive example for others, especially classmates that have home struggles," Ciechanowski said.
After high school, Tracey plans to attend the University of Wisconsin-La Crosse and go into the health-care field.
"I was thinking like a pediatrician maybe, but I want to help people and prevent them from, obviously, dying. I don't want anyone to have to go through the pain of that. I want to help save people and treat people," Tracey said.
For now, Tracey is hoping she can get back to school before the end of the year; although, she doesn't have much hope she'll get to play soccer with her team again.
"Not being able to play it this year is crazy. I never thought my junior year would be my last time," she said.
Be the first to know
Get local news delivered to your inbox!