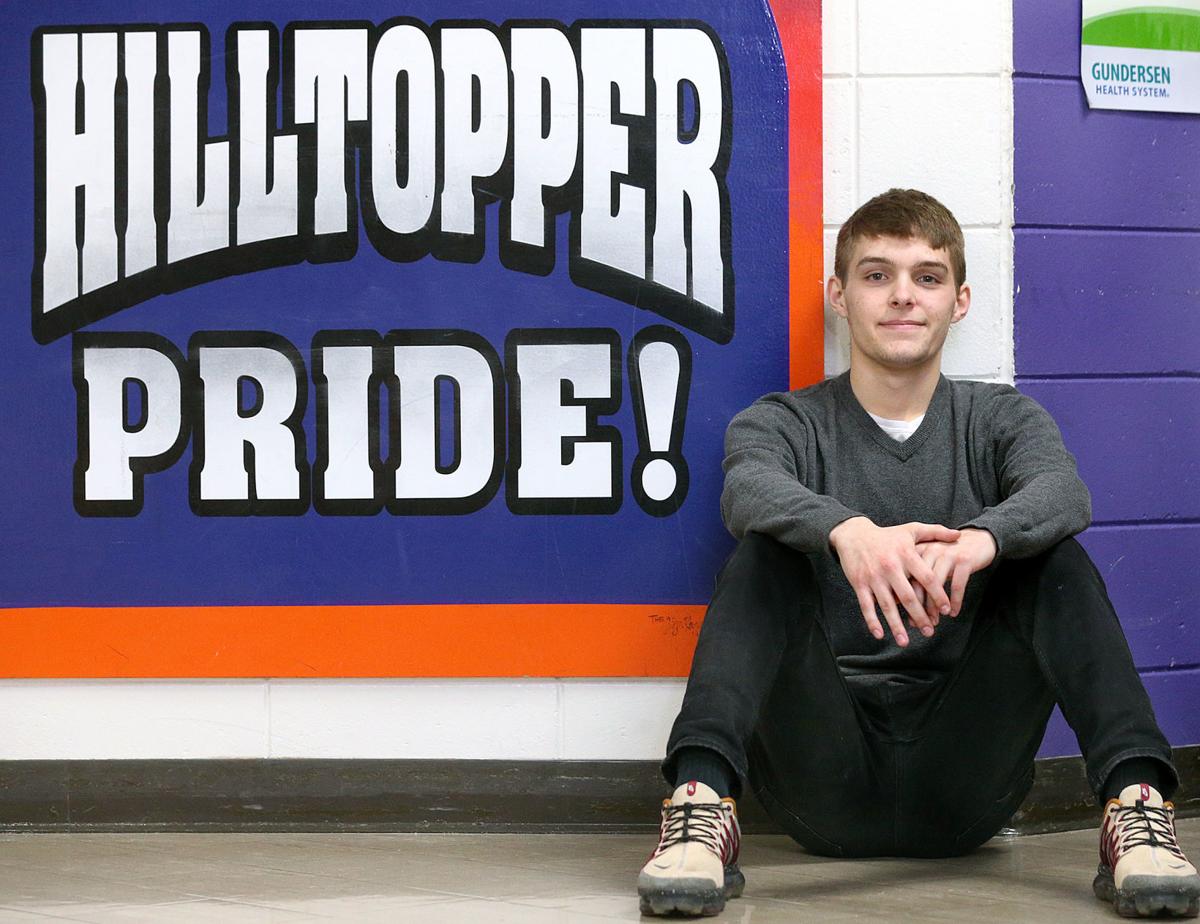 Someday, after his life has unfolded, Theron Haas hopes to write his memoir.
The only trouble will be where to start.
He could pick a happy memory, like the days he spent at the library, his face buried in a book, or the time he and his friend piloted a plane. Theron, after all, has always been a thrill-seeker.
Or he could pick a darker memory; he has quite a few. Beatings by his dad and neglect by his mom. His multiple attempts to run away from home. The time his brother swallowed dishwasher detergent, burning his throat and plunging the family into debt.
"A lot of bad things have happened, and I've gotten pretty good at dealing with adversity," said Theron, Onalaska High School's Extra Effort Award winner for 2019-20. "I've realized that I don't need to be like my parents, and my children don't need to deal with the same things I've dealt with. I want to break that cycle."
The first years of Theron's life were stable enough — middle-class, comfortable, promising.
His parents ran The Bog, a popular restaurant in Warrens. And Theron proved to be precocious, doing well in his classes at school.
Then, one night, Theron's brother Riley went to pour himself a glass of milk. When he took a drink, he screamed.
The boys' parents had left a cup of industrial dishwasher detergent on the counter. Riley, too young to know better, had used that cup.
He was taken to the hospital and placed in a coma. While he would make a full recovery, the family would not, so deeply were they buried in medical bills.
According to Theron, the incident brought out the existing flaws in the boys' parents: drug use, mental illness, excessive gambling. It also seemed to create new ones.
Theron's dad had always had a temper, but it wasn't until the family fell into debt and lost the restaurant that his behavior turned violent.
Theron, still in elementary school, often watched his parents fight. Once, he said, his dad took his mom by the hair and dragged her around the house, shouting at her.
Eventually, the couple split.
During the next several years, Theron and his siblings bounced from town to town, from parent to parent.
Theron remembers one night, when his dad couldn't find a newspaper clipping about the old restaurant.
The man beat his boys mercilessly, Theron said, interrogating them about the article. When he left, the boys called their grandma and asked if she would pick them up. But their dad returned too soon.
Theron and his brothers waited on the roof as their dad walked toward the house. When he stepped inside, they jumped off, running to one of the few sanctuaries Theron could think of: the library.
That, Theron said, was a typical night at Dad's.
Life with Mom was not much better.
When he was about 13, Theron and his brothers went to live with her in Madison. But they found precious little stability. According to Theron, she was still using drugs, still acting recklessly, still putting her needs before her children's.
"My mom is just lost in herself," he said. "And it's hard, because you want to help the people you love. She needs to realize that there's something wrong with the way she's living her life."
There were, to be sure, happy moments.
Theron loved going to the library, where he devoured books like "The Hunger Games" and made friends with the librarian.
He even wrote his own book, about a man who gets superpowers after being scratched by a half-human, half-tiger. His dad, who shared Theron's love of language, helped edit it.
But for every positive tug in Theron's life, there was a much stronger negative tug.
Falling in with the wrong crowd, he practically sought out trouble. He stole. He smoked. He gave school his minimum effort.
"Growing up, I wanted to do great things — be a vet or a doctor or something," Theron said. "I didn't keep up with school at all, but looking back, I was lucky. I was the only one of my friends who didn't get arrested."
For Theron, everything changed three or four years ago, when he moved in with his older sister. There was no more abuse. No more screaming. No more living in fear.
Another positive development was Theron transferring to Onalaska High School, where he felt an immediate connection with his teachers.
After beginning his junior year with a pitiful GPA — 0.5 — he began his senior year with a 2.0. He gives much of the credit to faculty.
Finally riding some momentum, Theron hopes to end high school better than he started it. He hopes to attend Western Technical College in the fall. And he hopes to one day work as a pararescue jumper.
Theron, after everything, is still a thrill-seeker.
"Theron has such a heart-wrenching story, and it's so nice to see him come out on the other side," said Beth Gamoke, his school counselor. "His life easily could have gone a very different route. It's amazing to think about what he's overcome."
Recently, life dealt Theron what he hopes will be the final gut punch, at least for a while.
Theron's dad, after a few years of seldom speaking to his son, reached out to patch things up.
"It was the first apology I ever got from him," Theron said.
Not long after they spoke, at the end of December, Theron's dad was killed in a single-vehicle crash on Hwy. 131 near Ontario. He was 42.
"My whole life, he was kind of my hero, despite everything he did," Theron said. The past few years "have helped me realize that it wasn't my dad's fault, and it wasn't my mom's fault. They had rough upbringings, too, and they got caught up in that cycle."
Theron says he is determined to give his own life story a much different arc than his parents'.
Years from now, when he sits down to write his memoir, Theron will have plenty of ways to start, plenty of trials and troubles to look back on. As for the ending, his mind is already set. He just needs to make it happen.
"I hope the ending looks like an upper-middle-class career," he said. "Anything but broke."
Be the first to know
Get local news delivered to your inbox!