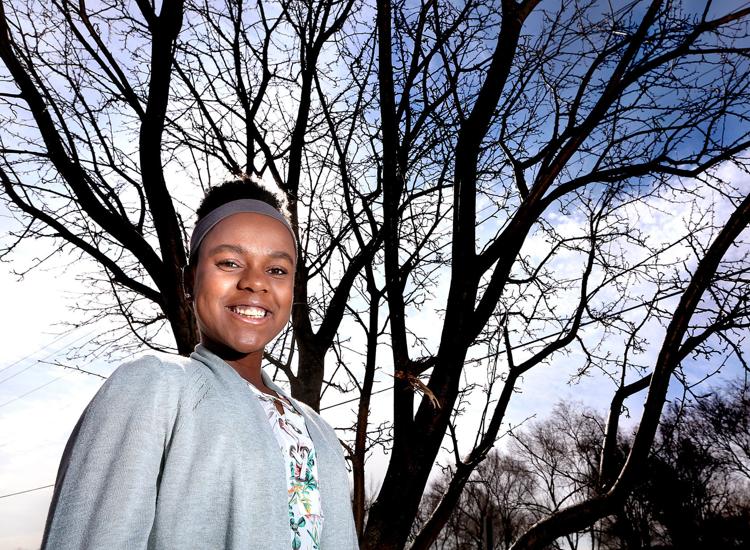 Anybody who knows Kim Rushlow knows that she radiates feelings of care, love and positivity like no other.
The Onalaska Luther High School senior is involved in her church's Youth Group and two clubs at school – RejuveKnights and Pro-Life Knights. The senior's involvement in the clubs stems from a desire of trying to help others understand their value.
"I love looking at people and helping them see their worth," she said. "For young babies, or just people in general, I want people to see their worth and understand that they are worthy. I want to help people understand that they are all beautiful humans."
Rushlow's dedication to helping her peers along with her can-do attitude has led her to being the recipient of the La Crosse Tribune Extra Effort award for Luther High School.
The senior's aura of love and positivity has stemmed from early-life challenges that she has endured. At the age of 4, Rushlow was adopted into the United States from Haiti, where she suffered from malnutrition and Pott's disease, which is a form of tuberculosis that is seen in the vertebrae. Because of this, Rushlow had a much-needed surgery on her spine at Mayo Clinic that resulted in being in a body cast for three months.
Even though she was just a toddler, Rushlow was still faced with numerous challenges that come with moving to a new country.
"The hardest part was learning English, and I couldn't say my Rs for the longest time," she said with a laugh. "It was interesting, I would put it that way. As a young person that comes from a different country, everything was so new to me … it was an eye opener you could say. The hardest part was learning English."
Rushlow – whose native language is Creole – has adapted well to the challenges that were thrown her way. Learning the English language was once her largest challenge, but now it has now become her escape.
The senior has grown a love for writing and feels at home in her creative-writing class. She views writing as a way to express her feelings and it allows her to understand how her mind works. Often, she looks at the positive aspects of every situation and makes note of it in her writing as something to reflect upon.
Connie Bader, who is the individualized instructional assistance coordinator at Luther, has seen this constant positivity and dedication radiate from Rushlow, even during stressful times.
"Kim has become a self-motivated person, understanding her weaknesses and using the tools she needs to be her own self-advocate in finding help," Bader said. "Kim is a self-starter and works hard … she is optimistic and upbeat, even in anxious situations and deadlines."
Rushlow's upbeat attitude and desire to help others is helping lead her into a future professional career where she hopes to work with individuals who have special needs.
After job shadowing at Aptiv during her junior year, Rushlow's desire to help others kicked in, which has led her to want to obtain a job in which she can help those who need it.
For Bader, and everybody else who crosses paths with Rushlow, Kim's love for others is not only shown through her future career and school involvement, but it is also shown through the simple gesture of a warm and welcoming smile.
"She is a person of never-ending smiles," Bader said. "She's just a person who is always smiling … she really is a selfless person."