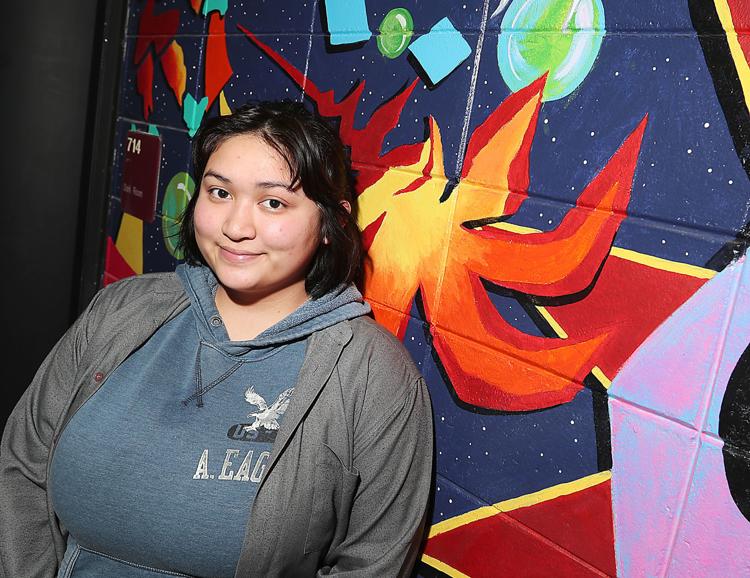 SPARTA — Armalyn Hedrick dyed her hair blue in the eighth grade.
While the notion may seem like a behavior typical of teens, it filled her with inspiration and confidence heading into one of the scariest times of her life — high school.
The Sparta High School senior had already been through a lot by the time her high school days rolled around. She lost her mother in a car accident at a young age. She had already lived in eight different states and moved about 11 times. She had a strained relationship with her father, and her confidence was nonexistent.
But the simple action of dying her hair played an important role in shaping her into the strong and determined student that she is today.
"I dyed my hair for the first time that summer, and I dyed it blue," Hedrick said. "It was so inspiring and it gave me so much confidence."
The change of hair color was the first stepping stone in a path that has been filled with positivity, confidence-building and a drive to help others for Hedrick, who is the La Crosse Tribune Extra Effort Award recipient for Sparta High School.
For a teen nearing the end of her high school career, Hedrick has been through a lot. But dwelling on past losses and negative experiences is something that she refuses to do anymore, and is something that she has accomplished through therapy.
Hedrick lost one of the most important figures in her life — her grandmother — after a battle with liver cancer within the past two years. Before that, she had lived in 15 different houses in eight different states. Before dying her hair a radiant blue, the frequent moving is what made Hedrick apprehensive about entering high school.
"I was moving time after time, almost every two years," she said. "It was really hard coming from California, where a lot of people were the same ethnicity, to a predominantly white community. I just felt really left out, and it was scary going from eighth grade to high school."
In the past four years, Hedrick evolved from a shy and scared middle schooler to a confident, strong and vocal high school senior with a desire to help others, which is part of the reason she wants to own and operate her own beauty salon one day.
Her desire to help others was apparent to her business teacher, Julie Beyer, after a "Humans of Sparta High" assignment in which students wrote personal life stories and challenges they have overcome. Beyer was surprised to learn about what Hedrick had been through because "through all of those challenges, she just kept going forward and excelling at her school work."
The assignment allowed the two to connect and have a conversation that showed Beyer how giving, caring and inspirational Hedrick truly was.
"When I asked if I could share her story, she said, 'Absolutely,' " Beyer said. "She said that if her story could help anyone else, even if it was just one individual, she said that at least she helped that one individual through similar struggles that she had been through."
Hedrick hopes that by sharing her story, she can help others through their darkest moments and hope that they don't feel alone like she did during certain times of her life.
Being open about who she was and the trauma she has experienced wasn't always easy for Hedrick, but this past year has helped her grow more than she ever could have imagined.
"During my junior year (of high school), I would probably say I was a delinquent because I didn't care about school," Hedrick said. "I had no goals set and I couldn't see past present day, I was doing nothing to try and go far. Now, especially over the summer, I've made so many plans and have been working toward them and it's just so exciting, and I'm finally happy with what I've done and I have so much more confidence."
Hedrick hopes to attend AVEDA beauty school in Madison upon graduation. The plans not only stem from a love for fashion, makeup and hair, but it also comes with a hope that she can instill feelings of beauty and confidence in others, just like she did for herself.