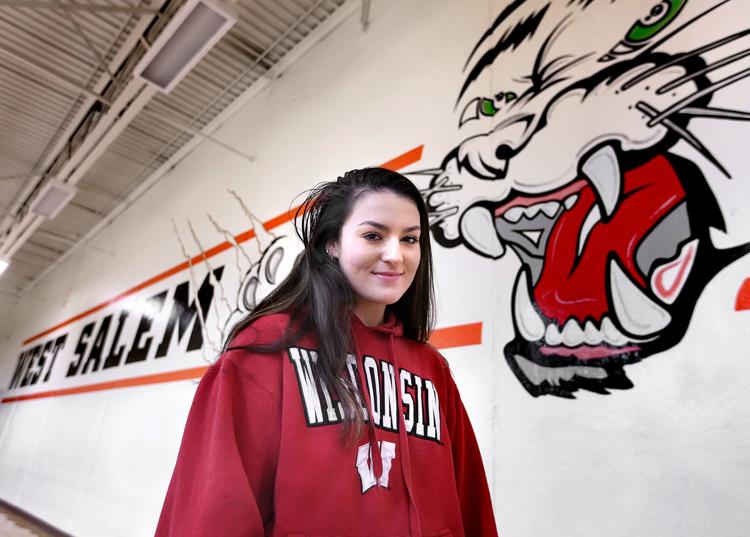 Some days, it felt like a weight on her shoulders.
Others, like a hole in her heart.
When Marissa Harris lost her mom, she lost a whole lot more: her protector, her role model, her favorite person in the world.
On the outside, though, Marissa gave no indication that she was torn up on the inside. Her mom had always put on a brave face in hard times, so it seemed only right that, in her absence, Marissa would do the same.
"I pretended that nothing was wrong, that everything was normal," said Marissa, who was in fifth grade when her mom died, and is now a senior at West Salem High School. Acting that way "worked for a while, but it eventually caught up with me. I never coped with it, so it just kept weighing me down more and more."
These days, Marissa is putting the final touches on what has been a stellar high school career.
She has a 3.6 GPA and ranks near the top of her class.
She's devoted her time and talents to softball, volleyball, forensics, mock trial and the Spanish club.
And, by all accounts, she has impressed her peers and teachers not just with her accomplishments, but with her perseverance.
It's why Marissa was named West Salem's La Crosse Tribune Extra Effort Award winner for 2019-20.
"I got to know Marissa when she was a child, and seeing her now … it makes me proud," said Julie Arentz, a school counselor in West Salem. "I know she's really struggled with the loss of her mom, but you wouldn't know that by looking at her. She's sensitive. She can be emotional. But she carries herself really well."
Marissa had an excellent example to follow.
Her mom, Sheri, worked many years as a nurse, including a stint running the Alzheimer's and dementia unit at Rolling Hills Rehabilitation Center in Sparta.
At home, she read and wrote poetry, inspired by the words of Jim Morrison. She loved dogs and music and caring for others — her children most of all.
You have free articles remaining.
"I don't want to say she was perfect — nobody is — but she was pretty close," Marissa said. "She was a mama bear type, very headstrong, very protective and quick to defend us.
"I remember one time, at the store, a woman was looking at us weird. My mom kind of snapped at her and told her to stop. It was just a small thing, and she wasn't defensive in the wrong ways or anything. But she would always stand up for us."
In 2010, when the family was living in New York, Sheri was diagnosed with breast cancer.
The doctors had, thankfully, caught it early, and she responded well to the initial treatment. It seemed she had a clear path to remission.
The family soon returned to Wisconsin, settling in West Salem. Life rolled on as usual. Then they received some more news: Sheri's cancer was back.
Marissa, just in elementary school, was too young to grasp what was happening.
"When you're a kid, that kind of thing doesn't seem as real and doesn't hit you as hard," she said. "My mom was really strong, and she continued to do all the things she did before. I think that's one of the reasons I didn't really process it. Everything was kind of the same."
Then, one day, it wasn't. Sheri died on Sept. 27, 2012, leaving behind a daughter who couldn't admit she was gone.
It took several years and more than a little therapy for Marissa to reach the place she is now, a place where she can hold her mom's memory tight, without it weighing her down.
"I hope," Marissa said, "that I can be like her."
Like her mom, Marissa has a knack for art, especially painting and drawing.
And like her mom, she has a good head on her shoulders. A capacity to care for others. A resolve to build a future for herself.
Marissa plans to attend either UW-La Crosse or UW-Madison, pursue a degree in psychology, and become a therapist. She wants to make the same kind of positive impact on others, she said, that therapy has made on her.
Asked what her mom would think of her plans, Marissa said she wasn't sure.
"For some reason, part of me thinks she wouldn't be proud of me," Marissa said. "But knowing her, she probably would be. I hope she would be."