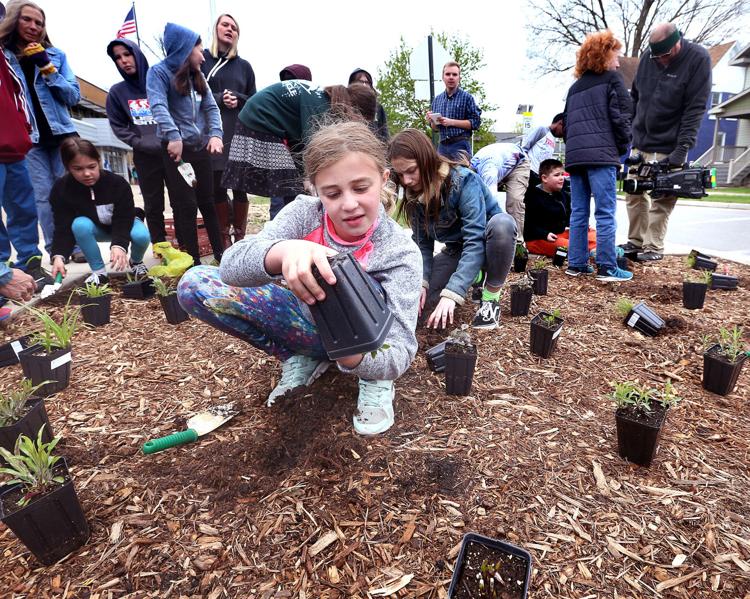 Even the names are fun to say.
Purple love grass. Brown fox sedge. Hairy beardtongue.
Armed with trowels and enthusiasm, students at Hamilton Early Learning Center and the School of Technology and Arts planted an array of flowers and shrubs Thursday — part of a project meant to make their schoolyard an attractive spot for pollinators and a source of healthy food.
"Research shows that if students are integral in planting and harvesting, they're much more likely to incorporate healthy foods into their diet," said Jamie O'Neill, executive director of the nonprofit GROW, which is helping coordinate the project. "Letting them be part of the process is leaps and bound better than just giving them fresh local food. Hopefully, this is something they choose in the future and carry on for a lifetime."
After hearing about landscape design from the experts at Coulee Region Ecoscapes, the students had almost complete control of the project.
They spent days selecting which species to plant, considering everything from the amount of sunlight or moisture they need, to their root profile, to their height.
The pollinator patch is at the corner of the schoolyard at Seventh and Johnson streets.
"They needed to be under four feet," said Elliot Mather, a fourth-grader. Otherwise, "a car coming from over there wouldn't be able to see a car coming from over there. They could crash, and that would not be good."
One of the plants, the students were surprised to learn, would have grown to 10 feet.
"We didn't realize it was a tree," Elliot said.
After 15 minutes in the pollinator patch, the students had dirt on their hands, knees and faces.
Miya Servais, a fifth-grader, said she was most excited to watch the growth of the prairie smoke plants, which yield hot-pink flowers each summer.
"I hear they're really pretty," she said. "I've never seen one in person."
But the plants were selected for more than their looks.
Elliot Luecke, a fourth-grader, said there's one species that "bees love so much that you can walk up and pet them, and they won't notice."
"They're like: 'Nectar, nectar, nectar,'" he said.
The pollinator patch is just one phase of Hamilton's "edible schoolyard" project. The school already has a vegetable garden, planted several years ago with help from GROW, and will be adding raspberry bushes and other plants along the west side of the building.
Mike Lawrence, who teaches fourth and fifth grade, said the school gardens will present more and more learning opportunities as the plants bloom and the seasons change.
He can't recall the class being this excited for a project.
"As a teacher, this is your dream," Lawrence said. "We gave them the idea, and they just took it and ran with it."