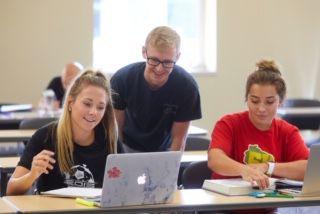 Mitch Haeuser was in his second semester at the University of Wisconsin-La Crosse when his grade-point average dipped to 1.6. Despite that lackluster start, his academic career at UW-L ended with six offers for full-ride scholarships to doctoral programs in mathematics at flagship universities.
Haeuser's story is a road map for those who hit academic speed bumps. He hopes it inspires them to never give up when classes seem too hard or their future unclear.
"The person I was initially in college has sort of vanished," he said. "I completely changed my lifestyle — from not attending classes to getting involved in everything."
Haeuser now attends Iowa State University's graduate program on a full-ride scholarship with the goal of earning his doctorate in mathematics. He hopes to one day become a professor.
"I want to inspire people and show them that math and learning is beautiful like Dr. [Tushar] Das and other professors here did for me," he says. "Every professor at UW-L was inspiring. They all made me want to be a teacher and help students who had a rough start like myself come out of their shell and become who they want to be."
During his first two semesters at UW-L, Haeuser was going through the actions of going to college, but he didn't know why. He simply needed to get his degree, so he could get a job. He frequently stayed up late, slept in and skipped class. He didn't study for tests and bombed them. His GPA reflected his effort, skimming just above a 2.0 his first year.
You have free articles remaining.
When work was assigned in core math and physics classes, he would stare at complex-looking questions on the computer screen for a few minutes, decide they were too hard and give up.
"I think fear was huge part of my first two years in college — going from high school to college was a big jump," he said.
It seemed better to him to turn in no assignment at all than one riddled with wrong answers. "I was afraid to apply myself because I didn't want to fail," he explains.
That was his thinking until his second semester grades hit that 1.6 at mid-semester, signaling he was headed toward academic probation. Haeuser realized he couldn't continue this way and graduate.
Here are a few of the tips Haeuser used to turn things around below. See all nine tips at: news.uwlax.edu.
Start with a simple step: Haeuser knew if he wanted to turn his grades around, he needed to start attending every class and doing the assigned work. A seemingly simple thing, Haeuser says forcing himself to do these two tasks immediately improved his grades. Doing the assigned work meant attempting every single problem and assigned reading before class. Then, he was prepared for lectures where he could be more actively engaged in discussion, be present and listening.
Ask for help: Haeuser made a habit of asking questions in class and professor office hours about concepts he couldn't grasp while studying. He soon discovered he wasn't the only one seeking additional help. Walking through the Mathematics and Statistics Department halls at random times between 8 a.m. and 8 p.m., he often found faculty offices with five or more students working through problems with professors.
"The key to student success is to realize there is an instructor who cares about my goals and my success; and that instructor is inviting me to come [to office hours] and join a community of life-long learners," says Tushar Das, UWL associate professor of Mathematics and Statistics.
Make a mindset shift: When Haeuser started at UW-L, he was afraid to try because it would feel so much worse if he tried and failed than if he hadn't tried at all. Over time he discovered that he learned the most by trying something hard — especially when he failed. Failing at a math or physics problem was an integral part of the learning process. "My mindset now is that you have to fail to do good. You have to try new things and, if they don't work out, you learn something," he says. "There is a lot of learning in that struggle."