Porn star and sex educator Nina Hartley lectured UW-La Crosse students on the realities of adult entertainment and the benefits of people taking ownership of their sexuality during a speaking engagement at the university on Thursday.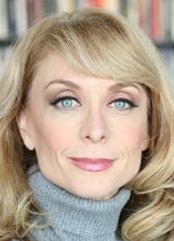 Her 90-minute talk, which drew about 70 students to Centennial Hall, went on despite opposition from some students and staff, who raised concerns about the message her appearance would send.
"The word 'pornography' has such a pejorative connotation — it's been caught up in a lot of emotionally charged conversations," said Hartley, who touched on everything from female empowerment, to the necessity of consent, to the importance of differentiating porn from reality.
"It's important that you view all media with a critical eye," she said — and doubly so for adult media, she added.
Hartley, who also fielded questions, told the crowd that communication is key during sexual encounters, that it can preserve feelings and personal safety.
She assured students that everyone develops at their own pace, that it's OK to say yes and OK to say no, and that comparing people based on sexual experience is unproductive.
She also made clear that she views porn as safe, consensual fantasy — fantasy that will intrigue some and offend others.
"I wouldn't normally go to a barn on a Tuesday morning to have sex on a hay bale. It's my job, and we're professionals," Hartley said. "It's OK to like porn. It's OK to not like porn. And it's OK to be confused by porn. You are where you are, and you are who you are."
Earlier this week, several school officials called the Tribune to question both the value of Hartley's appearance and the unusually covert way the university promoted it (none agreed to speak on the record), especially since the talk was part of National Freedom of Speech Week.
The event did not appear on the university's online events calendar and, unlike many events, was not made known to the press. It was promoted only on the digital signs on campus.
"We promoted it extensively on campus, on our digital signs, and we felt that was the best way to do it," Chancellor Joe Gow said Thursday. "There was concern, because it's a controversial topic, that people would send this far and wide, and we'd get people who aren't going to come, and they sensationalize it."
Hartley, 59, has had a 35-year career as an adult film actress and has been a respected voice in intellectual conversations about sex, relationships and a variety of social issues.
She is a longtime board member for the Woodhull Freedom Foundation, a nonprofit advocating for sexual freedom as a human right, and has appeared on news shows to discuss her experience in the adult film industry.
By booking her to speak, UW-L joined the likes of Harvard, Dartmouth and the University of California.
"Nina Hartley was someone who emerged as we were going onto websites and assessing people who could speak on the topic," said Gow, who made the decision to reach out to Hartley. "There's no one like her in terms of her background as a performer and educator, and her role as an activist.
"I think the world would be a better place if we were more open about human sexuality … and how it plays a healthy role in people's lives," he added. "That's what she's doing."
Gow noted that, during a lunch with Hartley and a group of students and faculty on Thursday, he did receive some blowback for the booking.
"Some students did not think porn and adult entertainment are good things," he said.
According to Gow, Hartley was paid $5,000 for her appearance — much less than the $75,000 or $80,000 some other sex educators demand, he said.
Her pay was taken from the university's auxiliary fund, which consists of student fees and interest.