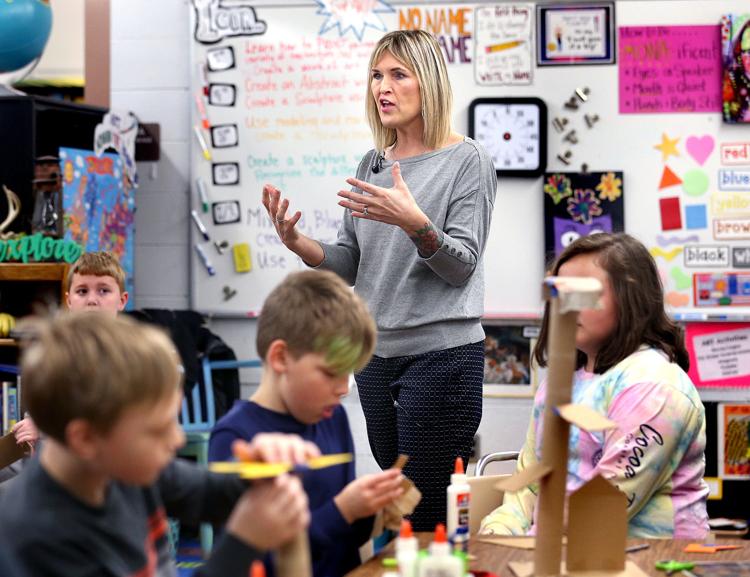 The La Crosse Public Education Foundation has channeled its inner Santa Claus, delivering more than $40,000 in grants to a dozen area schools.
Foundation leaders went classroom door to classroom door Tuesday in what has become a twice-annual tradition, surprising teachers with much-needed funding for an array of projects and services.
This latest round of grants will cover everything from an archeological dig, to a middle school orientation program, to a mural painted by students with help from a professional artist.
"It's great to see all these innovative and creative ideas in the classroom, and it's great to see the community supporting them," said Kathie Tyser, a foundation board member and a former administrator for the School District of La Crosse.
"Coming back to these schools, it's uplifting to see kids and teachers motivated to go above and beyond on these projects," she said. "And a lot of these projects wouldn't be possible without grants like this."
At Summit Environmental School, Debra Klaeser and her students received $3,350 to conduct a year-long excavation of the school grounds. Smaller digs at the school have turned up marbles and flakes from stone tools — hard evidence that Native Americans lived there hundreds if not thousands of years ago.
"These sort of things are all around us, but they've been disturbed" by urban development, said Jean Dowiasch, education coordinator for the Mississippi Valley Archeology Center at UW-La Crosse. But since the land at Summit is relatively intact, she said, students will be able to uncover much more.
"Native Americans have been here for 12,000 years, and Europeans have been here for 600 years. They're a large part of our nation's history," Dowiasch said. "Maybe we'll find out that this was a location they came back to. Maybe they did some farming here. Maybe it was part of tracking animal migration."
Just down the hall, Carissa Brudos' art class got some good news of their own.
The foundation awarded the class $3,500 so that it could book Minnesota artist Jodi Reeb, who is known for painting with molten beeswax. Over the course of a week this spring, Reeb will help students make their own beeswax creations and lecture the community on the benefits of honey bees.
"I thought this would be a wonderful opportunity for our environmental school to learn why honeybees are important to our community and our environment," Brudos said. "Without them, we wouldn't have many of the foods that we have today."
Brudos said the project appealed to her because of the way it blends art and science. When a project does that, she said, students are usually doubly engaged.
"I'm always looking for the next thing, and it's important for students to see that this is something where we can work together and integrate different things," she said. "Art isn't just art, and it's not just something you put on the wall. It's an everyday, fundamental thing that people need."
Tyser said the foundation approved 24 of the 40 grant proposals it received, and that board members evaluated them on creativity, student engagement and impact. Another $40,000 or so will be doled out this spring, the foundation says.
Many other projects got the green light Tuesday:
Logan Middle School received $5,000 to launch an orientation program for incoming sixth-graders.
State Road Elementary received $3,000 to hire a professional artist to help students design and paint a mural.
Logan High School received $2,000 to help students invent an energy management system for prosthetic limbs, as part of a larger project.
And one State Road Elementary classroom received $329 to purchase a "Qball," a throwable microphone intended to help students with softer voices.