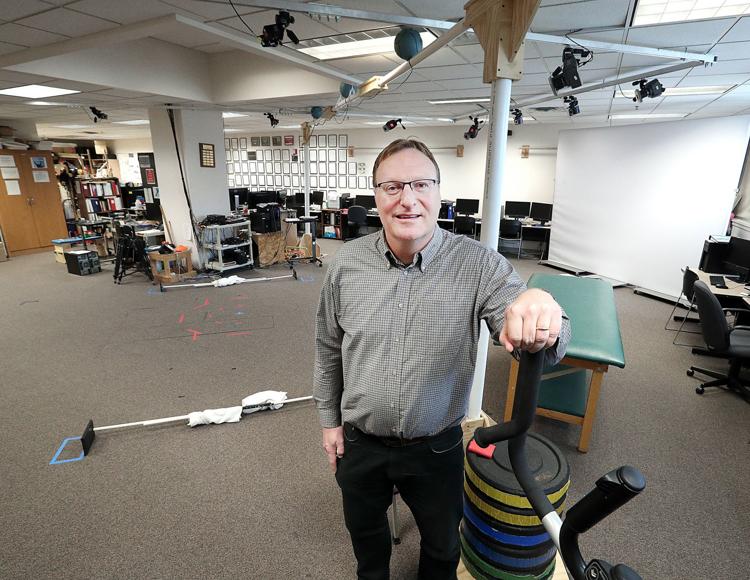 Tom Kernozek wants to save your knees, whether the burden they bear is shooting hoops or lifting boxes.
Kernozek, a physical therapy professor at the University of Wisconsin-La Crosse, has spearheaded more than 100 research studies over the past two decades, many aimed at understanding and preventing knee injuries.
That kind of output, a handful of studies per year, is almost unheard of at small or midsize universities such as UW-L.
"It's fun to see if you can solve problems that no one else has found the answer to," Kernozek said. "With some subjects, you can just pick up a book and the answers to all of the odd questions will be in the back. But not with science, and that's why I enjoy it."
The hotbed of all this research, the La Crosse Institute for Movement Science at UW-L, is part classroom and part PE closet.
There's a line of computers and a bookshelf for binders — what amounts to classroom set dressing. Then there's the stuff that catches the eye: treadmills and ellipticals, orange training cones, rubber models of joints and muscles, three or four medicine balls suspended from the ceiling, and a network of video cameras that could adequately safeguard the "Mona Lisa."
Here, patients perform an array of physical tasks — from running to jumping to squatting — as Kernozek and his students monitor their movements.
Their equipment can track all kinds of things: how runners distribute their weight or how forcefully basketball players land.
From there, the team has a knack for spinning raw data into scientific literature.
"Tom's built a little empire, and I've spent the past couple years trying to build something similar," said Gus Almonroeder, who was an undergrad at UW-L and now teaches at Trine University in Indiana. Instead of trying to match Kernozek, Almonroeder recently decided to join him, taking a job in UW-L's physical therapy program. He starts in the fall.
"Tom and UW-L really give students unique opportunities to study human movement and contribute to the literature … and that's something I appreciate even more after working in other programs," Almonroeder said. "The faculty and students are as productive or more productive than a lot of bigger universities that are geared toward this type of research. Tom is the one who's driving that."
Recent graduates say Kernozek is creative enough that the well of study ideas never runs dry, and patient enough that students can make and learn from mistakes.
"As a professor, he was always approachable and very knowledgeable in the areas he taught," said Nate Vannatta, who, as a research coordinator for Gundersen Health System, now gets to partner with Kernozek. "Having him as a research mentor, I've realized how he strikes a good balance between letting students struggle for the sake of learning, but also being a resource for guidance."
One line of study involves the frequency with which female athletes sustain knee injuries. Kernozek's team has found that, compared to male athletes, female athletes tend to let their knees cave inward when they come down from a jump, which puts stress on the ACL.
A team whose players have been trained to land softly, and with their knees square with their hips, is a team with a competitive advantage.
"Practice needs to not just be shooting free throws — it should also be movement training and conditioning," Kernozek said. "If you can prevent one or two surgeries on a team, that can make a big difference in your season."
Kernozek and many of his students are former athletes, and because they work mostly with current athletes, it's easy to see them as operating within the cozy confines of sports.
But the team also seeks to prevent injuries in other walks of life. It recently studied the lifting mechanics of Kwik Trip warehouse workers, helping them improve their form.
Injuries, especially in sports, can come in bunches.
Kernozek said he knows of a girls basketball team in the Twin Cities that lost six players to ACL tears in one season.
Sometimes, researchers run into the opposite problem, becoming victims of their own success.
An injury prevention study involving UW-L's cross-country teams, for example, has been slow to get off the ground — not for a lack of effort, but for a lack of patients.
"Not enough people are getting hurt," Kernozek said.
Be the first to know
Get local news delivered to your inbox!